Horizon Pharma (NASDAQ:HZNP) is slowly recovering from a brutal one-year selloff. The stock is still 50% off its all-time highs, but it is up 50% from this year's lows. The company is slated to report Q2 earnings on August 8, 2016. Horizon usually beats on both the top and the bottom line. This article will shed some light on Q2 expectations and will look at the share price performance following the earnings announcements. I expect a solid Q2 beat, but think the FY revenue and EBITDA guidance will stay the same. However, I see the potential for higher revenue and EBITDA guidance on M&A. The company did not make any acquisitions in more than six months and the likelihood of a deal being announced over the next few weeks/months is high.
What to expect in Q2?
Given the available prescription trends and the company's gross to net guidance, I think that the primary care segment should recover in the second quarter. Duexis and Vimovo were hit the hardest in Q1 due to higher-than-expected gross to net discounting, and the company said on the Q1 call that gross to nets should gradually recover throughout the year. Pennsaid 2% should continue to be the best-performing primary care product with a robust Q/Q and Y/Y increase in both prescriptions and revenues.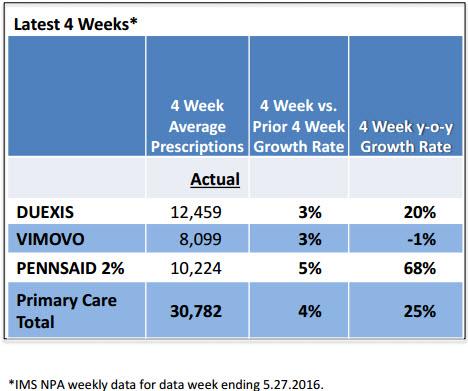 Source: Horizon Pharma investor presentation
Based on the end-of-May numbers, I expect a 10%, 15% and 25% increase in prescriptions for Vimovo, Duexis and Pennsaid 2% respectively and a modest recovery in gross to nets compared to the first quarter, which should result in somewhat higher sequential top-line growth. The three products should generate between $135 million and $140 million in revenues in Q2.
Rayos's revenues should be somewhat higher in Q2 compared to Q1. I expect $11-12 million in revenues for Rayos.
I expect no major surprises in the orphan segment. I expect a steady sequential revenue increase for Actimmune and Ravicti and flat or lower revenues for Buphenyl as more patients are switched to Ravicti. The three products should generate around $70 million in revenues or slightly higher in Q2.
I am not certain about Krystexxa, but think we should see a solid sequential increase in revenues. I think that Krystexxa has the most potential for upside surprises in Q2 and 2H 2016 based on the significant sales force expansion. I expect Q2 revenues to be between $20 million and $22 million.
When I add up all the numbers, I get a Q2 revenue range of $236 million to $244 million. The middle of the range ($240 million) is $5 million above the current Street consensus.
The revenue beat should lead to some upside on the bottom line as well. I expect Q2 EPS between $0.53 and $0.55, which is above the current $0.50 consensus.
I expect the full-year revenue and EBITDA guidance to remain the same since the growth trends in the second quarter do not warrant an upward revision.
A look at execution over the last three years
Horizon Pharma has beaten views most of the time since Q1 2013, and the beats were significant in the majority of cases. The company did not miss on EPS over the last 13 quarters and had just one in-line quarter (Q1 2015). Horizon missed on sales two times, but not since Q4 2013. It is worth noting that the company did guide down 1H 2016 revenues, which caused a negative adjustment on both the top and bottom line, enabling the company to beat on both items.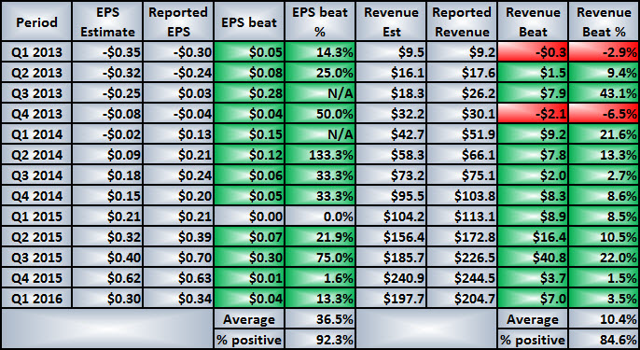 Source: Seeking Alpha
Based on the average EPS and revenue beat over the last 13 quarters and my revenue and EPS forecast, I feel confident about my long position.
A look at post-earnings performance
Horizon Pharma's post-earnings reactions have been positive most of the time. The average gain on earnings day over the last 13 quarters was 4.7%, while the average one-month and three-month gains were 12.8% and 29%, respectively. If we look at just the positive performance, the average gains are 11.7% for the earnings day and 23.6% and 62.4%, respectively, one and three months after the report.
Source: Yahoo! Finance (price history)
Other considerations
Horizon's last acquisition was Crealta, announced in December 2015 and closed in early January 2016. The company said earlier this year that it expects to close a few deals during 2016. I think that the likelihood of a deal announcement is pretty high in the following weeks/months. The potential announcement (or announcements) could lead to an upward revision for the full-year revenue guidance unless the company buys a development-stage asset, which I think is possible given the recent public criticism about the lack of R&D spending and the company's changed focus on both marketed and late stage assets.
Short interest has increased from around 15 million shares at the end of April to 20.7 million shares as of July 15, 2016, representing 15.5% of the float.
A look at the chart reveals a year-long basing pattern and potential resistance at $20. A good Q2 report and, perhaps, an acquisition announcement, could push the stock significantly higher in the following months, and short-covering could help.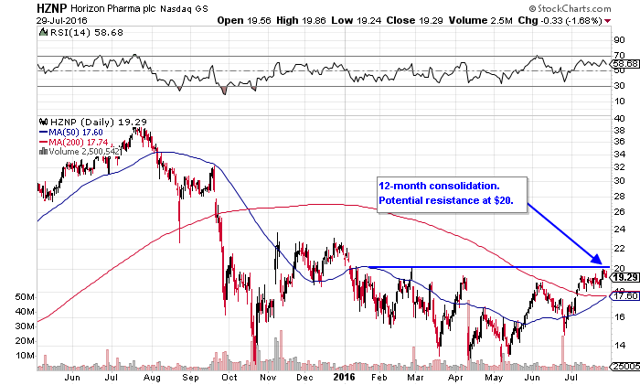 Source: StockCharts.com
Conclusion
I am very comfortable with my long position in Horizon Pharma. I believe the company will beat EPS and revenue expectations and that the FY revenue and EBITDA guidance should stay the same, absent an acquisition. Pennsaid 2% and Krystexxa could provide upside surprises to my expectations. A breakout above $20 and a good Q2 report could cause a minor short squeeze and push the stock higher in the following months.
Disclosure: I am/we are long HZNP.
I wrote this article myself, and it expresses my own opinions. I am not receiving compensation for it (other than from Seeking Alpha). I have no business relationship with any company whose stock is mentioned in this article.
Additional disclosure: This article reflects the author's personal opinion and should not be regarded as a buy or sell recommendation or investment advice in any way.