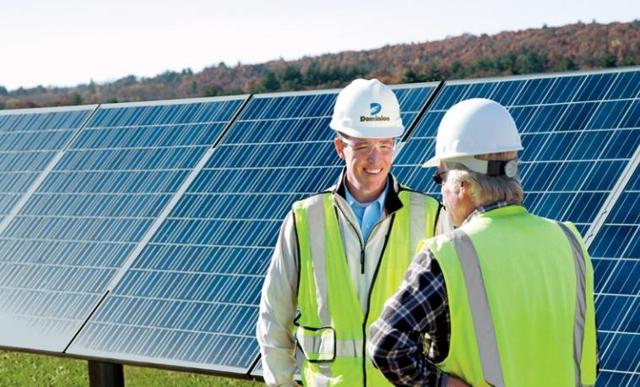 Source: Dominion Resources
Over the past year, the combination of ultra-low interest rates and increasing economic uncertainty has driven yield-starved investors to bid up utilities such as Dominion Resources (NYSE:D), Duke Energy (NYSE:DUK), and Southern Company (NYSE:SO), to all-time highs.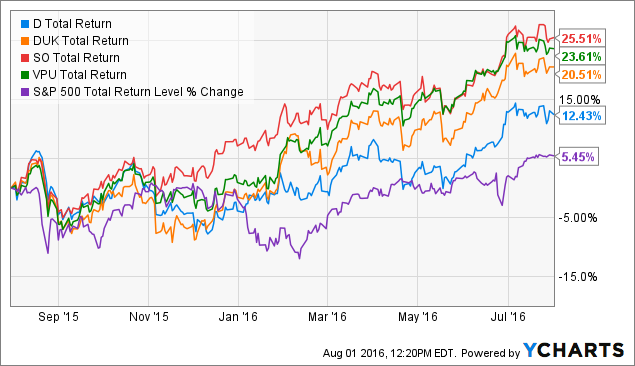 D Total Return Price data by YCharts
Yet, despite the fastest growth potential of all three major utilities, Dominion Resources has lagged behind both its larger rivals, as well as the average utility, as represented by the Vanguard Utility ETF (NYSEARCA:VPU).
Find out four reasons that this underperformance is actually a good thing. More importantly, find out what makes Dominion Resources such an attractive long-term, high-yield dividend investment -- despite a high share price.
Exceptional growth prospects, especially for a regulated utility
Despite a weak Q1 earnings release due mainly to milder than expected weather conditions, Dominion's full year operating earnings guidance shows an impressive expected growth rate of 10.5%.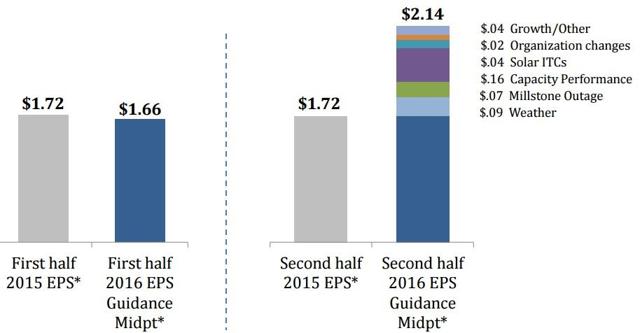 Source: Dominion Resources earnings presentation.
That's thanks to a slew of positive factors including: normalized weather patterns, higher solar tax credits, and continuing improvements in energy-generating capacity raising returns on capital.
However, what should really get investors excited about Dominion is its incredible long-term growth catalysts. For example, the company has $15.7 billion in growth capital investment planned over the next four years, which given its relatively small size, should make for impressive top and bottom-line growth.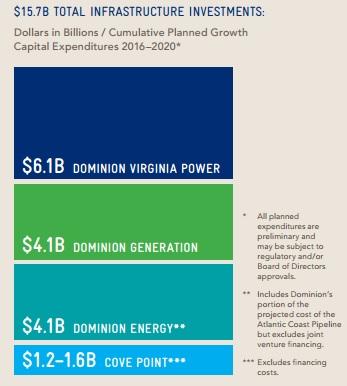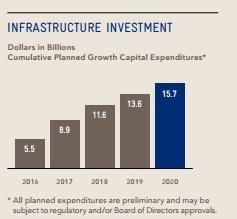 Source: Dominion Resources Annual Report
Better yet, the majority of that investment isn't even in its regulated utility segment, Virginia Power. For example, Dominion is investing $2.14 billion into the Atlantic Coast Pipeline, or ACP project, a joint venture with Duke Energy and Southern Company, to tap into booming shale gas production in the Marcellus and Utica formations of Pennsylvania, and Ohio.
The 45% stake in ACP will provide Dominion Resources with long-term, fixed-fee cash flow from numerous large, well capitalized customers who want to take advantage of cheap Marcellus and Utica gas. Better yet, Dominion's other gas transportation projects mean that within a few years it will be transporting 3.1 billion cubic feet per day of gas, across diverse and fast-growing regions of the country.
Then there's Cove Point, Dominion's $3.6 Billion LNG export terminal, which is currently 64% complete and expected to be fully up and running by the end of 2017. With 20 year fixed-fee contracts already in place, along with annual price escalators tied to inflation, Cove Point is likely to be a major cash cow for Dominion. That should drive impressive dividend growth in the years, and decades, to come.
Other growth opportunities include Dominion's Virginia Power segment's increasing investment into cleaner, cheaper gas-fired power plants and solar power.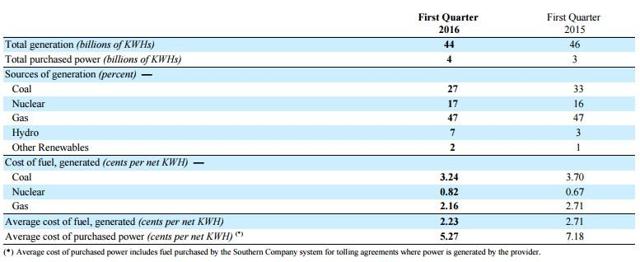 Source: Southern Company 10-Q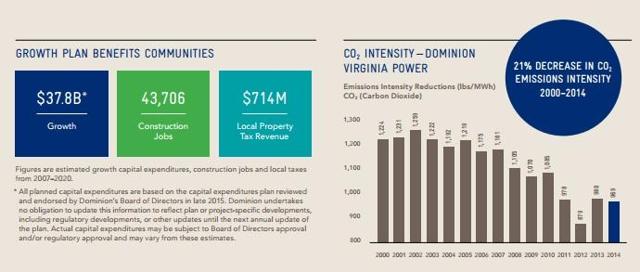 Source: Dominion Resources Annual Report
Not only is gas much cheaper than coal, but it also emits 50% less CO2, which explains Dominion's impressive declining carbon footprint. With Federal regulators increasingly calling for an end to coal power, and concerns over climate change representing a potentially expensive regulatory risk for electric utilities, Dominion's investment into cleaner gas and renewable solar power should provide an ongoing competitive advantage.
That's especially true since all of its business segments require good relations with either state or federal regulators. With Dominion's excellent track record of declining carbon intensity, it's likely to face better odds of future regulatory approval for further midstream acquisitions, as well as favorable future rate increase permissions.
Finally, Dominion's midstream MLP, Dominion Midstream Partners (NYSE:DM), represents another strong competitive advantage. That's because Dominion Resources serves as sponsor and general partner to Dominion Midstream, through its 65% ownership of the limited units and 100% ownership of lucrative incentive distribution rights, or IDRs.
By selling its fast growing midstream assets to its MLP, Dominion Resources can recoup much of the construction costs in a tax-efficient manner that still allows it to benefit from long-term, stable, and growing cash flow. That's because the more assets Dominion Resources drops down to Dominion Midstream, the faster the MLP's distributions to investors, and its sponsor, grow. In addition, above a quarterly payout of $0.2625 per unit, 50% of Dominion Midstream's distributable cash flow will go to Dominion Resources.
In other words, Dominion Midstream represents an exponentially growing source of high margin cash flow that should help management easily beat analyst growth expectations in the coming years. Better yet, those stable cash flows mean that Dominion's dividend growth prospects are exceptionally strong, especially compared to larger rivals such as Duke Energy and Southern Company.
Superior dividend profile compared to the competition
| | | | | |
| --- | --- | --- | --- | --- |
| Utility | Yield | TTM Dividend Payout Ratio | 10 Year Projected Dividend Growth | 10 Year Projected Total Return |
| Dominion Resources | 3.6% | 88.3% | 4.5% | 8.1% |
| Duke Energy | 4.0% | 89.1% | 3.8% | 7.8% |
| Southern Company | 4.2% | 87.5% | 3.4% | 7.6% |
| S&P 500 | 2.1% | 39.1% | 5.8% | 9.1% |
With a good rule of thumb for long-term total returns being yield + dividend growth, income investors need not just high, secure current yield, but long-term payout growth as well.
While Dominion's yield may be slightly below that of its peers, analysts expect its dividend to grow much faster over the next decade. And while long-term analyst growth estimates must always be viewed skeptically, given the utility's strong growth catalysts I think the above payout growth target is reasonable.
In fact, thanks to America's shale gas boom, which is likely to continue for at least the next decade, I think that Dominion Resources could very well achieve 5% to 6% dividend growth in the coming years.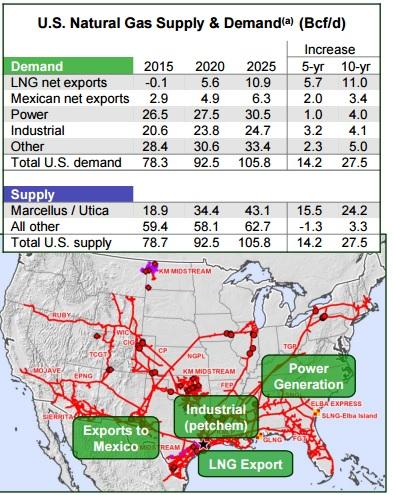 Source: Kinder Morgan investor presentation.
That's because I expect management to continue acquiring more midstream gas assets in the coming years, such as the recent $4.4 billion acquisition of Questar. Not only should that lead to better growth -- much better than the average regulated utility -- but it's also likely to continue generating strong ongoing capital gains that should easily beat what this overvalued market is likely to provide.
Top notch management team delivering great returns on capital
| | | | | | |
| --- | --- | --- | --- | --- | --- |
| Utility | Operating Margin | Net Margin | Return on Assets | Return on Equity | Return on Invested Capital |
| Dominion Resources | 30.5% | 16.9% | 3.3% | 15.2% | 6.39% |
| Duke Energy | 22.8% | 11.5% | 2.2% | 6.5% | 4.95% |
| Southern Company | 24.7% | 13.6% | 3.1% | 11.5% | 5.21% |
| Industry Average | 25.0% | 12.8% | 3.3% | 11.1% | NA |
Not only has Dominion Power been able to achieve impressive, industry-beating growth figures, but it's been able to accomplish this while generating superior profitability. That's thanks to its top quality management team, which has made the smart decision of selling off its volatile and capital-intensive wholesale merchant power business over the last few years. By deploying that capital into more profitable, toll-road pipelines, and LNG export terminals, Dominion is able to achieve spectacular long-term cash-flow security that goes extremely well with its core regulated utility business.
In other words, thanks to moves such as the Questar acquisition, ACP, and Cove Point, Dominion Resources is able to achieve diversification of cash flow without incurring the kind of low margins or earnings volatility that other utilities often face when trying to buy their way to faster growth.
Valuation isn't as crazy as it might seem
| | | | | | | | |
| --- | --- | --- | --- | --- | --- | --- | --- |
| Utility | Yield | 5 Year Average Yield | PE | 20 Year Average PE | P/Tangible Book Value | 13 Year Median P/TBV | Average Historical Premium |
| Dominion Resources | 3.6% | 3.6% | 22.0 | 23.3 | 4.86 | 3.38 | 12.4% |
| Duke Energy | 4.0% | 4.4% | 19.6 | 17.7 | 2.50 | 1.41 | 31.7% |
| Southern Company | 4.2% | 4.5% | 19.4 | 16.8 | 2.36 | 2.12 | 11.9% |
Investors might be forgiven for being nervous about current utility valuations, given the market's seven-year rally, and how well utilities have done over the past few years. Indeed, in the short-term, utilities such as Dominion Resources, Duke Energy, and Southern Company are indeed overvalued, at least compared to their historical yield, PE, and price to tangible book values.
| | | | |
| --- | --- | --- | --- |
| Utility | Morningstar Fair Value Estimate | Current Share Price | Premium to Fair Value |
| Dominion Resources | $76 | $78.02 | 2.7% |
| Duke Energy | $82 | $85.59 | 4.4% |
| Southern Company | $48 | $53.5 | 11.5% |
On the other hand, when you consider a longer, five-year time horizon, then this overvaluation isn't as large as it first appears. For example, according to Morningstar analyst Charles Fishman, Dominion's premium to fair value is only 2.7%. Now no single analyst valuation should ever decide whether you buy or sell a stock. However, in my opinion Morningstar's focus on long-term intrinsic value (as opposed to short-term Wall Street price targets) that are based on realistic and conservative growth projections make Morningstar the gold standard in estimating whether or not a company is overvalued.
In this case Mr. Fishman's intrinsic value model is based on the attractive regulatory environments in which its business segments operate. This includes Virginia Power's fast growing electric markets, which are expected to generate 38% of Dominion's operating earnings in 2020, compared to 21% in 2015.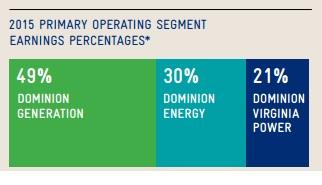 Source: Dominion Resources Annual Report
Given the fact that 39% of Dominion's planned growth capex spending is slated for expanding Virginia Power's assets, this seems like a realistic assumption.
In addition, Morningstar expects Dominion's wide-moat businesses, specifically its midstream natural gas assets, Cove Point LNG terminal, and growing network of electrical transmission lines, to generate 50% of the utility's operating earnings by 2020, 20% higher than 2013's 40% figure.
The reason this matters is that these business segments generate stronger returns on capital than Dominion's traditional regulated utility business. That should allow Dominion to not only maintain its profitability lead over its peers, but potentially even expand it. That's especially true given that distributions and IDR fees from Dominion Midstream is essentially all profit, since the midstream MLP is a separate operating entity that pays its own operating expenses.
Meanwhile, Virginia Power is incredibly well situated for strong earnings growth, thanks to its dominance in the fast-growing DC area power market. With Virginia boasting the largest number of tech workers per capita, 50% of US internet data running through Loudoun County, VA (creating a booming data center industry), and a large number of government and military installations, Dominion is very likely to prosper from long-term fast electrical demand growth.
In fact, Morningstar expects Dominion to invest $3 billion over the next four years into electrical transmission lines, resulting in 10% operating earnings growth from this wide-moat business. Furthermore, Mr. Fischer thinks that Dominion's volatile merchant power business will decline in importance from 11% of operating earnings in 2015 to just 3% in 2018.
I view all of these above assumptions as reasonable, based on management forward guidance, stated growth plans, and a good track record of ongoing growth in higher-margin and less volatile midstream assets. In fact, it's because of Dominion's ongoing diversification into these highly lucrative and wide-moat businesses that my own long-term valuation model shows shares are actually undervalued from a long-term, 10 year perspective.
| | | | | | |
| --- | --- | --- | --- | --- | --- |
| Utility | TTM EPS | 10 Year Projected Growth Rate | DCF Fair Value Estimate | Implied 10 Year Growth Rate | Margin of Safety |
| Dominion Resources | $3.17 | 5.5% | $88.35 | 3.5% | 12% |
| Duke Energy | $3.84 | 4.4% | $114.54 | -1.3% | 25% |
| Southern Company | $2.56 | 3.9% | $68.85 | -1.5% | 22% |
Now I'm not saying that a discounted cash flow analysis is a perfect valuation method, since it relies on long-term growth forecasts and an arbitrary discount rate, in this case the S&P 500's historical 9.1% CAGR. However, I think that a DCF analysis can be a useful tool for utility investors given the relatively predictable nature of the business. After all, Dominion Resources' current valuation prices in a conservative 3.5% earnings growth rate over the next decade, a figure I think management will easily beat. That is why I think shares are worth buying even at today's all-time highs.
Risks to consider
In the short- to medium-term, I see two main risks Dominion investors need to consider. First, is the threat of rising interest rates.
Yes, that risk is lessened by slowing US economic growth; however, keep in mind that Dominion Resources' balance sheet is more leveraged than the average utility.
| | | | | | |
| --- | --- | --- | --- | --- | --- |
| Utility | Debt/EBITDA | EBITDA/Interst | Debt/Equity | Current Ratio | S&P Credit Rating |
| Dominion Resources | 5.49 | 5.83 | 2.25 | 0.49 | BBB+ |
| Duke Energy | 4.72 | 5.40 | 1.10 | 0.73 | A- |
| Southern Company | 4.32 | 7.89 | 1.43 | 0.70 | A- |
| Industry Average | 3.01 | NA | 0.83 | 0.80 | NA |
While the current debt levels are eminently serviceable, nonetheless, Dominion's relatively larger debt burden means its share price may be more sensitive than the average utility to rising interest rates. And while falling prices aren't a concern to long-term investors, investors with shorter time horizons, such as retirees counting on selling shares to fund monthly expenses, may want to avoid adding shares at this time.
The second risk is also based on Dominion's share price, which could be set for a correction in the event of a broader market pullback. That's especially true given deteriorating corporate fundamentals occurring at the same time as the market continues hitting all-time highs, due to investor expectations of ongoing monetary accommodation.
For example, corporate earnings are expected to fall this quarter, marking six consecutive quarters of declining year-over-year profits. This troubling trend could mean that the recent trend of declining business investment might continue, triggering declining job and wage growth, and potentially even triggering a recession.
While Dominion's business is one that's relatively immunized from economic cycles, nonetheless a recession could finally result in a long overdue bear market that could see a substantial short- to medium-term price decline.
Bottom line: Dominion Resources represents one of the best high-growth utilities you can buy today
Don't get me wrong -- I'm not saying that Dominion Resources, like most utilities, isn't going to suffer a short-term price correction. That's especially true given the lower, but still present risk of the Federal Reserve raising interest rates over the next few quarters.
However, given Dominion's strong, long-term growth catalysts, generous yield, and strong profitability, I continue to view today's share price as a reasonable one for investors to add Dominion Resources to their diversified dividend portfolios.
Disclosure: I/we have no positions in any stocks mentioned, and no plans to initiate any positions within the next 72 hours.
I wrote this article myself, and it expresses my own opinions. I am not receiving compensation for it (other than from Seeking Alpha). I have no business relationship with any company whose stock is mentioned in this article.