Bloomberg reports that ride hailing service Didi Chuxing (Private:DIDI) will acquire the Chinese operations of Uber (Private:UBER). Uber China will be merged into Didi Chuxing as Didi acquires Uber's brand and business in China. Uber China's shareholders, Uber Technologies and others will get a 20% stake in the combined company. Apple's (NASDAQ:AAPL) investment of $1 billion in Didi looks set to pay off handsomely.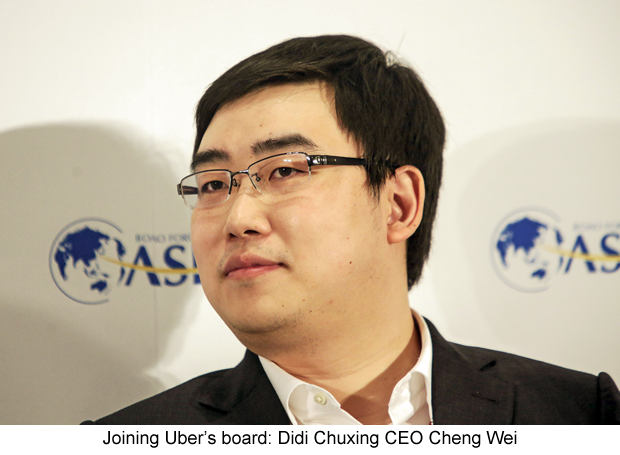 Source: Bloomberg
The Virtues of Inorganic Growth
Apple's support of Didi may also have encouraged Uber to give up on its China venture. Bloomberg claims that Uber has been spending $1 billion a year to expand its business in China. Both sides agree that the combined company will be better positioned to take on traditional transportation services such as taxis and buses.
The deal still requires government approval, but my impression is that the People's Republic of China regulators will be more than happy to get rid of Uber and replace it with a predominantly Chinese owned company. Regulators will be able to cite competition from traditional transportation services in approving the deal.
As I pointed out in my previous article on the Didi investment, Didi's ride sharing app already had an estimated 87% share of the market, so Uber fills in the remaining 13%. According to Bloomberg, the Uber acquisition increases Didi's valuation from $28 billion at the time of the Apple investment in May to $35 billion now.
Apple's $1 billion investment was part of a $3 billion funding round. It's not clear how big a chunk of Didi Apple obtained. Didi is backed by Alibaba Group Holding Ltd. (NYSE:BABA) and Tencent Holdings Ltd. (OTCPK:TCEHY). Other investors include DST, Tiger Global Management, SoftBank Group Corp. (OTCPK:SFTBF), and Temasek Holdings, according to Bloomberg.
If Apple's share appreciated proportional to the valuation increase, then Apple has already realized a 25% return on its investment. At the time of the Apple investment, I pointed to a number of motives for Apple. The investment could be seen as a "give back to the community" attempt to mollify PRC regulators. It also would augment Apple's marketing presence in China since the Didi app is the second largest platform for online transactions in China. What didn't occur to me is that the investment could make Apple a lot of money.
Moving the Income Needle
Apple doesn't normally buy companies for their revenue streams. As it states over and over, it mainly buys companies for talent and technology that it can then fold into its internal product development. Even for acquisitions, the orientation is very much toward fostering organic growth.
Although it was speculated that the Beats acquisition would generate a significant revenue stream, the immediate impact to revenue was "in the noise" and not readily discernible. Beats ended up being another acquisition for talent and technology, as Iovine and Dre joined the company, and the Beats Music service became the basis for Apple Music.
So Didi could be Apple's first investment that actually generates sizable investment income. It's also fundamentally different from most other Apple acquisitions in that Apple isn't subsuming the acquired company. Didi retains its independence and identity.
Apple Holdings Incorporated
As Apple has suffered some setbacks in iPhone these past couple of quarters, I've had to reexamine my fundamental thesis that Apple is still a growth company. Doubtless, Apple bears will view this as me being a little slow to the uptake. But seriously, I don't see any obstacles in Apple's path to future growth, other than the choices that Apple's management makes.
Fundamental to my view of investing in general and technology investing in particular is that for highly profitable companies like Apple, future performance is primarily based on the quality of decision making by management. Apple's capital resources give its management the freedom to exploit new business opportunities to achieve growth. But it's still up to management to make good decisions. Decline is not inevitable, but it is possible.
Not all of the opportunities that Apple has will be in the domain of organic growth. The smartphone market might continue to slow. Technology innovations might not be there for the "next big thing." Apple Watch might continue to be a niche product.
With Didi, we see Tim Cook vastly expanding the horizons for Apple's potential investments. The Didi investment might well have not occurred prior to his tenure as CEO. Sure, there are some synergies here, but they seem a little tenuous. Ride sharing services may ultimately migrate to autonomous vehicles. Apple is known to be working on "Project Titan," an EV that may have autonomous capability. At some point way down the road, these tracks might converge.
Or Titan may never see the light of day as an actual product. If Tesla (NASDAQ:TSLA) is proving anything, it's that it is really, really hard to build an automobile company from scratch and make a profit. Apple's desire for high margin businesses may doom Apple Car, and with it, Apple's main hope for significant organic growth.
The next best thing is to buy that growth. With over $159.5 billion in cash less debt, Apple can buy a lot of growth, and it's not constrained to spend that cash only in the US. Even though this would be a complete break with the past for Apple, I see nothing wrong with this as a growth strategy.
It's a difficult strategy to implement well, and I don't advocate that Apple go on a shopping spree. But I think Apple will continue to expand its investment horizons, looking for ways to invest in disruptive and innovative companies and technologies. Some will be integrated into Apple, some will be kept at arm's length.
Investor Takeaway
One of the reasons I remain long Apple is that I still see tremendous potential for growth in the company, but not all of that growth will come from new products and services. I believe investors have tended to underestimate the growth potential that remains untapped in Apple's net cash.
This was one reason why I was not unhappy to see Carl Icahn bail out of Apple. My problem with Icahn is that he didn't see the growth potential in the cash. Since there was no growth potential as far as he was concerned, it made sense for Apple to simply give to shareholders.
The growth potential of the cash is two-fold. It can help to fund internal innovation and product development, organic growth, as well as fund acquisitions for inorganic growth. Both are going to be important for Apple going forward.
Whether Apple can leverage its cash into solid revenue and earnings growth in the future is of course debatable. Once again, this is very dependent on the quality of decision making, and I doubt that there's a cut and dried formula one could apply to predict accurately future income based on Apple's cash. It is, of course, already earning some return.
With Didi, investors have proof of good investment decision making on the part of Apple. There is every reason to believe that Apple will continue to invest prudently and profitably. I remain long Apple and recommend it as a buy for investors with a 3-5 year investment horizon.
Disclosure: I am/we are long AAPL.
I wrote this article myself, and it expresses my own opinions. I am not receiving compensation for it (other than from Seeking Alpha). I have no business relationship with any company whose stock is mentioned in this article.
Editor's Note: This article discusses one or more securities that do not trade on a major U.S. exchange. Please be aware of the risks associated with these stocks.