Carbon Credit Markets
U.S. biofuel producers benefit from international and US federal and state policies to reduce carbon tailpipe emissions. Currently, there are two primary markets in the US that enable producers and other participants to monetize carbon credits: the Renewable Fuel Standard (RFS) and the California Low Carbon Fuel Standard (LCFS). Understanding the logic and market mechanisms of these markets is not for the faint of heart. The RFS is the law under which Renewable Identification Numbers (RINs) are created and sold. A good overview of the RIN market by an oil & gas analyst can be found here.
The California LCFS market was re-authorized in January 2016 and concurrently the market values for LCFS credits increased dramatically in late 2015 and early 2016, as below.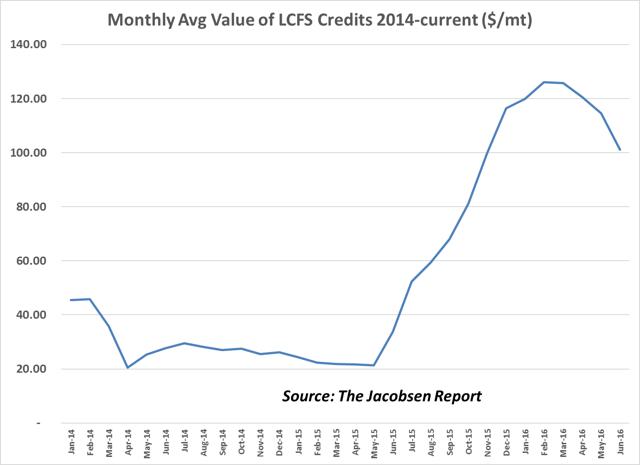 RIN Markets Expected to Be Under-Supplied in 2017
Both Wall Street analysts and the academic community have forecast a shortfall of RINs by 2017. Goldman Sachs recently upgraded Darling Ingredients (NYSE:DAR), in part on an its forecast for a RIN shortfall by 2017. The RIN shortfall is expected to keep continued upward price pressure on RINs. A summary statement on Goldman's RIN research, published by Platt's, can be accessed by clicking here.
The University of Illinois recently published an article which forecasts a supply shortfall for RINs. This study includes a very detailed supply and demand analysis for all categories of RINs, and is recommended reading for any follower of the US biofuel industry. The study can be accessed by clicking on the link here.
One graph from the University of Illinois Study can be seen below. The "advanced gap" represents the amount of advanced biofuel (D5) RINs that will likely have to be met by additional blending of biomass-based diesel. In the past, many of the D5 RINs were satisfied by importing sugar cane ethanol from Brazil; however, current market pricing is not currently supportive for these imports. As a result, there is a favorable outlook for increasing demand for biomass-based diesel RINs, which will likely keep upward price pressure on all classifications of RINs.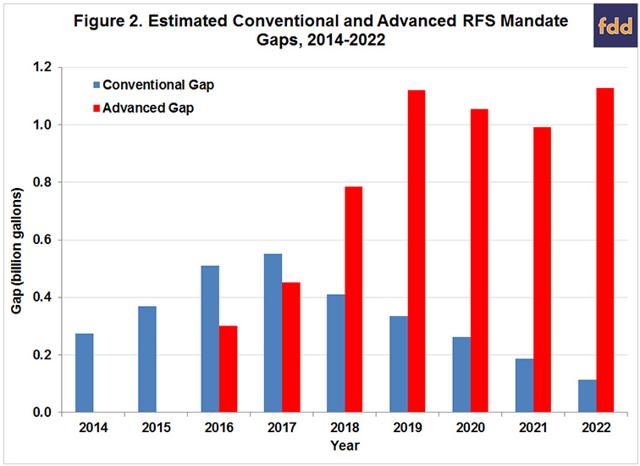 The forecast RIN shortfall will encourage more product demand from biomass-based diesel producers like Renewable Energy Group (NASDAQ:REGI) and Darling. In addition, the forecast RIN shortfall will be indirectly supportive of ethanol producers like Pacific Ethanol (NASDAQ:PEIX) Rex American Resources (NYSE:REX) and Green Plains, Inc. (NASDAQ:GPRE) also.
The prices of D4, D5 and D6 RINs tend to move in tandem, because certain biofuels -- and especially biomass-based diesel -- can be used to satisfy compliance in either of the three categories. To illustrate the principle of relative price, we include a graph below from PFL Markets. This graph shows the daily value of D4, D5 and D6 RINs for three compliance years since June 6, 2016.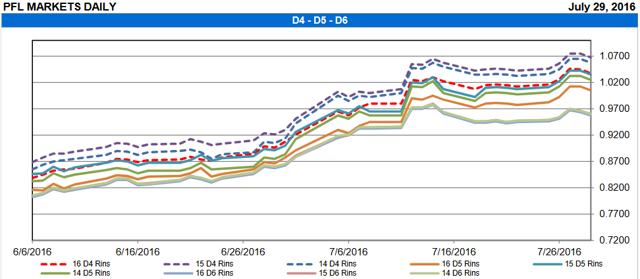 Rising Biodiesel Production Margins
Rising values of RINs and LCFS credits, along with the re-authorization of the biodiesel blender's credit, have enabled spot biodiesel production margins to rise substantially in 2016. In the graph below, the black line below shows the gross margin for converting soybean oil into biodiesel, which rose from nearly $0.05/gal in January to $0.65/gal in June 2016. The blue line shows the estimated gross margin for corn oil biodiesel sold with LCFS credits. This estimated margin rose from $2.15/gal in January to $2.40/gal in June 2016.
The gross margins were calculated as a monthly average of biodiesel prices, when subtracting feedstock, methanol and variable operating costs. These estimated margins are illustrative, and don't account for basis differentials, transport costs, forward hedging effects, etc. Nevertheless, they do demonstrate rising and healthy margins for the biodiesel producer in 2016.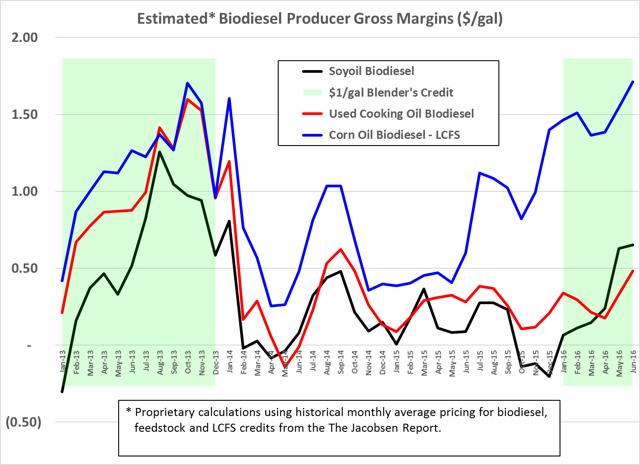 Renewable diesel, produced in the U.S. by DAR and REGI, will usually enjoy higher proforma gross margins than biodiesel. Our current internal models are calculating a $0.70/gal gross margin advantage for renewable diesel over biodiesel.
Renewable diesel is produced by hydrocracking the triglyceride, whereas biodiesel is produced by esterifying the triglyceride with methanol. Renewable diesel has numerous technical advantages for the blender and fuel consumer, and can be produced more easily at scale than biodiesel. Renewable diesel also has a superior carbon score and subsequently creates more RINs per gallon than biodiesel.
Summary
Biomass-based diesel gross margins have risen substantially in 2016 and the outlook for biomass-based diesel demand is favorable. Industry and academic experts have forecast that more biomass-based diesel than expected will be needed to satisfy RIN compliance for 2016 and beyond. These trends will enable pure play biomass-based diesel producers like REGI to show improved margins, while also helping diversified agricultural companies like DAR and ADM to show improving segment profitability.
Disclosure: I am/we are long REGI, PEIX.
I wrote this article myself, and it expresses my own opinions. I am not receiving compensation for it (other than from Seeking Alpha). I have no business relationship with any company whose stock is mentioned in this article.