There has been a number of disappointing performances in the restaurants industry this year, but one which continues to buck the trend is the Cheesecake Factory (NASDAQ:CAKE). In its recent quarterly results the company delivered an astonishing 26th consecutive quarter of comps growth, leading it to a 7 cents per share beat on earnings. With the company opening up in China, we believe the long-term growth of the company could make it a great long-term investment.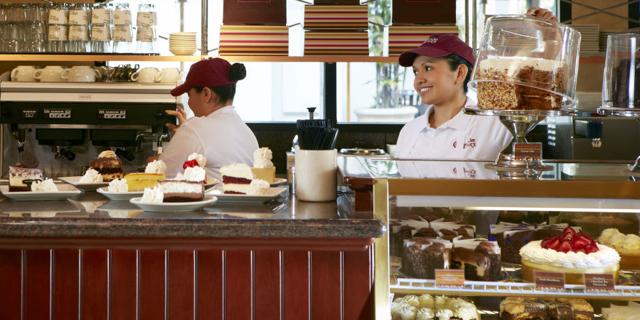 Although comps growth slowed to 0.3% in the quarter, we feel this was a good performance considering the struggles in the industry and the headwinds it faced. Consumers just aren't spending as you'd expect them to be, competition is strong, and the economy is exhibiting slow growth. The key to comps growth in the second quarter was menu pricing according to management. That was the largest contributor with a 2.9% increase, largely offset by a 2.7% drop in traffic.
On the earnings call Cheesecake Factory's CFO Douglas Benn pointed to weakness in the Texas and Florida markets as being partly to blame for the drop in traffic. As many investors will be aware, Cheesecake Factory has reasonably high exposure to oil markets. So it comes as little surprise to see its Texas stores struggling. In Texas, and in Houston in particular, the local economy is unfortunately in a difficult spot right now following the oil bust. With many economists expecting it to be at least a couple of years before the region sees a rebound, this headwind looks likely to act as a drag on comps for some time to come. The company says lower levels of tourism in the Florida market, which includes Puerto Rico, is the reason behind a drop in traffic there.
But the good news is that comps are still expected to accelerate to between 0.5% and 1.5% in the third quarter, bringing full year comps to approximately 1%. In our opinion this is a strong result all things considered. We feel the company could achieve the high end of its guidance thanks to a number of catalysts.
The introduction of CakePay, Cheesecake Factory's answer to Starbucks (NASDAQ:SBUX) Mobile Order and Pay, is being well received by both customers and stores. One key feature we like is the ability for groups of customers to split their bill. Not only is this a boost for productivity at point of sale, but we see it something which customers both appreciate and expect these days. It is just in time for the launch of its popular summer menu as well, which is likely to be another boost to sales in our view.
The company scored some free press also after being included in a MasterCard (NYSE:MA) advertising campaign related to its MasterPass launch. MasterCard calls the digital payment service the foundation for the future of commerce, and is featuring the Cheesecake Factory as part of the promotion.
As we have mentioned numerous times before, it is the international growth which attracts us most to the company. The recent launch in China is a great move and one we are very optimistic about. Opening up at Shanghai Disneyland (NYSE:DIS) is a clever way into the country and we hope to see it successfully expand outside the walls of Disneyland soon. The company signed an agreement with Hong Kong-based restaurant operator Maxim's Caterers Limited for a minimum of 14 stores over the next 10 years in the region. We believe the business could work well in the China market, leading to growth far beyond the minimum expectations.
If this is the case then the long-term earnings growth potential from the international market will be incredibly strong. Although there has been no mention in recent quarters, previously international stores were contributing approximately 1.5 cents to earnings per share. The international market has the potential to be incredibly lucrative if it can execute them well. So far we are pleased with the progress they are making, and we expect at least five international store openings this year.
Management has increased full year guidance to a range of $2.70 to $2.76 from $2.61 to $2.70. This increase in guidance puts it beyond our previous forecast of $2.67 per share, much to our delight. In light of this improved performance and outlook we are increasing our forecast now to $2.76 per share.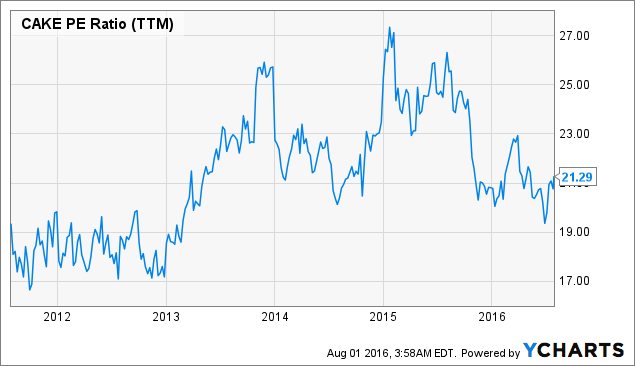 With 20 times earnings still what we deem to be fair value for Cheesecake Factory's stock to trade at, we have a price target of $55.20. This would be a return of 6.7% from the last close price. Due to the strong performance of its stock this year this return is clearly not spectacular. But we feel this is a great entry price for long-term and patient investors. In our opinion the company is well-placed to produce reasonably strong earnings growth for a number of years to come. With its shares reasonably priced now, this bodes well for a long-term investment.
Disclosure: I am/we are long CAKE.
I wrote this article myself, and it expresses my own opinions. I am not receiving compensation for it (other than from Seeking Alpha). I have no business relationship with any company whose stock is mentioned in this article.