Tax-advantaged investments that provide favorable treatment for investors when times are good can turn into tax nightmares when times are bad. If you own stock in a company that is a master limited partnership (MLP), you might one day find you have a large tax bill on phantom income because the company restructured its debt or entered bankruptcy and significant amounts of debt were forgiven. Moreover, this cashless "income" is taxed at ordinary rates. For this reason, investors should consider selling any stock of a company that is an MLP at the slightest hint of any financial or earnings problems.
In the United States, a company that is a partnership will always have the word Partners or LP (sometimes LLC) in its name. About 82% of MLPs are in various segments of the energy business - oil, natural gas, coal and even alternative energy. Pipelines are almost guaranteed to be partnerships. There are some non-energy companies, though, such as: Alliance Bernstein LP (NYSE:AB), Ares Management LP (NYSE:ARES), Blackstone Group LP (NYSE:BX), Carlyle Group LP (NASDAQ:CG), Cedar Fair Partners (NYSE:FUN), Icahn Enterprises LP (NASDAQ:IEP), KKR LP (NYSE:KKR), Landmark Infrastructure Partners (NASDAQ:LMRK), Oaktree Capital Group LP (NYSE:OAK), Pope Resources LP (NASDAQ:POPE), and Terra Nitrogen LP (NYSE:TNH).
An MLP is a pass-through entity (stockholders receive a K-1 form for their taxes). The company's ordinary income, as well as capital gains and losses, needs to be distributed to investors and investors then pay taxes on their personal returns based on these amounts. This eliminates the double taxation that an incorporated company encounters (it first pays taxes on its earnings and then distributes dividends to stockholders, who then pay taxes on the dividends). Eliminating the middle man, means MLPs can give stockholders (limited partners) higher payouts. It should be noted, though, that MLPs can elect to be taxed as regular corporations (investors would receive 1099 forms for their taxes).
When company profits dry up, as occurred in the oil patch during the last couple of years, MLP investors can get nasty surprises. Monthly or quarterly distributions can disappear and stock prices fall. While an investor in a company that is a corporation can lose 100% because the stock price goes to zero, an investor in an MLP can lose a lot more. The losses don't come through the losses of the company, but ironically through "gains" a struggling company makes through write offs of its debts through a restructuring either in and outside a bankruptcy (this is known as CODI - cancellation of debt income). These gains are passed through to the limited partners who have to pay the taxes on them. Even worse, the tax rates are ordinary income rates, not lower capital gain rates. So stockholders (usually referred to as unit holders) lose their investment in the stock, plus whatever additional taxes they have to pay, and these can be substantial. Moreover, losses won't be the same for everyone, but are dependent on each unit holders tax bracket.
Atlas Resources Partners LP was the latest MLP to file for bankruptcy on July 27th. It negotiated a $900 million debt reduction by giving bondholders equity in the new entity when the company came out of bankruptcy (as a corporation and not as a partnership). Stockholders were wiped out and were liable for the pro-rated taxes on the $900 million of imputed income. Previous MLP bankruptcies in the last year include: Breitburn Energy LP, Linn Energy, and New Source Energy. A much larger number of MLPs have suspended their payouts. These include: Azur Midstream (NYSE:AZUR), Calumet Specialty Products (NASDAQ:CLMT), Emerge Energy (NYSE:EMES), EV Energy Partners (NASDAQ:EVEP-OLD), Foresight Energy (NYSE:FELP), Hi-Crush Partners (NYSE:HCLP), Legacy Reserves (NASDAQ:LGCY), Mid-Con Energy Partners (NASDAQ:MCEP), Rhino Resources (NYSE:RNO), Southcross Energy (NYSE:SXE-OLD) and Vanguard Natural Resources (NYSE:VNR).
The price of oil, natural gas, and coal plummeted from 2014 to early in 2016. While some recovery has taken place in oil prices and to a lesser extent natural gas prices, there is no long-term sustainable rally in either commodity yet. More dividend suspensions (a usual prelude, but not an absolute guarantee of bankruptcy) and bankruptcies should be expected in the coming months. Pipeline MLPs, considered the safe haven in the sector, are no longer as safe as they once were because of two recent court actions. In March, a New York court ruled that an oil and gas company in bankruptcy could reject contracts to transport oil and natural gas. In April, a company in bankruptcy restructured a pipeline contract with better terms for it. Pipeline contracts were previously considered sacrosanct and guaranteed money.
Investors who wish to invest in MLPs should do so through ETFs/ETNs that represent a large number of partnership companies. The three major one are AMLP, AMJ and MLPI. These ETPs (exchange traded products) tend to trade with the price of crude oil, but do better on the downside. See chart.
MLP ETPs Versus Crude Oil Three Years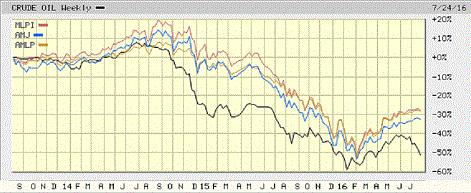 There are bargains in this space, but they are dangerous bargains. Investors should be wary of buying individual companies until oil and natural gas prices start longer-term rallies. Recovery means that instead of lowering payout, MLPs should start raising them. This may take a while.
Any questions an investor has about tax issues concerning an MLP should be discussed with a professional tax expert before buy or sell decisions are made.
Disclosure: I/we have no positions in any stocks mentioned, and no plans to initiate any positions within the next 72 hours. I wrote this article myself, and it expresses my own opinions. I am not receiving compensation for it (other than from Seeking Alpha). I have no business relationship with any company whose stock is mentioned in this article.
Editor's Note: This article covers one or more microcap stocks. Please be aware of the risks associated with these stocks.