There have been a couple of interesting articles on Seeking Alpha about the intrinsic value of Blackstone (NYSE:BX). These articles were prompted by The Blackstone Group's CEO Steven Schwarzman, following remarks, on the Q2 2016 Results earnings call,
For our unit holders, if you simply ignore realizations and focus solely on our fee-related earnings, we have a clear line of sight towards strong double-digit growth in fee earnings for next year. This alone could generate approximately $1 per unit or more depending upon the timing of certain events, particularly funds being launched. You should know, which I actually didn't, that the S&P is yielding around 2% today. It's incredibly low. And we don't see why our mostly locked up fee earnings shouldn't be capitalized in our stock price at a similar, if not, lower yield to the S&P. You could do the math. A 2% yield, the same as the S&P on $1 off fee-related earnings implies a $50 stock price, not to $26 where we are today. I know this seems hard to believe but it happens to be mathematically true and finance is supposed to have something to do with mathematics. At a 3% yield which is a 50% premium to the S&P for long-term locked in cash income - and I wouldn't understand why you made a premium, it implies the stock price of over $30 and that's giving no consideration to realizations, which have already added $0.40 per unit to distributable earnings in the first half of the year and which have averaged almost $2 per unit in distributable earnings over the past three years. But when you put this all together, I think the math is sort of simple and Blackstone sort of has earnings in two pieces; one, fee earning income, which is highly predictable and which deserves a market multiple at a minimum and that takes you to much, much higher levels than where you are today, as well as our distributions from realizations which always happen and that's our primary business, good investments for our limited partners and that's why they give us so much money. So I'll leave that all to you. Blackstone is the dominant firm and reference institution in the alternative asset management industry. You may be surprised to learn that Blackstone's market cap is roughly the same size as our next five public competitors combined. I'll say that once again because it surprised me a bit. Blackstone's market cap is roughly the same size as our next five public competitors combined, and I hope we can all agree that Blackstone is very much on sale today. I remain confident that this valuation mismatch will correct itself over time but that's up to you, not to me.
Keuka Capital writing in his article, Dear Blackstone's Mr. Schwarzman: You're Now In Excellent Company cautiously agreed with Mr. Schwarzman's remarks while The Traveling Investor writing in Blackstone: Steve Schwarzman's Method Yields $13.87/share obviously did not. Alternate Asset Managers are hard to value thus leading to inefficiencies in the market which value investors can take advantage of. As Mr. Schwarzman alluded to, in his remarks - there are two streams of income - a highly predictable stream for managing the money based on AUM (Assets Under Management) and an unpredictable stream which depends on performance, realizations and incentive payments. Keuka Capital suggests a valuation of around $30 a share. While both authors primarily depend on capitalization of the predictable fee earning stream they arrive at their values using widely varying different risk assumptions. Keuka suggests a consistent distribution of 2% dividend and capitalizing that at 50% premium to that of the S&P 500 (i.e. cap rate of 3%) comes to a value of around $30. Traveling Investor suggests that capitalization of the predictable fee stream should occur at 4% (applying 100% risk premium to Mr. Schwarzman), and goes on to apply a further 2% premium to account for S&P 500 retained earnings which are not distributed(for a total capitalization rate of 6%) and come to a valuation of around $14.
I suggest valuing Blackstone on the basis of actual distributed earnings over an entire cycle. (10 year being the life of a typical BX fund). I added up all the dividend paid out and Since June 2007 (the IPO) - BX has paid out $11.39 in cash. So I will assume a payout of $12.66 per share over a 10 year period or $1.27 per share per year over the next 10 years. I assume a 2% growth rate on dividends (in line with GDP and 4% discount rate - in line with S&P earnings yield of 4% -(P/E of 25)) and more than twice that of a 10 year treasury bond.
Applying the dividend discount model, I get a value of $37.26. Therefore I do agree with BX CEO Schwarzman that the stock is undervalued in the present market. I feel this is a fairly conservative value as Blackstone is considerably larger firm in 2016 than it was in 2007 and if anything distribution to unit holders in the next 10 years would be much larger than the 2% increase assumed by the model. It is interesting to note that Blackstone maintained its distribution throughout the financial crisis when most financial institutions were crushed.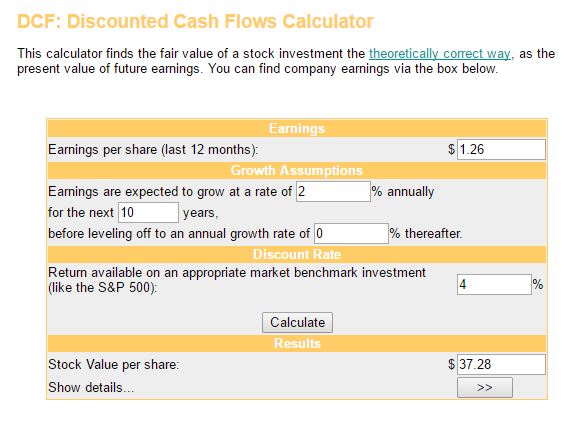 Reader's should note that I have kept my assumptions to a minimum (Occam's razor). The only assumption I make is that Blackstone will pay out at least the same dollar amount per share in the next 10 years as it has over the last 10 years. I have applied a very conservative 2% growth factor to the figure.
Valuations by Morningstar and S&P Capital IQ are in line with the above calculations.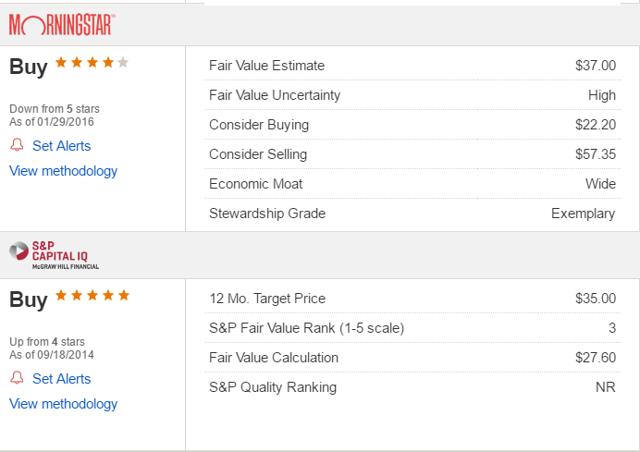 Source: ml.com
While Value Line values BX considerably higher at the $45 to $70 range.

Disclosure: I am/we are long BX.
I wrote this article myself, and it expresses my own opinions. I am not receiving compensation for it (other than from Seeking Alpha). I have no business relationship with any company whose stock is mentioned in this article.