Introduction
I must say that I was surprised with Amira Nature Foods (NASDAQ: ANFI) posting a profit in FY 2016. I expected a loss and hoped I could snap some shares on the cheap, around or below $5. This did not happen so I have to rework my strategy. In this article I will share my thoughts on ANFI's latest results and present the risks and rewards of investing in ANFI.
Company overview
ANFI is a major international producer of packaged food, including Indian specialty Basmati rice with sales in over 60 countries (56% of revenue is international - 2016). It generates the majority of its revenue through the sale of Basmati rice, a long-grain rice grown only in certain regions of the Indian subcontinent, selling its products, primarily in emerging markets, through a distribution network.
2016 results and outlook
I expected ANFI to report a loss due to the fact that basmati prices were severely hit in 2015 (ANFI's fiscal 2016 goes from 1 April 2015 to 31 March 2016). Basmati prices fell from an average of $1324 per ton in 2014 to an average of $849 in 2015. The good news from ANFI is that it managed to control that risk and reported a loss of only $22.5 million in its change in inventory of finished goods account. As in previous years the same account was the main source for accounting profit my estimation was that ANFI would report a loss.
Figure 1 ANFI's income statement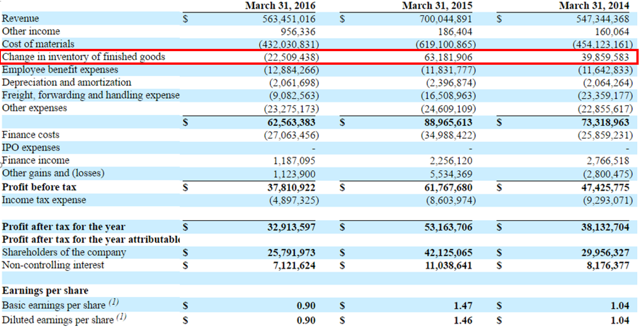 Source: ANFI's 20-F
What I oversaw was that lower basmati prices mean also lower costs of goods sold. As basmati prices decreased ANFI managed to increase its gross margin from 12% to almost 24%. This brings us to the following question: Is ANFI still a growth story?
We can calculate that by dividing ANFI's revenue with the average price of rice. If we take the 2014 average rice price of $1,324 per ton and divide it with ANFI's fiscal 2015 cost of material, we get to 467.598 tons of bought rice. In fiscal 2016 ANFI bought 508,870 tons of rice at a lower average price of $849. So in tons of rice bought and probably sold, ANFI grew by 8.8%. Now if basmati prices rebound, so will ANFI's revenue, the change in inventory of finished goods will turn positive and ANFI's bottom line will be much higher. The annual report also mentions volume declines in ANFI's emerging markets business that the management believes to be short term.
Well, we do not have to wait long for the first good news for ANFI. Rice prices have been increasing since March so we can expect an even more positive earnings report next time as ANFI buys most of its rice for seasoning in the period from September to March.
Figure 2 Export prices for rice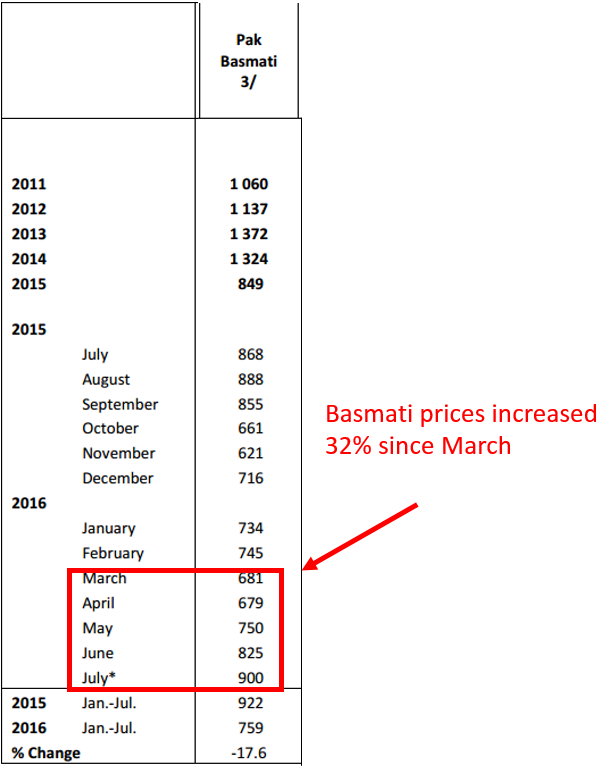 Source: FAO
ANFI is a simple business - basmati prices go up, you make more money. Better earnings from a low price basis like the current one could make the stock go up a lot but there are also some risks.
Further analysis of the annual report in bullet points
ANFI spent $5.4 million on legal fees and professional charges in 2016 which was probably necessary due to the 2013 Philippine government rice seizure, short attacks and changes in auditors so we can expect next year to be even more positive.
Book value is $6.03 per share which limits the downside risk, especially now that basmati prices are increasing.
Total liabilities declined from $275 million to $253 million but are still the main risk for the company, especially as receivables are surging.
Total receivables increased from $80 million in 2014 to $130 million in 2015 and consequently to $189 million in 2016. The annual report states that it is typical for ANFI to extend credit periods to its suppliers and it is reassuring that ANFI's major customer accounts for only 14% of revenue. Top five customers account for only 25.1% of receivables while top two customers account for 4.8%. As the top five customers accounted for 53% of receivables in 2015 the extended credit period might be due to a change in payment terms ANFI made with new customers.
Past due receivables are $5.3 million of which $2.6 are due less than three months. Bad debt of 2.8% of receivables should not be an issue.
ANFI granted options to purchase 375,899 of the company's ordinary shares to Mr. Chanana for an exercise price per share equal to $10.0 and 56,061 to Mr. Watcha, ANFI's CFO with an exercise price of $7.48. As both prices are above ANFI closing price at the time of writing such agreements signal that management is confident that ANFI's share price will be above $10 in the future
The two shareholder class action lawsuits filed last year in relation to the short seller attack were dismissed by the court on July 18 2016.
Investment thesis
ANFI's share price has been on a rollercoaster since its IPO.
Figure 3 ANFI's price since IPO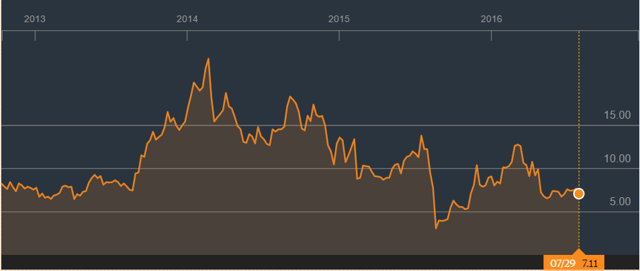 Source: Bloomberg
With current EPS of $0.91 we have a PE ratio of 6.8 which is already very low, downside risks are lowered by ANFI's 1.17 price to book ratio. ANFI is very undervalued when compared to its competitor KRBL.
Figure 3 ANFI's competitor KRBL price and fundamentals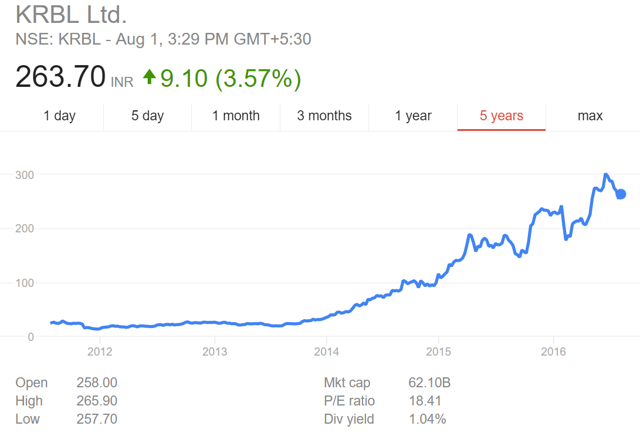 Source: Google
KRBL's price has been surging no matter the decline in basmati prices. The Indian rupee has depreciated by only 10% in relation to the dollar in the last three years so it did not have a strong influence on the price appreciation.
Seeing that ANFI has successfully defended itself against a terrible short attack last year maybe it is time for ANFI to reach a proper valuation. I see the current low price as a result of uncertainty around ANFI's 2016 earnings report and doubt about ANFI's capacity to turn a profit. As those main issues has been solved by ANFI with great profits and timely reported financial statements I see much more positive than negative risks for ANFI at this moment.
Negative risks are related to liquidity with the high receivables and short-term debt levels but ANFI has been successfully operating since its IPO in such a state so if we do not hear about any issues about liquidity I do not see catalysts that can push ANFI's price down except for systemic market risks.
On the positive side, we have basmati prices increasing and the whole ANFI postponed positive growth story on the table again. Any kind of positive news would propel ANFI's price like ANFI managing to restructure its debt with a lower interest rate or new contracts with large customers. I expect ANFI's price to return to $13 in the next 12 months based on increased earnings due to higher basmati prices and a fair valuation. More positive news like new customers or debt restructuring in combination with higher 1H 2017 earnings could push ANFI to a price around $20 (EPS $1.5, PE ratio 15) but this is something for the longer term.
Disclosure: I am/we are long ANFI.
I wrote this article myself, and it expresses my own opinions. I am not receiving compensation for it (other than from Seeking Alpha). I have no business relationship with any company whose stock is mentioned in this article.
Additional disclosure: This article was provided for informational purposes only. Nothing contained herein should be construed as an offer, solicitation, or recommendation to buy or sell any investment or security, or to provide you with an investment strategy. Nor is this intended to be relied upon as the basis for making any purchase, sale or investment decision regarding any security. Rather, this merely expresses my opinion, which is based on information obtained from sources believed to be accurate and reliable and has included references where practical and available. However, such information is presented "as is," without warranty of any kind, whether express or implied. The author makes no representation as to the accuracy, timeliness, or completeness of any such information or with regard to the results to be obtained from its use should anything be taken as a recommendation for any security, portfolio of securities, or an investment strategy that may be suitable for you.