In one of my recent articles, I had explained how oil prices can increase despite all the negative market sentiments. I also explained how the militancy issue in Nigeria, rising oil demand from China and India, falling U.S oil production and supply decline from key oil producing countries can support prices in the coming time. In fact, in a survey that was conducted by Reuters on 29 market economists and analysts, it came out that oil prices may rise in the coming time, mostly because of a strong demand growth led by India, China and Africa. Oil prices are currently facing several bearish factors such as rise in U.S commercial crude oil inventories, rising U.S gasoline inventories and a rising product glut in Asia. With all these bearish factors, both WTI (WTI) and Brent were trading at $41.63 and $43.63 at the time of writing this article. When we look at the current markets, we see that the elevated crude and gasoline inventories will take some time to trim down and this definitely will slow down the supply- demand rebalancing of oil. In fact, there is one more factor that can affect oil (NYSEARCA:USO) in the coming time.
Saudi Arabia's oil demand is slowing down
Saudi Arabia, the biggest contributor to oil demand growth in the Middle East, is now facing its slowest oil consumption growth since 2010. As per a report that was published in Bloomberg, Saudi Arabia's crude oil demand expanded by an average 24,000 barrels a day for first five months of this year. This was Saudi Arabia's slowest growth rate in last six years. Even the International Energy Agency (IEA) is now predicting a decline in Saudi Arabia's total oil demand for entire 2016. Also, consumption of refined products like Gasoline and Kerosene declined by 22,000 barrels a day for the first time since year 2002. Saudi Arabia's oil demand growth has slowed down after its government introduced economic reforms that also included the removal of fuel subsidies, in order to control the country's rising fiscal deficit .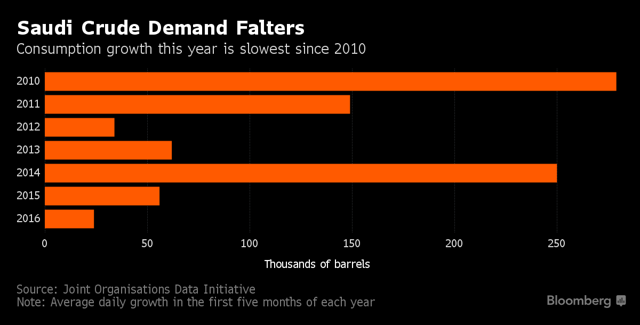 Saudi Arabia's oil production is still very high
As per OPEC's monthly oil market report, Saudi Arabia is projected to contribute at least 50% of Middle East's total oil demand growth in 2017. Although Saudi Arabia's domestic demand growth is falling, it must be noted that the desert kingdom is producing crude oil at record levels. Saudi Arabia increased its crude oil production by 280,000 barrels a day to around 10.6 million barrels a day in the month of June. In fact, OPEC's July production levels stand somewhere near 33.41 million barrels a day, which is high by any standards. Even Saudi Aramco has significantly reduced the pricing terms of its Arab Light crude in the Asian market. The demand for crude oil is already reducing in Asia as refiners get ready to reduce their operations because of reducing margins and increasing inventory levels. With Saudi Arabia continuing to increase its production levels (along with its reducing internal oil demand growth), there are indications that the Asian markets will remain oversupplied in the coming time.
Takeaway
With falling consumption growth, Saudis are still pursuing their 'pump and dump' strategy by maintaining a high crude oil production level. It is true that Saudi Arabia's oil exports are increasing, but it is still lagging behind its arch - rival Russia whose oil exports (in the first half of 2016) to China were higher than that of Saudi Arabia. This means that Saudi Arabia will try and increase its oil exports (especially to China) even further. Although I believe that Saudi Arabia's influence over oil markets has reduced considerably, it is still the biggest oil exporter in the world. Any further increase in production levels by Saudi Arabia will worsen the existing global oil glut and will put further downward pressure on oil. Investors must note this.
Disclosure: I/we have no positions in any stocks mentioned, and no plans to initiate any positions within the next 72 hours.
I wrote this article myself, and it expresses my own opinions. I am not receiving compensation for it (other than from Seeking Alpha). I have no business relationship with any company whose stock is mentioned in this article.