Wells Fargo (NYSE:WFC) has managed to meet or beat EPS estimates for at least 12 straight quarters. This is no easy feat, and analysts often view prolonged stretches of earnings beats as warning signs that earnings "management" may be occurring. This seems to be the case with Wells Fargo. Certainly the company has achieved impressive earnings growth from its core operations in recent years by taking in more deposits and expanding the loan portfolio, but WFC's reported earnings do overstate the company's true earnings power - i.e. the profits that the company can be expected to generate from its core business consistently over time.
Figure 1: Actual Versus Adjusted Earnings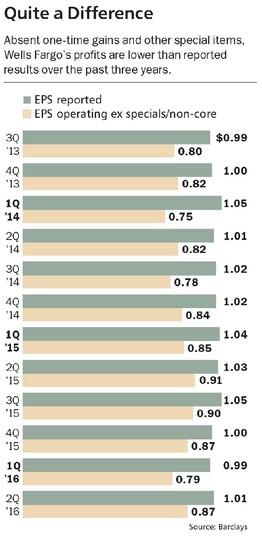 Source: Barron's
Wells Fargo's practice of including one-time gains on the sales of various assets and debt and equity securities undermines the company's earnings quality. In the most recent quarter WFC met consensus EPS estimates of $1.01, but $0.04 cents of earnings came from a $290 million gain on sale of a health-benefits business. In addition, WFC recorded gains of $639 million from debt and equity sales (Figure 2). According to Barclays analyst Jason Goldberg, special items and non-core factors comprised 14% of WFC's earnings in the second quarter, and accounted for an average of 19% of earnings in the past 11 quarters.
Figure 2: Q2 Noninterest Income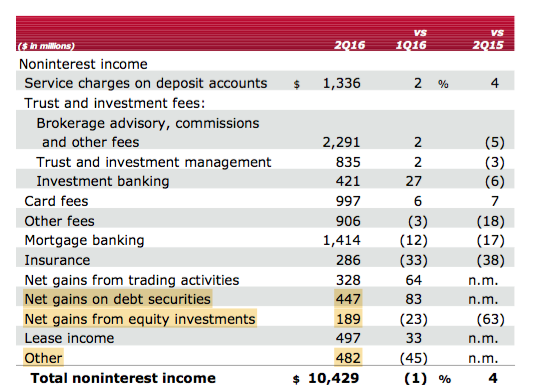 Source: 10-Q
In addition to overstating profitability, the practice of including one-time items in income makes it more difficult to forecast the company's earnings into the future. Because accrual accounting requires the use of estimates, management has some discretion in the way it accounts for special items. The accruals ratio can be a useful metric for analyzing earnings quality. It measures the portion of a company's earnings that are derived from accruals as opposed to cash. The lower and less volatile the ratio, the lower the likelihood of earnings management and the more persistent one can expect the reported earnings to be. The greater the portion of earnings comprised of cash, the more reliable the earnings (because management can't really manipulate cash). Wells Fargo's accrual ratio is both high and somewhat volatile (Figure 3). In 2013 and 2014, accruals accounted for more than 1/3 of reported earnings, before dropping down to 26% in 2015.
Figure 3: Accruals Ratios

Source: Madison Investment Research
It follows that if accruals (as opposed to cash) make up a substantial portion of earnings, then that company's cash from operations may not reflect reported net income. The ratio of OCF/NI is a useful metric for assessing cash flow quality. A company with high cash flow quality will have a stable ratio above 1 (magnitude will depend on the industry for example more capital intensive sectors will have higher D&A expenses). Wells Fargo's OCF ratio for 2013, 2014, and 2015 was 2.59, 0.74, and 0.63 respectively. For the sake of comparison, Bank of America (NYSE:BAC)'s OCF/NI ratio was 1.75 last year. The huge drop off in 2014 indicates that WFC's cash from operations does not closely track net income, and this is what you would expect from a company that generates a substantial portion of earnings from non-cash accruals. The fact that OCF is so far below NI over the past two years is another indicator of poor cash flow quality. It is partly a product of WFC reporting gains on asset and securities sales in net income. These gains are subtracted from NI to arrive at OCF on the cash flow statement, and the total proceeds from the asset sales are reported under cash from investing activities.
Conclusion:
The implication to investors is that WFC is not as cheap as it looks after you take underlying earnings into account. The company has relied on non-cash, one-time items to meet or exceed earnings estimates, and management will likely continue this practice as long as a significant portion of their pay is tied to stock performance.
Disclosure: I/we have no positions in any stocks mentioned, and no plans to initiate any positions within the next 72 hours.
I wrote this article myself, and it expresses my own opinions. I am not receiving compensation for it (other than from Seeking Alpha). I have no business relationship with any company whose stock is mentioned in this article.