Here is a look at my portfolio, my holdings and some commentary on why I am invested the way I am.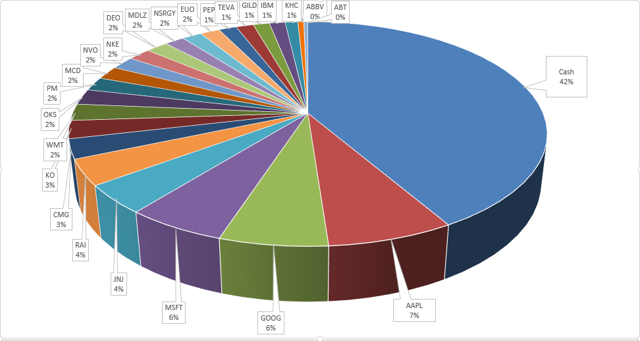 My portfolio is currently 56% long equities, 42% cash/short-term bonds and 2% short. Going into 2016, I predicted a down year for the market based on the length of the bull market, and the general weakness of the U.S. economy even with the bazooka shot by the Fed. As weak as the U.S. economy is, I'd still prefer it to the rest of the developed world for various reasons, namely the entrepreneurial culture of many Americans and immigrants to America.
I have no problem investing cash/short-term bonds into money-making ideas. Be it a stock, real estate, a business, an asset with a decent shot of appreciation. With helicopter money and the stock and bond markets both hitting highs, I'm happy with where I am at.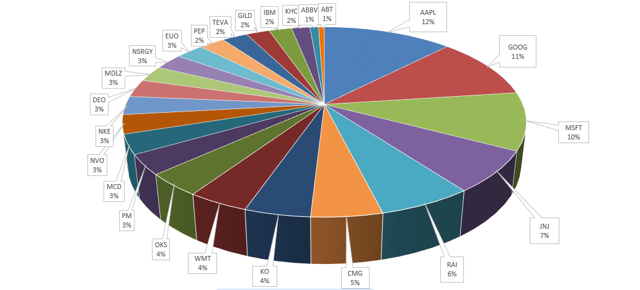 Just the equity: As you can see, I'm OK with having a concentrated portfolio. I currently hold 23 stocks + 1 recently initiated short position. The only stock I'm really down on is Chipotle (NYSE:CMG) and that's a 15% paper loss. I hate losing money.
Top 10 holdings and percent of equity
Apple (NASDAQ:AAPL)- 12.35% - Long-term holding, have trimmed.
Microsoft (NASDAQ:MSFT) - 9.79% - Long-term holding.
Johnson & Johnson (NYSE:JNJ) - 7.07% - Long-term holding, have trimmed.
Chipotle Mexican Grill - 4.79% - Recent purchase.
Coca-Cola (NYSE:KO)- 4.43% - Long-term holding.
Wal-Mart (NYSE:WMT) - 4.12% - Recent purchase.
ONEOK Partners (NYSE:OKS) - 3.86% - Long-term holding.
Philip Morris International (NYSE:PM) - 3.4%.
Top down, thematically I like a few areas... Tech, staples and healthcare. I have intentionally avoided financials and energy. In terms of geography, I was almost entirely U.S. until recently adding some European domiciled global companies like Nestle (OTCPK:NSRGY), Diageo (NYSE:DEO) and Novo Nordisk (NYSE:NVO). I have avoided emerging markets like the plague, BUT companies like Nestle and Coke do sell everywhere.
U.S. technology companies were undervalued in this bull run. I'd call Silicon Valley a main growth engine of the world. These tech companies have all at one time led investors to exponential growth are all becoming slower-growing value plays and dividend payers. They are still huge parts of all of our lives, and there is still money to be made.
Staples: I call my Dividend Growth stocks my "dividend machine". My dividend machine consists of well-known companies that have been around forever, will be around forever, and don't need drastic changes on inputs to make a profit. Since they don't need to make a lot of changes, these boring predictable stocks can distribute profits to shareholders like clockwork with high payout ratios.
Healthcare: Demographics are destiny, and the entire developed world is aging. As people age, they consume more healthcare. This isn't a one- or two-year trend; this is a trend that's going to happen over the decades to come and is a virtual certainty. Call this a time arbitrage strategy. Teva Pharmaceutical (NYSE:TEVA) is interesting to me in that broke governments will be looking for cheaper options - generic drugs. Teva is the largest generic drug maker in the world.
Avoiding energy. I am on record, saying, we won't have $100 oil for a decade, maybe forever. I shorted oil at $100 and made money on the way down. The only energy holding I have is ONEOK Partners, which is a midstream natural gas company currently yielding around 8%; I'd consider it part of my dividend machine.
Avoiding financials. Besides Berkshire Hathaway (NYSE:BRK.A) (NYSE:BRK.B), no financials have been in my portfolio since the crash. Here is my reasoning. In short - it's all speculation not investing. The large banks were clearly all bankrupt, but were allowed to go on because of changes in accounting rules and bailouts. The sell-side equity analysts who cover financials are the weirdest people. You can't even properly do due diligence on these companies. Even if you read all their public fillings, they were using repo loans to hide worthless assets off balance sheet the day before the quarter ends, only to bring it back the day the new quarter begins.
It's not just financial companies though, financial fraud happens more than people realize. The more you study accounting, the more you realize you can make the numbers what you want. If 5% earnings growth gives management that nice bonus, but earnings are 3.75%, what do you think is going to happen? A little depreciation here, a little amortization there, a little one-time charge-off there and wah lah! 5% earnings growth! That's another reason I prefer boring dividend growth stocks. Yeah, maybe Coca-Cola has been cooking the books... but it's a lot easier to spot than if some startup is.
What's on my watch list?
Starbucks (NASDAQ:SBUX), Walgreens (NASDAQ:WBA), Under Armour (NYSE:UA). McCormick & Company (NYSE:MKC), Colgate (NYSE:CL), MercadoLibre (NASDAQ:MELI) and "financials".
Research list?
Emisphere Technologies (OTCPK:EMIS), Qualcomm (NASDAQ:QCOM).
So I've avoided financials, but they are on my watch list right now. Look at a company like Under Armour, it trades at nearly a $25 billion market cap, roughly 500 mil EBITDA and $172 mil net income available to common shareholders, TTM. Then, look at Wells Fargo (NYSE:WFC), Bank of America (NYSE:BAC) and Citibank (NYSE:C).
Citi is roughly five times larger than Under Armour measured by market cap, but had over 80 times the net income, TTM. Similar story for Bank of America, which is about six times larger than Under Armour measured by market cap, but had ~75 times the net income, TTM. Wells Fargo is generally considered the safest bank, has about 10X the market cap of Under Armour, but pulled in over 120 times the net income, AND pays a greater than 3% dividend.
Maybe that shows how overvalued Under Armour is, maybe that shows how undervalued financials are, maybe a bit of both. Either way buying two of the financials might not be a bad idea on a risk-adjusted basis. One might argue that Under Armour is growing and will continue to grow... sure, but isn't a ZIRP environment killing financials with a low NIM?
What are my best investment ideas right now?
On a risk-adjusted return basis, I think Nike (NYSE:NKE) is a fantastic buy right now. If you are willing to hold for five-plus years and some bumps along the way, I think Chipotle is a fantastic stock right now. Even with the weak NIMs, I think buying a couple of those financials can pay off handsomely down the line. I've been toying with the idea of adding WFC and BAC, but there could be a better entry point soon.
People have been saying that "interest rates are low and will have to rise sometime"... people have been saying that for seven years, but really longer than that. Personally, I don't see it happening meaningfully any time soon. The debt has piled up over the last eight years at a staggering rate. The millennials and unborn that will have to pay back $19 trillion can thank Obama and a sell-out legislature on that one. Since 2011, Obama's proposed budgets were universally rejected by Democrats and Republicans with 1,023 votes against and two token votes for.
One reason our government has been able to rack up an additional $8 trillion in debt is because the interest on that debt has been so low. What's harder to pay off in the short term, in 2006, when we were a $13.7 trillion economy with $8.5 trillion in debt and paid $405 billion in interest OR in 2015 when we were a $17.8 trillion economy with $18.1 trillion in debt and paid $402 billion in interest? I'm not talking about paying the principal down, I'm talking about paying the interest down, and due to the low rates, the correct answer is actually 2015 - even though the economy had $10 trillion more in debt.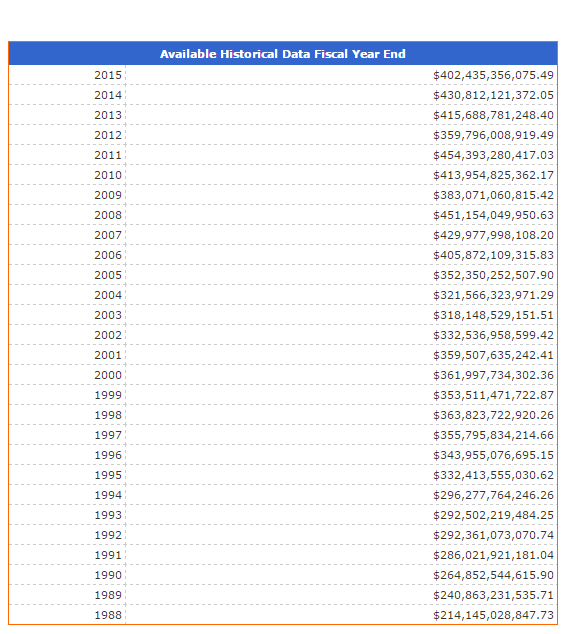 Source: Treasury direct.gov website
Low interest rates have ALLOWED the debt bill to pile up and interest rates can't rise. If they do, it's over. No more world's policemen, no more 45 million Americans on food stamps, no more social security and no longer can so many Americans pay no Federal income tax. This country has been living above its means, and if interest rates rise, that's over.
In 2008, people were worried about hyper-inflation. Hyper-inflation? Even with all the money printing, we have the lowest interest rates in thousands of years of human history.
I'd argue we are much closer to recession than rising interest rates. Debt is borrowing from the future for the now. Debt causes deflation, and we have a whole lot of debt. The government's solution to our debt problem was adding even more debt. We are Japan. The next trick up its sleeves might be "war stimulus".
With the stock market hitting all-time highs, and bond yields hitting all-time lows, I'd say that cash is currently an undervalued asset, particularly U.S. dollars.
Everything can't be added to an article, and I'm open for a little Q&A in the comments section.
Best of luck to all.
Disclosure: I am/we are long AAPL, ABT, ABBV, CMG, DEO, EUO, GILD, GOOG, GOOGL, IBM, JNJ, KHC, KO, MCD, MDLZ, MSFT, NKE, NSRGY, NVO, OKS, PEP, PM, RAI, TEVA, WMT.
I wrote this article myself, and it expresses my own opinions. I am not receiving compensation for it (other than from Seeking Alpha). I have no business relationship with any company whose stock is mentioned in this article.
Editor's Note: This article covers one or more stocks trading at less than $1 per share and/or with less than a $100 million market cap. Please be aware of the risks associated with these stocks.