One of the best-known secrets for filtering out the winners and losers in REIT-dom is to follow the dividend trail. I'm not talking about the bumpy roads in the more volatile mREIT space, but instead the smoother paths in which the equity REITs roam.
By focusing our research efforts on dividend safety, we have found that the winners are easier to spot because they provide a more predictable roadmap for dividend growth. Accordingly, we believe that stocks that have a reliable record of dividend growth will usually outperform the rest.
A few weeks ago, we uncovered a little small-cap gem known as City Office REIT (NYSE:CIO) - up 14% since our recommendation on June 20th. After carefully researching this office REIT, we determined that the dividend was safe and the company could potentially produce strong results - we forecasted total returns of 40% through the end of 2017.
We added this small cap to our Small Cap REIT portfolio, and while we were researching this name, we turned back into another office REIT, Columbia Property Trust (NYSE:CXP).
We initially introduced CXP back on March 7th when we initiated research. Although we acknowledged the riskier dividend payout, we were intrigued by the "cheapness" of the shares that "were worth further due diligence."
Let's now continue to follow the dividend trail and see where it takes us…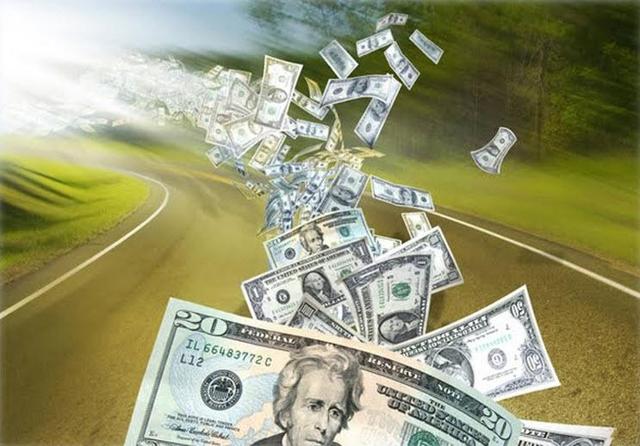 Columbia Property Trust: The Ride May Be Bumpy
CXP became a REIT in 2003 and owns Class-A office buildings concentrated in CBD locations, with over half its portfolio in high-barrier-to-entry primary markets, including San Francisco, New York, Washington D.C., and Boston.
As of Q2-16, CXP's $5.1 billion portfolio consisted of 27 office properties containing 13.1 square feet. The company's market cap is around $2.9 billion, and here's how that compares with the peer group:

Like many other office REITs, CXP has been focusing on transforming its portfolio by upgrading into a more focused business model. In order to grow NAV and future cash flows, the REIT has been focusing on high-barrier-to-entry markets and core CBD sub-markets. Here's a chart illustrating market distribution: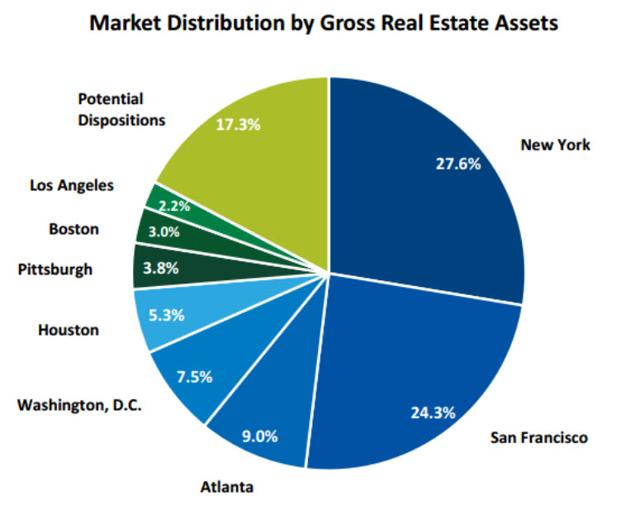 CXP's corporate office is in Atlanta, Georgia, and as you can see below, the company has regional offices in San Francisco and Washington, DC.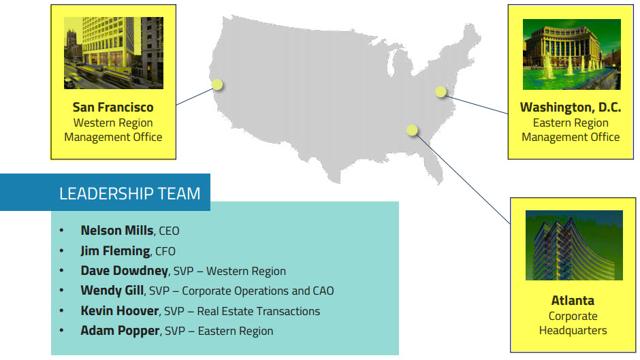 The company is making long-term moves to transform its portfolio centered on high-barrier-to-entry markets (~63%), and as you can see below, around 84% of CXP's properties are located in high-barrier-to-entry markets.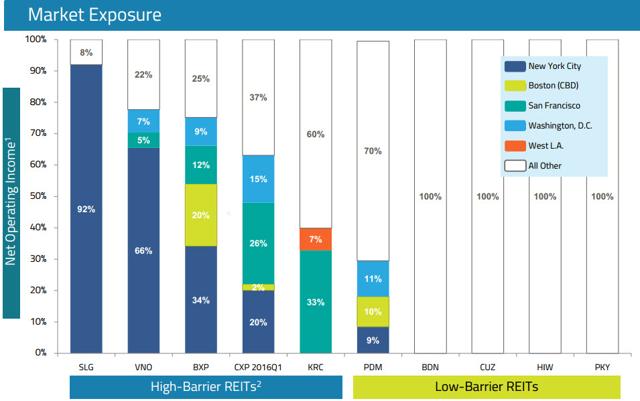 The Balance Sheet
CXP's debt to EBITDA ratio was 5.78x in Q2-16, partly driven by a $6.2 million termination payment. Without this termination fee, the ratio would have been 6.3x, consistent with last quarter's level.
During the quarter, CXP used the proceeds from the 100 East Pratt disposition to pay off the $119 million remaining on the bridge loan. CXP also paid off $39 million of mortgages secured by San Tan Corporate Center in Phoenix with borrowings on the line. As of Q2-16, CXP has $273 million outstanding on its unsecured line of credit.

With the San Tan payoff, the company now has only five mortgage loans left and will likely be down to three by the end of 2016. The company's preferred source of debt capital is unsecured debt.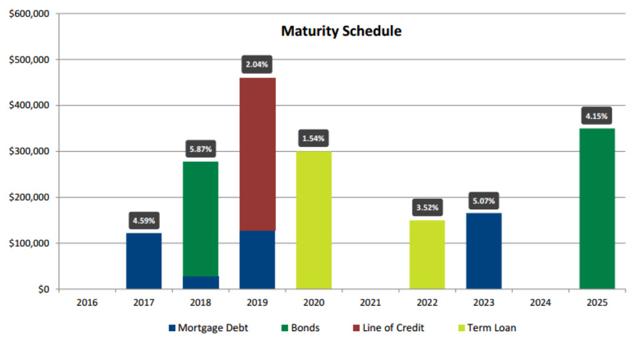 Most of CXP's efforts today are on leasing and dispositions. The company completed $235 million of dispositions so far this year, with the $49 million mortgage on the suburban Chicago asset still expected to come off the books in mid fourth quarter.
CXP is now marketing suburban assets in Dallas, Denver and Phoenix and is likely to increase disposition proceeds for the year, although those sales are not expected to have a meaningful impact on FFO for 2016.
CXP's largest lease completed in the quarter was the 390,000 square foot NYU lease signed in late April. This new lease stabilized the New York portfolio and eliminated one of the largest near-term lease expirations. With the accelerated timeframe for this lease commencement, CXP has also been able to ensure a very positive impact on FFO.
The other major leases signed in the quarter include a new 35,000 square foot lease with Winton Capital at 315 Park Avenue South and 130,000 square foot renewal with Toyota Motor Credit at SanTan Corporate Center (a likely disposition now). Both of these were rate roll ups with the 315 Park Avenue South lease at record levels for Midtown South.
CXP is also investment grade rated by S&P and Moody's.

The Latest Quarter
CXP's FFO is expected to be the lowest in 2016, and the company is poised for significant FFO growth in 2017 and beyond. FFO in Q2 was impacted by a termination fee (related to the new NYY lease) that was added to the quarter.


CXP's 2016 guidance is $1.57 to $1.62 per share, implying a 22% decline in 2016 at the midpoint (compared to 2015).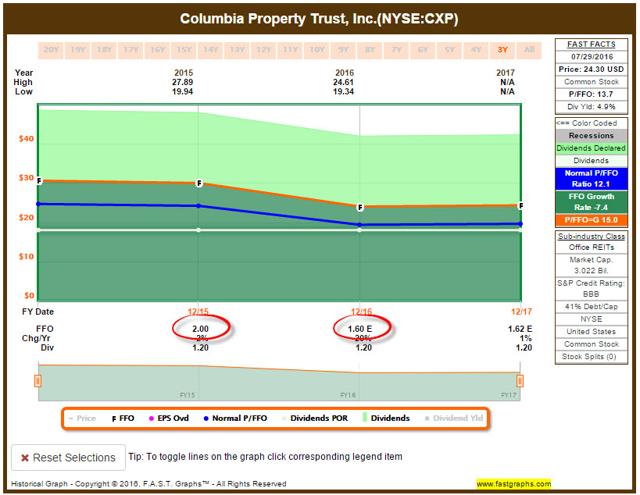 CXP introduced 2016 FFO guidance of $1.60 (midpoint), and while the dividend (of $1.20) appears to be covered by FFO, it's not covered based on my AFFO data, as illustrated below: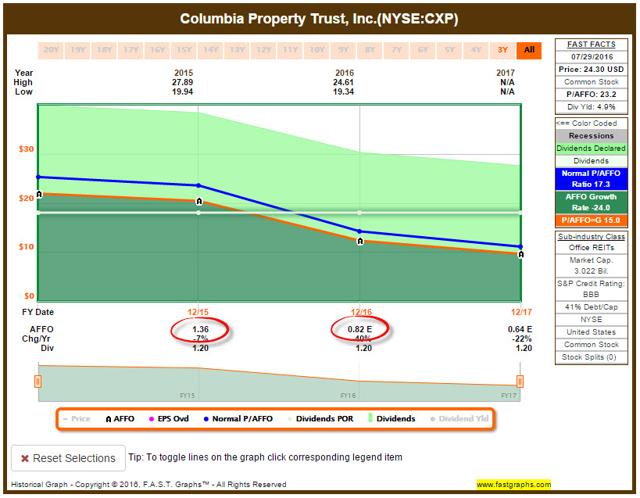 CXP has said that it will likely not be covering its dividend in 2017 (based on FFO), but it will likely not cut the dividend. The company will make the decision on the dividend (cut or not) by its September 12th Investor Day. According to John Kim at BMO Capital Markets:
Management doesn't believe they need to cut the dividend; however, a cut would put its yield and payout ratio more in line with other gateway market office REITs. We do not believe the dividend needs to be cut, or should - as it sends a negative signal on growth. However, some investors expressed the September 12 announcement will likely serve as a buying opportunity, under both of the scenarios."
Follow The Dividend Trail
Before I provide a recommendation, let's take a look at the dividend yield:

CXP appears to be managing its risk and perhaps the yield suggests that there may be a buying opportunity. Let's take a look at the P/FFO multiple:

As you can see below, CXP has underperformed the peer group:

Now we're at a fork in the road?
Do you BUY CXP now (shares are cheap based on the above metrics) or do you wait on management to announce whether or not it will cut its dividend?
That's a tough call.
Considering the latest earnings results, I am bullish the company is operating from a position of strength with a focus on a strong high-barrier market and an exceptional flexible balance sheet. Also, I am encouraged with the improvements on these measures (selling non-core assets and strengthening the financial position).
The 30-year lease signed at 222 East 41st Street in Manhattan to NYU is also a strong signal that CXP is capable of moving the needle.
I'm placing a BUY on CXP, while I'm making a wager that the company will not cut the dividend, I am also betting that the company will continue to grow earnings by recycling and leasing. The company has proven it can do both, and the most recent quarter provides me with more confidence that CXP is a REIT poised to profit.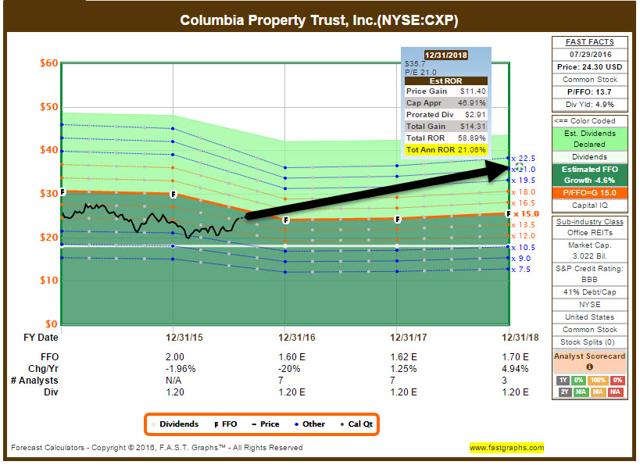 Author's Note: Brad Thomas is a Wall Street writer and that means that he is not always right with his predictions or recommendations. That also applies to his grammar. Please excuse any typos, and I assure you that he will do his best to correct any errors if they are overlooked.
Finally, this article is free, and the sole purpose for writing it is to assist with research (Thomas is the editor of a newsletter, Forbes Real Estate Investor), while also providing a forum for second-level thinking. If you have not followed him, please take 5 seconds and click his name above (top of the page).
Sources: FAST Graphs, SNL Financial, and CXP Q2-16 Supplemental.
Disclaimer: This article is intended to provide information to interested parties. As I have no knowledge of individual investor circumstances, goals, and/or portfolio concentration or diversification, readers are expected to complete their own due diligence before purchasing any stocks mentioned or recommended.
Disclosure: I am/we are long O, DLR, VTR, HTA , STAG, GPT, ROIC, HCN, OHI, LXP, KIM, WPC, DOC, EXR, MYCC, TCO, SKT, UBA, STWD, CONE, BRX, CLDT, HST, APTS, FPI, CORR, NHI, CCP, CTRE, WPG, KRG, SNR, LADR, PEB, BXMT, IRM, CIO.
I wrote this article myself, and it expresses my own opinions. I am not receiving compensation for it (other than from Seeking Alpha). I have no business relationship with any company whose stock is mentioned in this article.