After I wrote my last article about Ford on Seeking Alpha, it was clear that simply selling more cars and earning more money were not good enough reasons for the stock to go up. The topic of "Why does it continue to move sideways" has been tackled to some extent, with reasons such as the "shift to green", "not as hip as Tesla", but I would like to share an opposite direction to this issue. If we don't know what drives it up, what drives the stock down? In this article, I'll try to step away from the normal high-level overview on earnings and revenue talk, as I believe there is much more to Ford than simply numbers and "not being a fan favorite".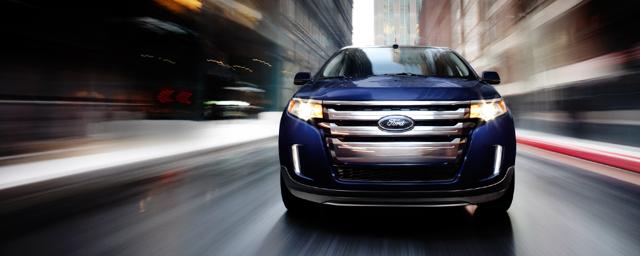 Latest Earnings: Q2 Ford 2016
The Q2 earnings of Ford (NYSE:F) are just behind us, and unfortunately, they were not as impressive as investors were hoping for. On average, the message of the business seems downwards, with disappointed, diminishing numbers: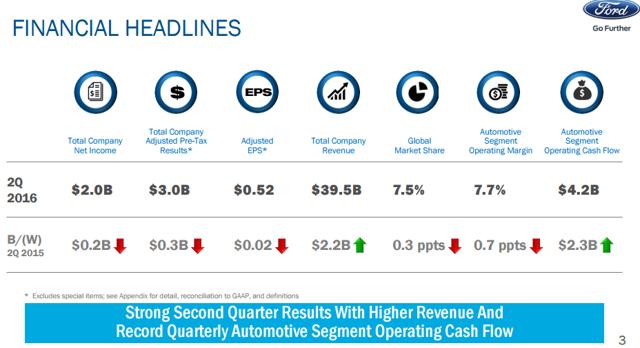 Source: Ford Quarterly Earnings
Clearly, earnings were under pressure, and lower profit was driven by exchange and market factors as described underneath: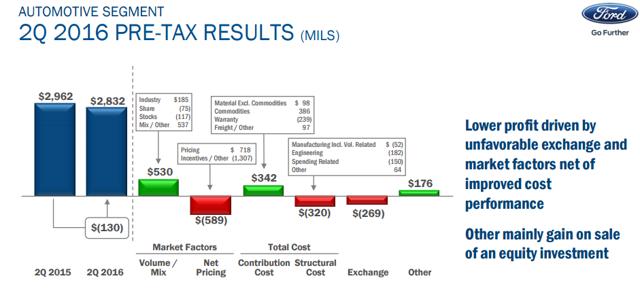 Source: Ford Quarterly Earnings
The point here is not that revenue wasn't great and driven by exchange and market factors profit was lower, but it's about revenue and profitability having an adverse impact on the share price in case profitability would get hit. Is the story as simple as earnings go up, the stock goes up?
Let's look at the relationship between profitability and share price. It seems only to have been in tandem with each other until 2010. After 2010, profitability and share price have had a very loose relationship, not solid enough to base your investment decision on, in my opinion: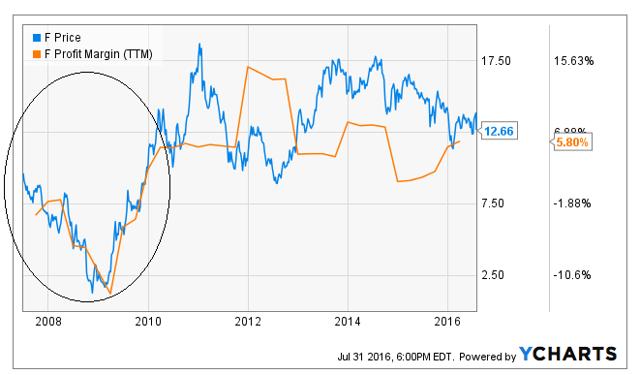 So, if this was barely driving share price as of late, what was? Clearly, Ford seems much more like a trading stock.
If I look back at the earnings Q2 numbers, they clearly were lower than anticipated. If numbers are lower than anticipated, one would expect a drop in share price immediately, but is the opposite true as well? Let's look at the last quarterly earnings and whether or not it had better or worse earnings than expected: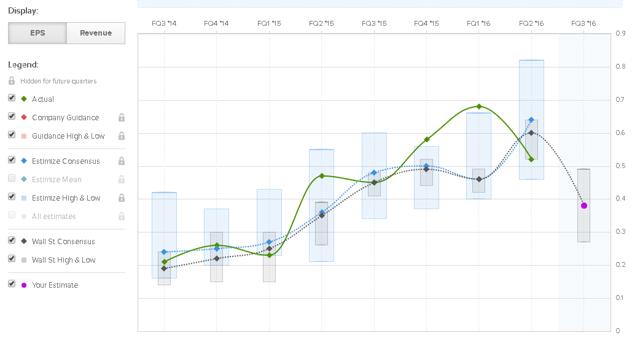 Source: Estimize
The chart above shows that the Q2 2016 earnings were clearly a lower number than expected, while Q2 2015 was better than expected. Same goes for Q4 2015 and Q1 2016. Let's investigate if this outcome (better earnings or worse than anticipated) had any sensible impact on the share price by obtaining historical data on Ford:

Source: Author's own calculation - (Data Yahoo Finance, a beat means better earnings than expected)
It's clear that based on the 5 latest quarterly results, in general the market reacts positively on an earnings beat on the day these results are published. Nevertheless, this earnings beat can be rendered useless long term, as after one month, the overall outcome already seems not related to the actual earnings beat. One would normally anticipate that when earnings are better, a positive trend could be achieved, but this shows this is not always the case. Information is absorbed incredibly quickly.
So, what about actual trading information on the day itself? Looking at it in a little bit more detail (highest value on the day minus the lowest value on the day over adjusted close) renders the following information: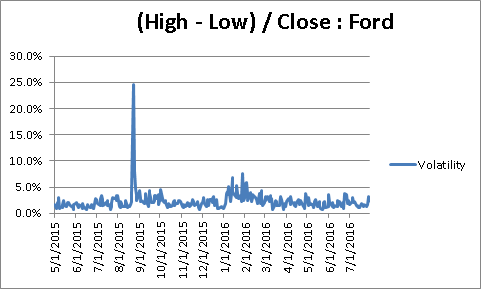 Source: Author's own calculation - (Data Yahoo Finance, a beat means better earnings than expected)
The moral of the story here is that the highest value minus the lowest value on the day, over the adjusted close, gives an indication of what kind of investors are playing with this stock on a daily basis.
For the normal eye, it is nearly impossible to specifically pinpoint the quarterly earnings results on the graph, as they don't even appear as outliers on this chart. This tells that investors all took one singular direction (buy or sell) when the results were published. It addresses the thought that investors are very adamant about the way Ford is performing and how earnings should be interpreted.
The peak on 24th August, 2015 is probably a day many Ford investors remember.
I have done this high minus low over adjusted close before, as it gives a good indication which kind of shareholders are in control. With Ford, the average moving per day was around 0-5%. To compare these numbers, let look at Tesla (NASDAQ:TSLA), another car manufacturer, which is clearly more "hip" among investors. The chart looks like the following: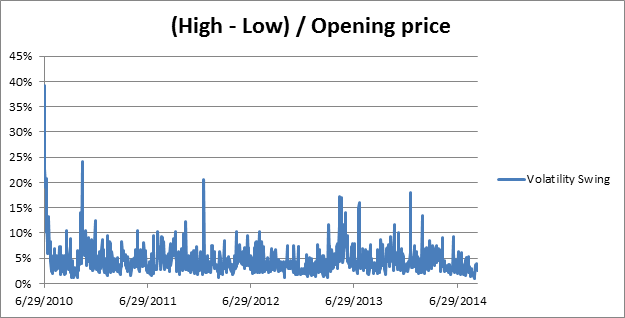 Source: Tesla Article
Ford: But I Have Ford For Dividends
It's hard to deny the dividend yield has been interesting for many investors. However, if you simply buy the stock and anticipate dividend, has dividend been a great off-set to capital return?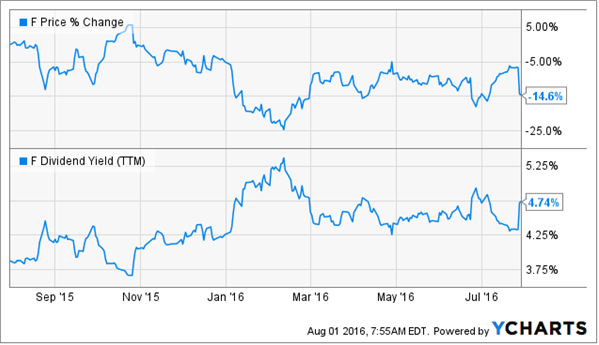 Looking at the performance over the year, it's clear that many people who bought Ford have yet to wait for an offset, as capital losses have often occurred (which creates many time entries where investors might have jumped in and simply only had dividend to look forward to). Some might refer to back in March 2009, where the stock bottomed, but once more it comes back to the ability to time, and for many, they are not fortunate to time stock entries. Dividend is great, yet you should feel comfortable on sitting on capital losses for the time being.
Ford: Analyst Recommendations - Is This A Driver?
So does analyst coverage have any impact on this? Analyst recommendations are not always favoured among investors, but their recommendations have been researched in the world of academics, and there is ample evidence of a positive relationship between analyst recommendations and stock returns, for example in this academic article in the Journal of Finance.
So let's look at a few downgrades proposed by large institutions:

Source: Author (Yahoo Finance data)
I've picked 4 downgrades by analysts, 29th April, 2016, 24th February, 2016, 5th January, 2015 and 15th December, 2014. The table above shows the average return on that day, after 1 week and after 1 month. Analyst downgrades clearly have a negative impact on the day itself; nevertheless, this impact reverses back over time.
This is very much in line with analyst recommendations (upgrade or downgrade) over time: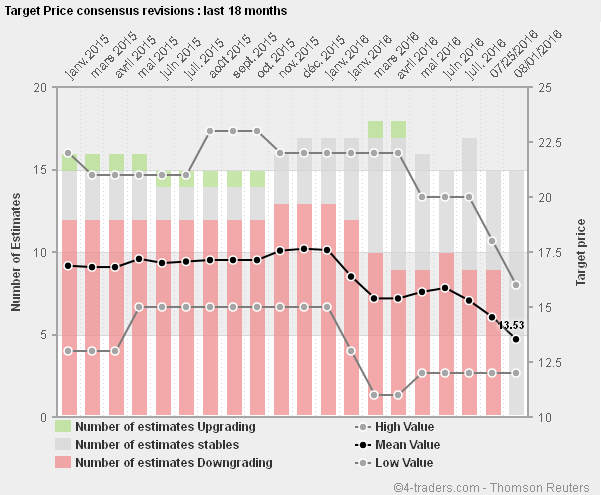 Source: 4-traders.com
The amount of estimates downgrading is significant and increased slightly before the mean value decreased twice over time.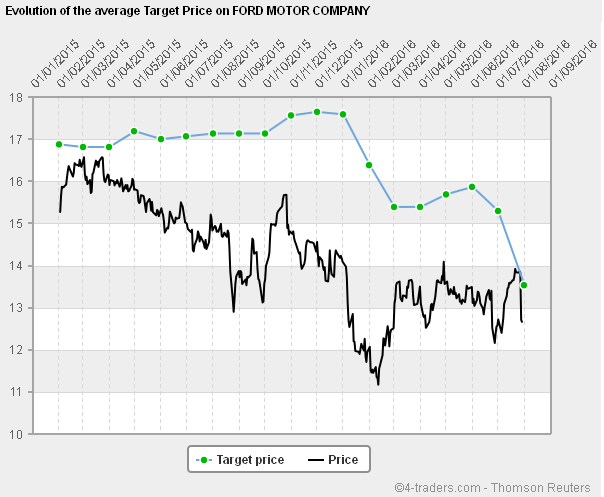 Source: 4-traders.com
One potential takeaway here is that an upgrade seems to not help to boost the stock, while a downgrade seems enough to "kick-start" a potential plunge.
Conclusion
Ford's share price needs a new engine, so much is clear. It's rather difficult to see what kick-start the share could use to get a boost. It seems it is much easier to look at the downside, when the share gets downgraded. It seems common knowledge, but it's much more interesting if you do the actual analysis to see if the share price of Ford could actually revert after a downgrade occurs.
I render the discussion on earnings and revenue regarding Ford from an investment perspective relatively obsolete, as the relationship doesn't seem very strong. Nevertheless, there are still analyst recommendations and dividend to look at. The first seems to have an interesting impact on the share price, while the latter can be considered fruitful - but from an off-set perspective, capital gains often cancels any profit obtained out of dividend. Nevertheless, a long-term investor would render that of "no problem at all". But I believe this would only be of no concern if the stock would actually rise over the long term. And that (after taking in all the analysis), is something I'm very worried about as I don't see much growth for capital gains in Ford. And that draws me back to the beginning of the article - negativity is too strong when it comes to people looking at Ford. Whether this is prejudice, truthful or based on emotions doesn't matter, unfortunately. But as an investor, it is something you should be aware of. Ultimately, it seems like any try or attempt to destroy shareholder value is not working and ultimately reverts back like clockwork.
Disclaimer: I currently do not hold any positions in Ford. This article provides opinions and information, but does not contain recommendations or personal investment advice to any specific person for any particular purpose. Do your own research or obtain suitable personal advice. You are responsible for your own investment decisions. This information is not a recommendation or solicitation to buy or sell securities, nor am I a registered investment advisor.
Disclosure: I/we have no positions in any stocks mentioned, and no plans to initiate any positions within the next 72 hours.
I wrote this article myself, and it expresses my own opinions. I am not receiving compensation for it (other than from Seeking Alpha). I have no business relationship with any company whose stock is mentioned in this article.