Brexit was the key driver for gold (NYSE: GLD) this summer. After the Brexit news, I shared my views on which gold miners (NYSE: GDX) to buy. A month passed, and it's time to re-evaluate the thesis.
Gold
Gold managed to hold above $1300 per ounce and continues to trend higher. The situation is really interesting. The stock market is in the rally mode, with S&P 500 (NYSE: SPY) storming new highs almost on a daily basis.
The last few weeks have been quiet, but make no mistake - the stock market is doing really well and the absence of any correction highlights the strength of the bull side.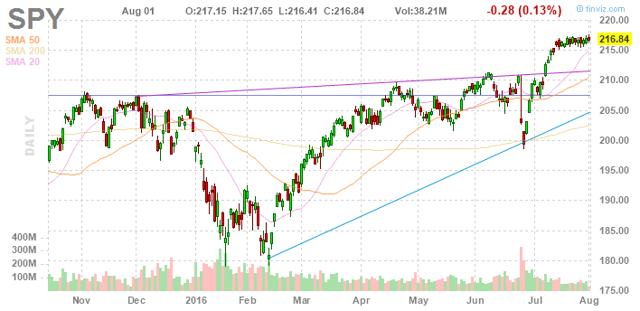 The interesting thing is that bonds (NYSE: TLT) are rallying as well. This is not what you generally expect when the stock market breaks new highs.
The stock market highlights investors' appetite for risk, while the treasury market is all about safety. Obviously, different market participants are betting on opposite outcomes at one time.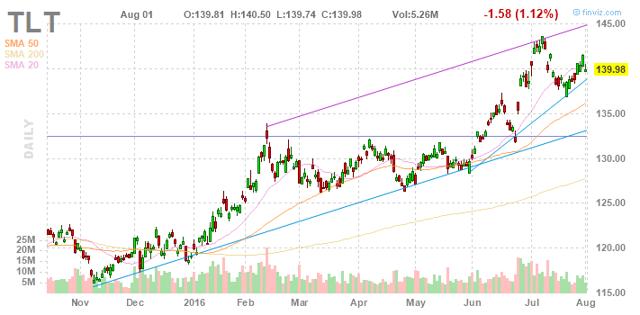 Gold is often perceived as safe heaven asset and a protection against inflation. There are no inflation problems, at least in the developed world, but the negative interest rate environment almost eliminated the opportunity cost of buying gold. Gold does not pay you interest, but it does not really matter when a variety of financial instruments yield next to nothing.
We are leaving in the world where previous short-cuts just do not work. I'd argue that the prevailing monetary policy, which implies miniscule or even negative rates and various forms of quantitative easing, has deprived the markets of balance. In this environment, gold may rally alongside bonds and stocks in a big push to park the money anywhere.
How long can this momentum last? The trade is getting crowded day by day, but examples from other sectors of the market show that mania can last long.
My favorite example are REITs - a sector with religion-like following and charts that go up straight to the sky. Many investors talked about a bubble this year, but the result is the same - REITs keep rallying. Realty Income's (NYSE: O) chart is characteristic of the mania, up 42% year-to-date as a result of yield-hunting.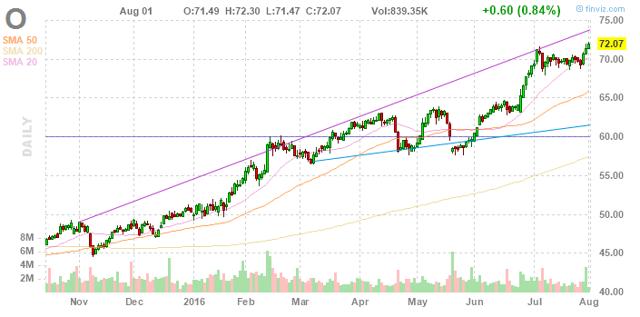 All in all, gold is performing better than I expected, and the momentum can continue. At the same time, the trade may unwind at any time, so positions in the gold space need attention every day.
Gold miners as a group
Gold miners are currently storming new highs as evidenced by VanEck Vectors Gold Miners ETF.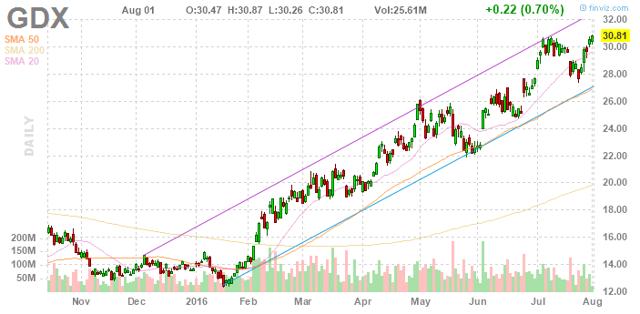 Gold miners have not faced any kind of a serious pullback despite the massive upside this year. This trend may easily continue in August, which is typically a calm month from the trading volume perspective.
In low-volume environment and absence of catalysts, stocks choose the path of least resistance. In gold miners' case, the path of least resistance is currently to the upside. At the same time, gold miners' shares are clearly overbought and trading action in autumn may be extremely volatile.
Major miners
As I expected, major miners are following the steps of Exxon Mobil (NYSE: XOM). Well, the pre-earnings stated of Exxon Mobil. Investors who want exposure to the sector but also want to minimize risks choose the biggest players.
Agnico-Eagle Mines (NYSE: AEM) and Newmont Mining (NYSE: NEM) easily beat analysts' expectations and continued to surge after earnings.
These companies are leaders in the gold mining space now. Barrick Gold's (NYSE: ABX) results missed estimates, but the company continues to deleverage, and debt was the main reason why Barrick Gold shares visited sub-$10 space this year. With gold surging, Barrick Gold has the time to deleverage even more.
The only disappointment is Goldcorp (NYSE: GG). Costs increased, production decreased, earnings missed estimates. The company's execution remains poor for several quarters in a row and the stock is rightly punished.
I don't expect that Goldcorp will become a catch-up play in the coming months. First, the company has to show its ability to perform in the third-quarter earnings report.
Second row
IAMGOLD (NYSE: IAG) is rallying, as surging gold price provides more upside for the higher-cost producer. I would note that IAMGOLD has not reported its earnings results yet. Of those who had reported, Yamana Gold (NYSE: AUY) and Kinross Gold (NYSE: KGC) missed analysts' estimates.
The uptrend in Kinross Gold was stopped before the earnings release, so I don't regret my decision to exit the position in Kinross Gold. At first glance, Yamana Gold is in a better shape. I plan to publish my thoughts on these two names in more detail in the coming days if time permits.
Not surprisingly, Eldorado Gold (NYSE: EGO) is punished for Turkey exposure. Most likely, this is not the stock to bet in the coming months.
South Africa
South African gold miners are trading as a group and just broke to fresh yearly highs. AngloGold Ashanti (NYSE: AU), Gold Fields (NYSE: GFI), Harmony Gold Mining (NYSE: HMY) and Sibanye Gold (NYSE: SBGL) are all in the rally mode. My favorite is Sibanye Gold, but others are also showing significant strength.
Higher gold prices together with favorable currency environment are boosting the earnings of this group. Among these stocks, only Gold Fields is up less than 200% year-to-date.
In my view, South African gold miners are a pure momentum play right now and current levels are not suitable for longer-term investment goals.
Royalty and streaming
Royalty and streaming companies - Silver Wheaton (NYSE: SLW), Royal Gold (NYSE: RGLD) and Franco-Nevada (NYSE: FNV) also enjoy upside as gold prices rise. However, their performance is less pronounced than that of more speculative peers.
Investors looking for exposure to gold at current levels will likely be better off considering royalty and streaming companies instead of gold miners, as the provide at least some protection against the downside of gold price due to their business model.
Bottom line
Gold rallies - enjoy it, but do not forget that gold miners are clearly overbought and correction is long due. The stocks have gone a long way, and longer-term oriented investors will likely be better off waiting for a significant pullback.
Shorter-term players should look at South African miners and IAMGOLD, which benefits more than others from higher prices due to its high costs.
The market can trade irrationally some of the time, with gold, bonds and stocks rallying in sync, but this phenomenon won't last forever.
Disclosure: I am/we are long IAG, SBGL.
I wrote this article myself, and it expresses my own opinions. I am not receiving compensation for it (other than from Seeking Alpha). I have no business relationship with any company whose stock is mentioned in this article.