Amazon (NASDAQ:AMZN) reported yet another stellar quarter. Sales increased 31% year-over-year, beating estimates by $850 million), and EPS came in at $1.78, well ahead of the $1.11 analysts were expecting. The EPS growth was not a product of buybacks but instead reflected improved performance and productivity across Amazon's business lines. Cash from operations increased 42% year-over-year (Figure 1), and free cash flow after lease payments grew 65%. Recent investments are starting to pay off in the form of higher margins as the firm continues to leverage greater volumes across its fixed cost base. Assuming consumers and businesses keep spending like they have for the remainder of the year, AMZN should be able to expand margins further.
Figure 1: Operating Cash Flow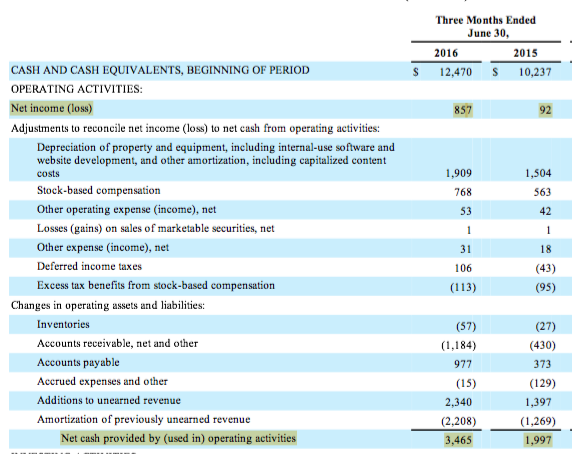 Source: 10-Q
Improved profitability (Figure 2) was the main reason for the disparity between actual and expected earnings. Operating margin was 4.2%, compared to 2% last year, driven by a 200 basis point increase in gross margin. Amazon's recent investments in fulfillment infrastructure, technology and content, and AWS are paying off, and have allowed the firm to take share in multiple categories and expand margins through positive operating leverage. Once again, AWS was the main driver of growth. Revenue increased 58% as AMZN was able to increase share in the public cloud by lowering prices, and thanks to greater scale and cost structure productivity, AWS income increased 135%. Higher-margin AWS's growing portion of the total sales mix was a key factor behind the improved profitability. In the firm's North America segment, revenues and operating income increased 28% and 102% respectively. Amazon continued to take share from the brick and mortars and capture a disproportionate amount of the consumer spending growth of recent months. Like with AWS, the increase in profit margin was a result of higher volumes and fixed cost leverage as the company kept prices low to maintain the advantage over physical stores.
Figure 2: Operating Income Growth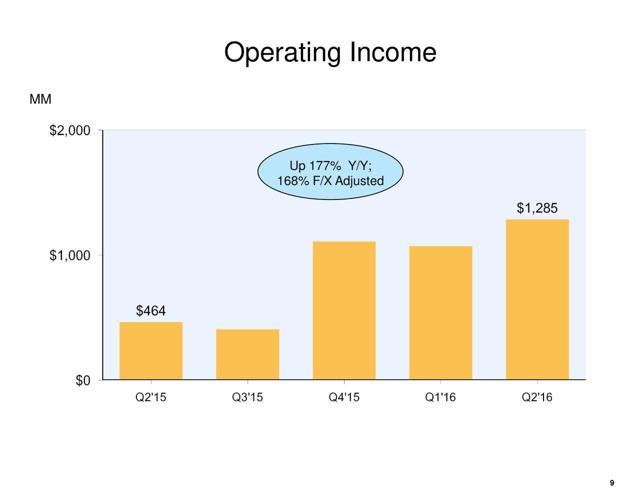 Source: Earnings Slides
Margins can expand further throughout the year so long as customers continue to spend, as there is no indication that they won't. AMZN's North America media revenues (books, music, movies, video games, software, and digital downloads) increased 12% in Q2, while electronics and other general merchandise sales grew 38%. US consumer spending grew more than 4% in Q2 and the Fed expects it to continue at a similar clip throughout the year. Amazon's success does overstate the true health of the US economy, as the increase in unit volumes largely reflects shifting consumer preferences for e-commerce more than it does an increase in the overall amount of transactions taking place. But that's not Amazon's problem, and the company should continue to take share thanks to its unrivaled value proposition and strong network effects.
Conclusion:
I wrote an article about Amazon about a month ago and I still think investors should wait for a rate-hike induced stock market correction (which we are long overdue for), before picking up shares. That being said, Amazon is an amazing company with multiple secular growth catalysts and margin upside. The margin expansion story is a little foggier than the top line outlook as it will depend on AMZN's capital spending choices, which we cannot predict. But recent investments are paying off by helping Amazon offer improved value propositions in segments where price and value drive customer purchase decisions. This has translated into increased market share and volume growth, and higher margins through economies of scale. We think margins can go slightly higher in the next few quarters.
Disclosure: I/we have no positions in any stocks mentioned, and no plans to initiate any positions within the next 72 hours.
I wrote this article myself, and it expresses my own opinions. I am not receiving compensation for it (other than from Seeking Alpha). I have no business relationship with any company whose stock is mentioned in this article.