Investor sentiment has turned on Wells Fargo & Co. (NYSE:WFC) and its stock now trades 18% off its 52-week high. WFC has been hurt by the interest rate environment like other banks and a declining interest rate margin has weighed on its earnings. Just recently for Q2 2016, earnings fell year-over-year to $5.6 billion from $5.7 billion; on an EPS basis for the same period, earnings fell from $1.03 in Q2 2015 to $1.01.
The drop in earnings was partly a function of increasing charge-offs. Charge-offs are loans that banks believe they will not recollect. Net charge-offs reflect those loans that were written off but adjusts for those loans that were later recollected. In WFC's case for Q2 2016, net charge-offs jumped to $924 million from $650 million in Q2 2015. That's an increase of $274 million or 42% on a percentage basis. Perhaps more importantly, as a percentage of total loans, net charge-offs increased 9 basis points to 0.39% from 0.30% a year ago. So what's driving this increase? Let's explore it further.
More than Meets the Eye
It turns out that the big increase in charge-offs largely reflects the net charge-offs in the commercial portfolio. In Q2 2016, the commercial net charge-off rate was 0.29% versus 0.06% a year ago, an increase of 23 basis points. On the consumer side, however, the net charge-off rate fell 4 basis points to 0.49% from 0.53%. So what's driving the charge-offs in the commercial portfolio? Here is a summary of the change year-over-year in net charge-off rate for the commercial portfolio:
| | | | |
| --- | --- | --- | --- |
| | Q2 2016 | Q2 2015 | Change (basis points) |
| Commercial & Industrial | 0.46% | 0.12% | +34 |
| Real estate mortgages | (0.06%) | (0.05%) | -1 |
| Real estate construction | (0.06%) | (0.11%) | +5 |
| Lease financing | 0.27% | 0.06% | +21 |
| Total commercial | 0.29% | 0.06% | +23 |
Source: 2Q 2016 & 2Q 2015 press releases (attached)
Keep in mind that positive changes here are a bad sign. The commercial & industrial portfolio is much larger than the lease financing portfolio as evidenced by the net loan charge-off values for the two loan portfolios: $368 million for the former versus $12 million for the latter. Thus, I will focus on the commercial & industrial portfolio not only because the jump in net charge-offs are larger on a percentage basis but because they are more material to WFC's results.
Here is the net charge-off table garnered from WFC's 2Q 2016 press release (attached):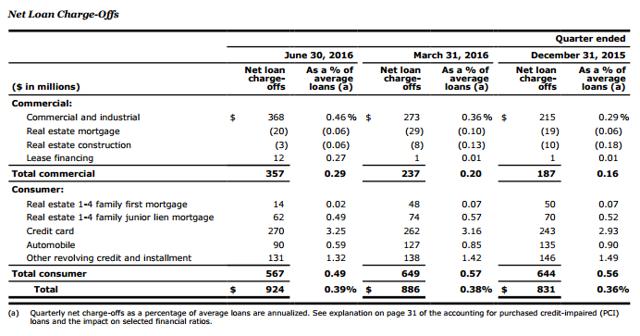 The commercial and industrial portfolio increased 14% to just over $320 billion from organic growth but also from WFC's purchase of commercial and industrial loans from GE Capital. You have to dig within WFC's 100+ page SEC reports, but you will find that this jump in net-charge offs was expected and a property of the loan portfolio acquired from GE Capital and reflected in the price for the portfolio. Therefore, the increase in net charge-offs may seem ominous at first, but WFC investors should not be overly worried. Some of the GE Capital loans were Purchased Credit-Impaired Loans (NYSE:PCI) loans, so their credit quality and their effect on charge-offs were well known beforehand.
Holistic View of Wells Fargo's Credit Quality
What further ameliorates my view of WFC's loan portfolio going forward is that while net charge-offs increased year-over-year, nonperforming assets fell. Nonperforming assets are those loans that have not been paid in the last 90 days. Nonperforming assets that remain nonperforming in excess of 90 days become charge-offs. Thus, a situation in which nonperforming assets have fallen as a percentage of total loans is a harbinger that charge-offs will likely decrease. In 2Q 2015, nonperforming assets as a percentage of total loans were 1.62%; that number fell 25 basis points to 1.37% in 2Q 2016. The commercial and industrial portion of the commercial portfolio drove the increase in nonperforming assets percentage to 0.91% from 0.58% a year ago, but the other portions of the commercial portfolio saw decreases. Likewise, the components of the consumer portfolio all realized decreases in their percentages of nonperforming assets, save 'Other revolving credit and installment' loans with no change. Nonperforming assets for the consumer portfolio as a percentage of total loans fell to 1.61% from 2.2% a year ago.
Here is the nonperforming assets table garnered from WFC's 2Q 2016 press release (attached):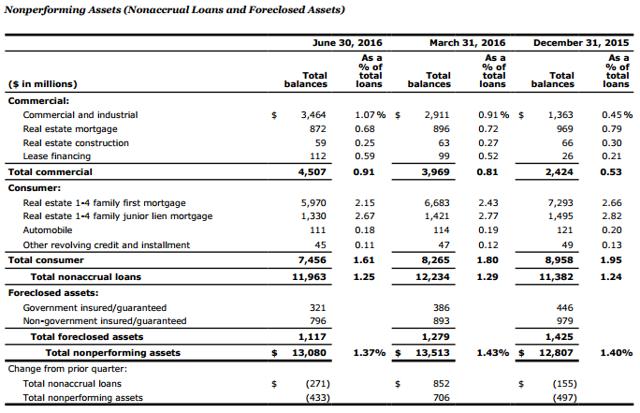 Well Fargo Remains One of the Best Banks
The jump in net-charge offs may worry investors at first, but nonperforming assets have decreased and the charge-offs were expected with the GE Capital acquisitions. The overall credit quality of WFC's loan portfolio looks solid and the true worry for the loan portfolio in general is the continuing squeeze of the net interest margin as it is with other banks. Nonetheless, WFC remains one of the best banks on a return basis. WFC generated an exceptional return on assets (ROA) of 1.2% in 2Q 2016; anything over 1% is remarkable and even more remarkable for a bank of WFC's size. The bank has a long history of such returns and generated a ROA of 1.24% in 2015 and 1.18% in the last twelve months. Returns on equity (ROE) and tangible common equity (ROTCE) remain exceptional as well at 11.7% and 14.15%, respectively, in 2Q 2016. Like ROA, these return metrics are not one-offs but reflect the financial history of the bank.
For investors on the fence, Warren Buffett remains a steadfast investor in WFC with no plans to sell shares anytime soon. With the fall in price, WFC now yields 3.17% - a pretty significant yield given the financial strength of the bank and a 1.5% yield on the 10-year Treasury. A rise in rates can help WFC like it would any bank, but WFC can continue to perform in a low interest rate environment. A better interest rate environment will only be icing on the cake for WFC investors. All things considered, now is no time to shy away from WFC.
Disclosure: I/we have no positions in any stocks mentioned, but may initiate a long position in WFC over the next 72 hours.
I wrote this article myself, and it expresses my own opinions. I am not receiving compensation for it (other than from Seeking Alpha). I have no business relationship with any company whose stock is mentioned in this article.