The July US Manufacturing Purchasing Managers' Index conducted by Markit came in at 52.9, unchanged from the preliminary reading and up from 51.3 in June. Today's headline number matched the Investing.com consensus of 52.9. Markit's Manufacturing PMI is a diffusion index: A reading above 50 indicates expansion in the sector; below 50 indicates contraction.
Here is the opening from the latest press release:
U.S. manufacturers signalled a relatively strong start to the third quarter of 2016. Output growth picked up markedly since June, driven by a robust and accelerated expansion of incoming new work.

While domestic demand remained the key source of growth in July, there were also signs of renewed momentum in external markets. Reflecting this, new export sales expanded at the fastest pace since September 2014. Increased workloads also contributed to rising payroll numbers and a solid upturn in input buying during July. [Press Release]
Here is a snapshot of the series since mid-2012.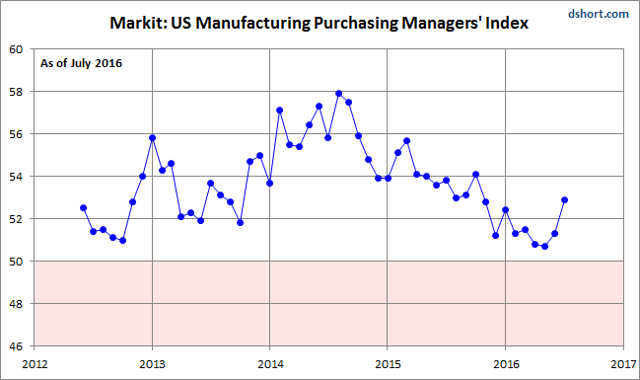 Here is an overlay with the equivalent PMI survey conducted by the Institute for Supply Management (see our full article on this series here).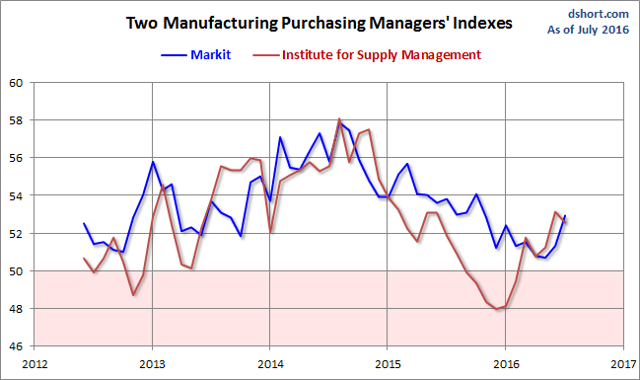 The next chart uses a three-month moving average of the two rather volatile series to facilitate our understanding of the current trend.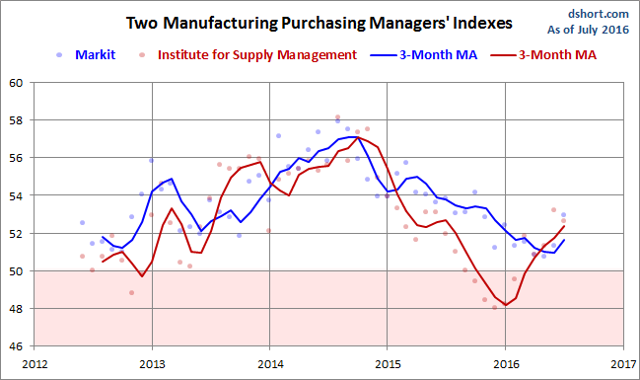 The two moving-average series began diverging in early 2015. The ISM index dipped into contraction in the third quarter of 2015, but then reversed directions in 2016 to its current level of modest expansion. The Markit series has trended more steady downward from its interim high early in the second half of 2014. We may be seeing a bit of an uptick in the Markit series from its interim low in May.