Business development companies ("BDCs") have started reporting calendar Q2 2016 financial results including BlackRock Capital Investment (NASDAQ:BKCC) last week and Gladstone Investment (NASDAQ:GAIN) earlier this week. BDC investors should consider following the results for companies that report early because it provides important information regarding industry trends and specific investments. For example, BKCC has shared investments with many other BDCs including Goldman Sachs BDC (NYSE:GSBD) and its investment in Hunter Defense Technologies, Inc. that was discussed in the recent announcement:
"The restructuring of our investment in Hunter Defense Technologies, Inc. ("Hunter") was completed during the quarter. Prior to the out-of-court restructuring, we purchased $11.3 million par value of the Hunter first lien term loan at a price of 70%, or $7.9 million. As a result of the subsequent restructuring, our $11.3 million par of first lien debt was converted to an $11.3 million interest in Hunter's series L preferred equity, realizing a $3.4 million gain on the conversion. Further, our existing $45.0 million investment in the Hunter second lien term loan, which had a prior quarter-end value of $16.7 million, was converted to a $3.8 million interest in Hunter's series L preferred equity as well as a $7.5 million interest in the series A common equity. The first lien purchase and the subsequent restructuring of first and second lien loans resulted in a combined $2.1 million net realized and unrealized loss during the current quarter on this transaction."
It is also important to understand the changes in net asset value ("NAV") per share and whether it is related to general market pricing or specific portfolio credit issues. BKCC reported a 3.5% decline in its NAV per share compared to GAIN with a 6.7% increase during the same period. BKCC continues to have credit issues mostly related to "legacy" investments that have resulted in a 13.5% NAV per share decline over the last four quarters.
Items to watch for:
As BDCs report, it is important to look beyond earnings. This includes assessing the sources of income and determining how much of the dividend was covered by "recurring" predictable sources as well as cash vs. payment in kind ("PIK"). It is also important to watch many of the items discussed in the "dividend cut" articles linked below including:
Changes in non-accruals potentially driving lower NII in the coming quarters
Overall effective portfolio yield trends
Amount of non-interest income (usually fee and dividend income) responsible for covering dividends
Changes to the capital structure including leverage and share repurchases
NAV per share changes and the key drivers including investments marked down or restructured
Changes in portfolio asset mix - Is management reaching for yield?
Analyst Expected EPS vs. Current Dividend:
The following tables show the analyst expected EPS for many BDCs as well as compared to the current dividend. As mentioned earlier, this is not an appropriate assessment of dividend coverage.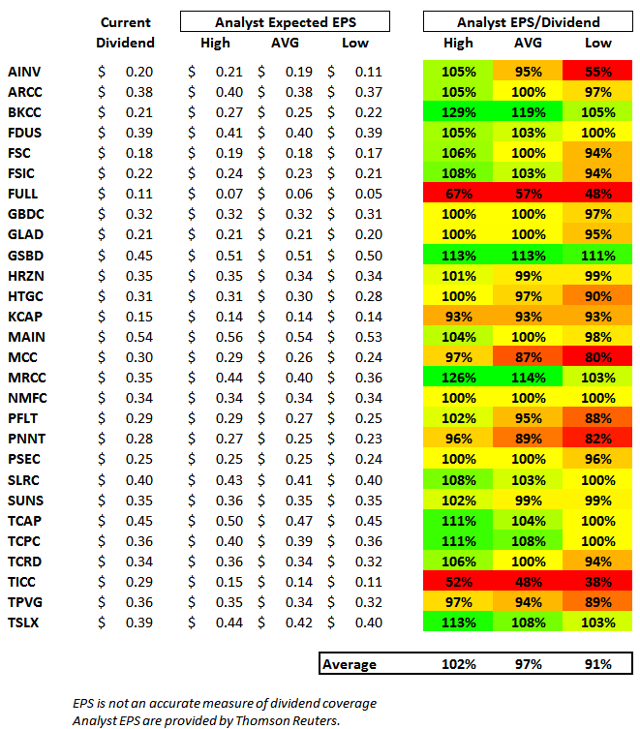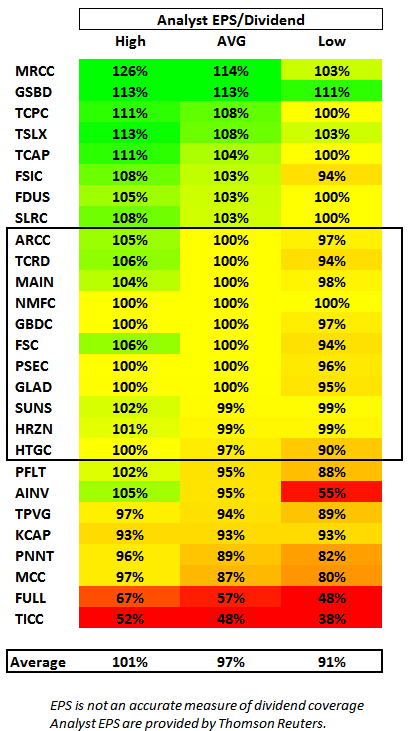 As you can see, analysts expect EPS to match dividends for many of the larger and/or well-known companies including Ares Capital (NASDAQ:ARCC), Main Street Capital (NYSE:MAIN), New Mountain Finance (NYSE:NMFC), Golub Capital BDC (NASDAQ:GBDC), Fifth Street Finance (NYSE:FSC), Prospect Capital (NASDAQ:PSEC), Gladstone Capital (NASDAQ:GLAD) and THL Credit (NASDAQ:TCRD). Among these companies, FSC needs to be watched closely as it continues to restructure investments to include increased amounts of PIK income that is non-cash and often a result of restructured investments that could eventually drive higher "Investment Ranking 4" and non-accruals in the coming quarters.
"As of March 31, 2016, we had modified the payment terms of our investments in 18 portfolio companies. Such modified terms may include increased PIK interest rates and reduced cash interest rates. These modifications, and any future modifications to our loan agreements, may limit the amount of interest income that we recognize from the modified investments, which may, in turn, limit our ability to make distributions to our stockholders."

"Investment Ranking 4 is used for investments that are performing substantially below our expectations and for which risk has increased substantially since the original or restructured investment. Investments with a ranking of 4 are those for which some loss of principal is expected and are generally those on which we are not accruing cash interest."

Over the last three quarters, BDCs such as GSBD, TPG Specialty Lending (NYSE:TSLX), Monroe Capital (NASDAQ:MRCC), TCP Capital (NASDAQ:TCPC) and Fidus Investment (NASDAQ:FDUS) have had the best dividend coverage and after the recent dividend reduction by Triangle Capital (NYSE:TCAP) it will likely join this group. TriplePoint Venture Growth (NYSE:TPVG) and PennantPark Floating Rate Capital (NASDAQ:PFLT) have under-leveraged portfolios with improved coverage over time.
For calendar Q1 2016, TCAP, TICC Capital (NASDAQ:TICC), Full Circle Capital (FULL), KCAP Financial (NASDAQ:KCAP), Medley Capital (NYSE:MCC) and Hercules Technology Growth Capital (NASDAQ:HTGC) had the worst coverage but TICC and KCAP have additional taxable income related to collateralized loan obligations ("CLOs") and HTGC has been growing the portfolio and NII. Investors will be closely watching BDCs with larger amounts of oil/energy related exposure such as Apollo Investment (NASDAQ:AINV), FS Investment Corp (NYSE:FSIC) and PennantPark Investment (NASDAQ:PNNT) especially as oil prices dip to $40 again.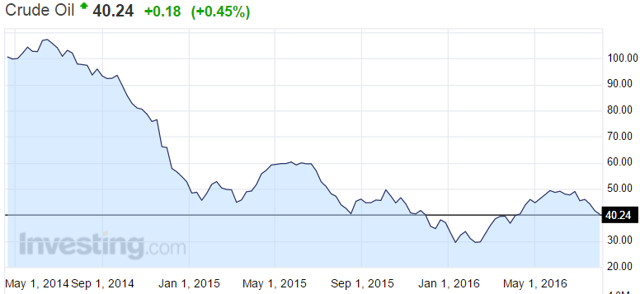 Red Flags for Potential Dividend Cuts:
As mentioned in my recent "Upcoming Dividend Cuts for BDCs" series, I believe that there are a handful of BDCs that could be reducing dividends this year.
Here are a few things to look for:
NAV declines related to credit issues including marked down investments that could be added to non-accrual in the following quarters
Consistently declining portfolio yield
Recent dividend coverage that is heavily reliant on non-recurring sources
Debt-to-equity ratios near upper targets or historically high
Lack of share repurchases for BDCs that have traded at 15% or higher discounts during the quarter especially with higher debt-to-equity ratios
Management is actively "rotating" into higher yield assets including subordinated debt and structured products
I have recently organized an "Index to Free BDC Research" that includes previous Dividend Coverage articles as well as pricing and rankings (risk, return, pricing, dividend potential), fee structures, historical total returns, charts and valuations, interest rate discussion, my historical purchases and current positions, and suggested BDC portfolios.
Upcoming BDC Reporting Schedule:

Personal note: I have updated my positions to reflect changes in my holdings, but please keep in mind that some of the positions are very small and mostly for research purposes.
Disclosure: I am/we are long ABDC, AINV, ARCC, BKCC, FDUS, FSC, FSFR, FSIC, GAIN, GARS, GBDC, GLAD, GSBD, HTGC, MAIN, MCC, MRCC, NMFC, PFLT, PNNT, PSEC, TCAP, TCPC, TICC, TPVG, TSLX.
I wrote this article myself, and it expresses my own opinions. I am not receiving compensation for it (other than from Seeking Alpha). I have no business relationship with any company whose stock is mentioned in this article.