The surreal trading in Deutsche Bank (NYSE:DB) stock (dark line, below) continues. One of the largest financial institutions in the world is closely tracking the declining 10-year Treasury yield almost tit for tat. The correlation is not perfect, but given that one line represents risk-free, interest-rate returns in the U.S., while the other line represents the equity part of the capital structure of the largest bank in Germany, one has to wonder what conclusions result from this surreal tango dance from this oddest couple of dance partners.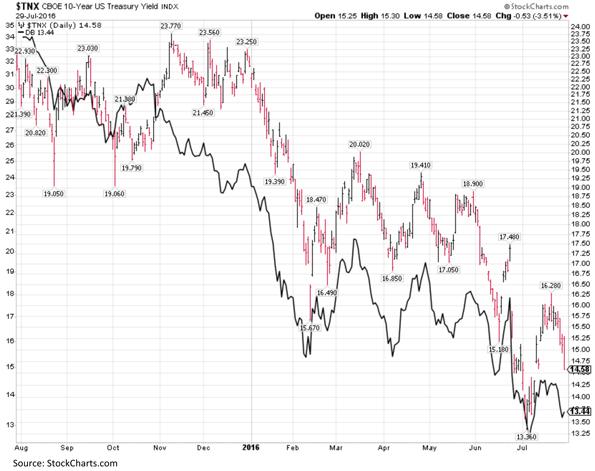 Graphs are for illustrative and discussion purposes only. Please read important disclosures at the end of this commentary.
I pointed out this strange correlation over a month ago (see June 24, 2016 Marketwatch article: "A look at the global economic malaise through Deutsche Bank") and the correlation has continued unabated in the weeks since. Since then, Deutsche reported second-quarter earnings, which were expected to be bad (see July 27, 2016 Bloomberg article "Deutsche Bank Flags Deeper Cuts as Trading Drop Hits Profit") but that did not really lift any pressure off the stock. We also know that high-profile absolute return investors like Soros Fund Management and Sealight Capital have taken substantial short positions against the stock (see Bloomberg July 27, 2016 "Deutsche Bank Set for Investor Scrutiny as Short Sellers Circle").
Why would a sophisticated institutional investor like Soros Fund Management sell seven million shares of DB stock short if the shares trade at just 25 cents per dollar of book value? (The position was reported by Bloomberg last month, and even if the position was taken when DB stock was trading in the 30s, in terms of cents per book value dollar, isn't Deutsche Bank "too big to fail"?) Surely George Soros and his managers that took the position know Deutsche is likely to get propped up by the German government?
I think getting propped up by the German government and maintaining DB's equity value are not one and the same thing. Citigroup (NYSE:C) was propped up by the U.S. government, which forced a massive dilution on its shareholders, and so did AIG. The same may happen here. Deutsche had total assets of €1.803 trillion as of June 30, 2016 while total equity on its balance sheet was €66.809 billion.
I know that banks are typically highly-leveraged institutions, but DB is in the middle of a bad deflationary problem in Europe, which just got worse with the outcome of the Brexit vote. Highly-leveraged bank balance sheets and accelerating deflation do not go well together due to rising losses in the banking sector in such a scenario.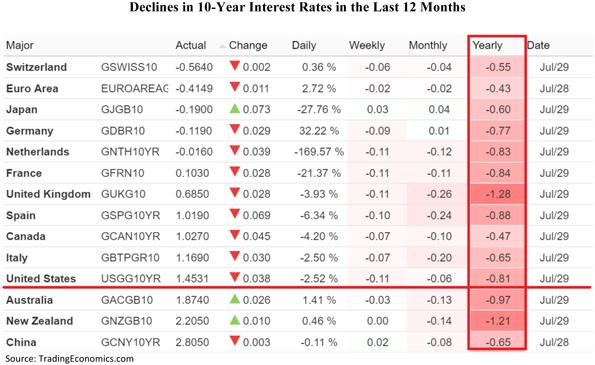 The decline in global interest rates over the past year (highlighted above) has been astounding. It is a result of global deflation emanating from Europe, Japan, and now China. That Deutsche Bank stock follows the decline in U.S. 10-year Treasury yields simply means that as global deflationary pressures increase, the business prospects of this highly leveraged global financial institution worsen.
Since I am of the opinion that U.S. Treasury yields are headed to 1% or lower (see July 14, 2016 Marketwatch article "What happens now that Treasurys hit their target?") this strange correlation may mean DB stock is going into the single digits and is likely to trade for less than 20 cents per book value dollar at some point.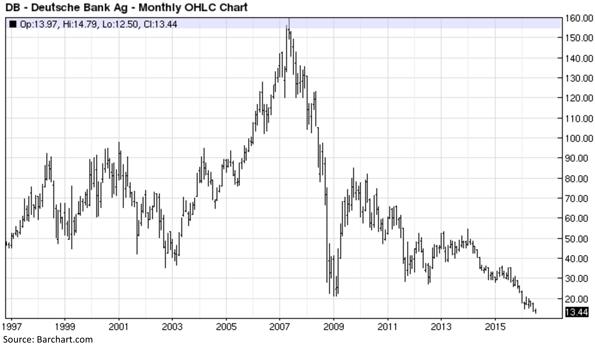 Graphs are for illustrative and discussion purposes only. Please read important disclosures at the end of this commentary.
If we have to go by the looks of its ghastly long-term chart, Deutsche Bank looks like most large Japanese financial institutions, which were the first to experience the effects of protracted deflation. Negative short-term interest rates, negative government bond yields, as well as a rather sluggish Eurozone economy suggest that Europe is going through a similar stage as the Japanese experienced in their "lost decade" in the 1990s. The trouble is: one lost decade became two, and now they are entering their third one.
Gut feeling tells me that we have not seen the worst of this Deutsche Bank situation, where massive leverage on the balance sheet combined with a worsening deflationary backdrop may force more losses on shareholders than are seen in present estimates. Given that DB has a balance sheet that is much bigger than Lehman Brothers' and it is among the top dozen banks in the world by assets, one could conclude that there is more at risk here, particularly in light of the fact that there are many banks in Europe in worse shape than DB when looking at present valuation as a percentage of book value dollar, like those in Italy.
Please note: Ivan Martchev does not currently hold a position in DB or AIG. Navellier & Associates does currently own a position in DB and AIG.
Some Commodity Currencies Are Lagging Oil
With the price of September 2016 WTI futures (CLU16) barely above $40 last week, some commodity currencies like the Russian ruble have begun to be increasingly under pressure - as I have expected in this column before this repercussion began to unfold. Others, like the Brazilian real, are so far ignoring the move in the oil market as well as the broader sell-off in commodities that got going in earnest in July.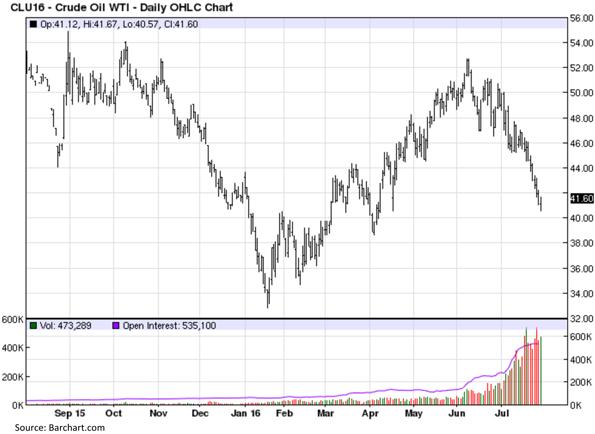 Graphs are for illustrative and discussion purposes only. Please read important disclosures at the end of this commentary.
Keep in mind that the September 2016 WTI crude oil futures contract got only as low as $32.85 last January, while the front-month futures at the time got close to $26. From the standpoint of buyers of this futures contract, we have given up quite a bit more than half the gains in the rebound in crude oil prices that played out in the first part of 2016.
The fact that many leveraged oil and gas companies - like those in the SPDR Oil & Gas Exploration and Production ETF (NYSEARCA:XOP) - have not given up even a third of their gains in their share prices since January should be taken as a red flag. The same red flag should be raised in the case of commodity currencies that are still holding up.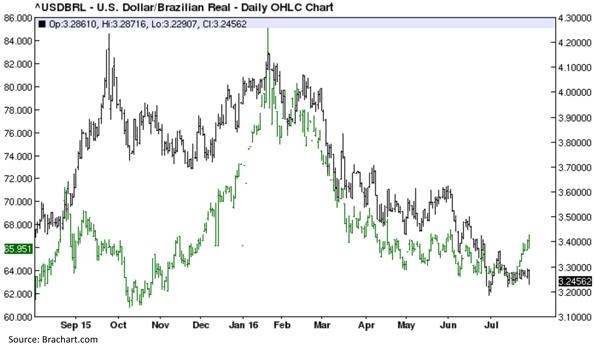 Graphs are for illustrative and discussion purposes only. Please read important disclosures at the end of this commentary.
I think the Brazilian real exchange rate (USDBRL) is holding up because of the Olympics, which start in Rio this week, while the Russian ruble (USDRUB) has finally begun to react to the decline in the oil price, also helped by the DNC email hacking scandal that is pointing fingers at Russia. While it would be difficult to prove Russian involvement in this political scandal, as hackers can rout their activities through multiple countries, it will not be a positive for the "rubble" if Russia becomes a topic in the Presidential election, particularly when these two countries were working on joint plans to combat ISIS in Syria.
As to the Brazilian real - which is on an inverted scale like the ruble, so fewer Brazilian reals per dollar is a stronger real - I think it is only a matter of time before it follows the ruble and other commodity currencies if oil heads into the $20s next year. The weakening of the crude oil price has started on schedule, precisely at the time of the year when last year's seasonal rebound began to play out.
Large international events like the Olympic games tend to give a boost to local financial markets, but I predict that this temporary boost will fizzle out after the Olympics end on August 21.
Disclosure: *Navellier may hold securities in one or more investment strategies offered to its clients.
Disclaimer: Please click here for important disclosures located in the "About" section of the Navellier & Associates profile that accompany this article.