About Baidu
Baidu (NASDAQ:BIDU) structures its operations into three different segments. Search, Transaction Services and iQyi.
Baidu.com is China's premier search engine with market share from 70%-80% percent depending on which source you might want to believe. This is where profits are found. Costumers bid for priority placement on Baidu.com and make payments to the company depending on how often the ad has been clicked. Search generates EBIT margins in excess of 50% despite requiring only little incremental capital to grow the business. Hence in the past years revenues have increased at around 40% annually driven by increasing internet penetration as well as increasing costumer marketing budgets.
Transaction services mainly consist of Baidu's online to offline (o2o) businesses such as Nuomi and Baidu Takeout Delivery (BTD). These services usually act as an agent between costumer and merchant. E.g. BTD enables its costumer´s have their food delivered from the restaurant of choice, while cashing in the spread between what it pays to merchants and what is collected from costumers. Same goes for Nuomi which provides shoppers with discounts with the help of group buying. With Baidu being late to the o2o game these services currently require large investments to achieve necessary scale to operate them profitably. Thus transaction services as a whole turn in losses. In Q2 FY2015 the company has pledged RMB 20 bn. or about USD 3 bn. in o2o investments over the next three years to grow the services.
iQiy, the third segment, is a video platform and can be compared to Netflix. iQyi hosts TV shows, movies etc. But unlike Netflix (NASDAQ:NFLX) iQyi derives revenues from advertisement instead of charging monthly subscription fees. iQyi, like the other transaction services requires large investments into content creation and therefore operates at a loss.
The Margin Puzzle
Until 2011 Baidu consistently showed operating margins in excess of 50%. In 2012 margins suddenly started to decline and have recently marked a low at 16%. Reasons for this exceptional development are the aforementioned large investments into o2o and iQyi. While search has continued to perform nicely (until recent troubles, but more on that later), investments into the other segments have eaten into search profits and are now masking the company´s true profitability.
However, at some point in the future o2o and iQyi will either be profitable, discontinued or bought out. All these actions have in common that the true profitability from search will resurface in the income statement.
Valuation
I value Baidu using a SOTP model that clearly shows the value of search, o2o and iQyi. What follows are assumptions the model is based on. I will let you judge for yourself if I am being conservative enough. Valuations for search and transactions services are based on FY2017 numbers, while iQyi is valued at its proposed MBO price and Ctrip is valued at market.
Search:
50% profit margins going forward
FY2016 revenues decrease by 5% due to regulatory issues
FY2017 revenues grow 20% assuming a return to normalcy
Tax rate of 20% due to some parts of Baidu being eligible for favorable tax rate of 15% for high tech companies under PRC law
Transaction Services (o2o):
Revenues are adjusted for the Qunar share exchange (Qunar stake has been exchanged for Ctrip shares)
Sales are assumed to grow 100% for FY2016 and FY2017 on strong investment
Transaction Services are valued at 1x FY2017 sales
In line with Q2 2015 guidance I model RMB 20 bn. (USD 3 bn.) in o2o investment reducing net cash by that amount
A negative value for o2o is thus incorporated in the valuation, which might be in line with what the market is feeling.
iQyi:
CEO of BIDU and iQyi proposed a takeover offer for iQyi earlier this year for USD 2.8 bn.
The offer has been terminated, likely because it was seen as too low.
Still I value Baidu´s 80.5% percent stake at USD 2.3 bn.
Ctrip:
Baidu holds 25% in Ctrip (NASDAQ:CTRP)
At current share price of USD 43 the stake is worth USD 4.9 bn.
Net Cash:
Baidu holds USD 11.4 bn. in cash and equivalents as of last QTR.
Debt is USD 5.9 bn.
o2o investments reduce cash balance by USD 3 bn.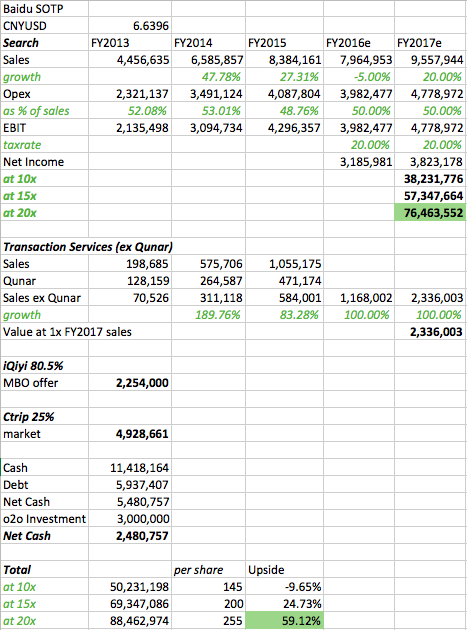 The SOTP valuation yields a fair value for Baidu from about USD 145 to USD 255 per share. The low estimate values search at 10x after tax profits, the high estimate at 20x. Clearly for a business that proved its ability to grow at 40% for many years a 10x multiple is ridiculously cheap. Remember IBM (NYSE:IBM) with currently falling revenues is trading at around 13x. Using a more comparable company as anchor, Google (NASDAQ:GOOG) trades at 30 times earnings even though growing only at around 20%. Of course GOOGL is not just consisting of search. It is also much bigger and more diversified than Baidu, which is why it is by far not a perfect comparable. Nevertheless, this gives me a sense of what is possible and reasonable for Baidu to trade at. I believe BIDU is much closer to being a GOOGL than an IBM (This is no hate for IBM, which I am long). Hence valuing search at 20x after tax profit is much more appropriate than slashing a 10x multiple on the business, which is about what Mr. Market currently does.
Long story short a USD 255 price target valuing Baidu search at 20x after tax profits and the other segments at very conservative or market valuations doesn't seem overstretched.
Regulatory Issues
Much has been discussed about the recent government crackdown on Baidu after a Chinese student died from cancer after having undergone an experimental treatment he has found on Baidu's sponsored ads. In the following authorities imposed a reduction on how many such ads Baidu could show in search results. Further, favorable positioning of ads cannot solely depend on who is the highest bidder and ads must not take more than 30% of space on the webpage. This is certainly a blow to Baidu's search revenues. Analyst estimates have gone as far as saying 10%-15% of search revenues are at risk. The company strengthened this assumption by saying that the incident will weigh on results the next 2-3 quarters.
I believe this sad event, while generating short-term headwinds for search, will lead to a favorably cleaning up of the way ads are displayed, marketed and quality checked in the long run. Hopefully also the way hospitals in China operate and advertise to their patients will in future fall under higher regulatory scrutiny for the benefit of the whole chinese population. This is especially important since it was effectively the hospitals that intentionally advertised detrimental treatments.
In reaction to these issues I modeled FY2016 search revenues to be down 5%. In FY2017 I project a return to growth based on two facts. A recovery from having overcome said regulatory crackdown and a revenue-tailwind from increased costumer ROI due to less competitive bidding for ads. I don't model a margin impact, since margins have been steadily hovering around 50% despite significantly lower revenues in the past.
Catalysts
The price target of 255 USD per share is achievable due to following short and mid-term catalysts:
o2o and iQyi turn be profitable, discontinued or bought out revealing 50% search margins
2016 regulatory crackdown will prove to be a bump in the road ahead.
Disclosure: I/we have no positions in any stocks mentioned, but may initiate a long position in BIDU over the next 72 hours.
I wrote this article myself, and it expresses my own opinions. I am not receiving compensation for it (other than from Seeking Alpha). I have no business relationship with any company whose stock is mentioned in this article.