Welcome to the Financials sector's fourth edition of "Buy on Weakness?", a series of articles that sifts through the underperformers of the week to find potential investment opportunities in the large-cap Financials world.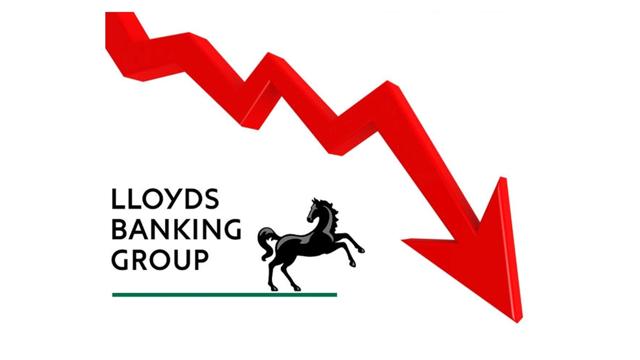 Credit: DM Martins Research montage using company logos
The idea is to help investors, particularly those focused on value plays, unearth ideas for the coming week.
The table below highlights the top 20 Financials companies - worth $10 billion or more in total equity value - that have performed the poorest in the previous five trading days.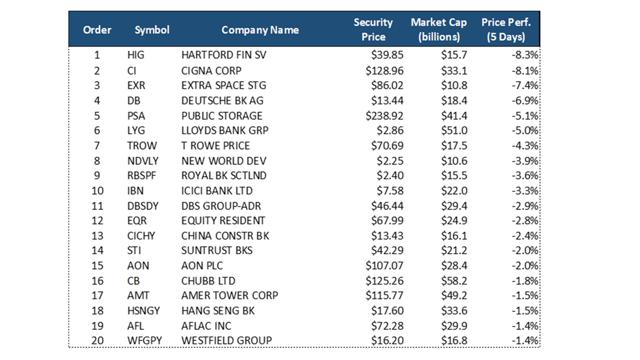 Source: DM Martins Research, using market data compiled from Zacks
Financials returns were flat over the past week
In what was a relatively unchanged week for the financials sector, a mere $300 million in market value was lost over the past 5 trading days.
Let's take a closer look at some metrics.
Diving deeper into the data
These top 20 financials losers have a high median forward P/E of 15.4x, compared to the S&P 500's median trailing P/E of 14.6x and one that is in-line with the overall financials sector's 15.8x. This week's top 20 group is expected to grow EPS in 2017 by 9.9%, and the companies generate a median dividend yield of 2.3% (17 of the 20 companies are dividend-payers).
The table below highlights, in green font, the three best-positioned financials companies in each of the following categories: projected EPS growth, dividend yield, forward P/E and forward PEG (P/E divided by percentage-point EPS growth).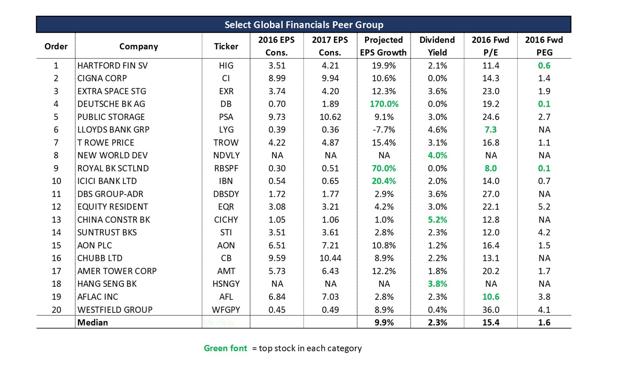 Source: DM Martins Research, using data from Yahoo Finance, Nasdaq and Market Watch
So which short-term loser should investors consider adding to their portfolio to take advantage, in the long run, of this price decline? And which should they avoid, despite the price drops?
Let's take a closer look at a featured name on the financials top 20 "biggest loser" list.
Lloyds Banking Group: Is this the time to buy this cheap dividend-payer? We don't think so.
This week, we look at Lloyds Banking Group (NYSE:LYG). The stock, down 5.0% last week, has depreciated by 34% since the June 23rd "Brexit" vote.
The London-based bank operates in the UK through four business segments: Retail, Commercial Banking, Consumer Finance, and Insurance. The British government currently holds a 9.1% stake in the company due to its 2008 bailout of the bank. Lloyds Bank also holds a high-degree of capital as its Common Equity Tier 1 Ratio stands at 13%.
The bank recently released 2Q16 earnings of £4.2 Billion which beat estimates by 5%. However, the dividend payout of 0.85p and Tier-1 Capital growth of 160bps disappointed investors.
Lloyds announced that it will cut an additional 3,000 jobs and close 200 branches this past Thursday in addition to the bank's pledge to cut expenses by £1 Billion by the end of 2017. The weight of the Brexit vote has dimmed growth prospects as CEO António Horta-Osório stated that "while the business will remain highly capital generative, it is possible that this capital generation may be somewhat lower in future years than previously guided."
The bank's profit margins could face new pressure from an imminent cut in interest rates. Despite a July 14th decision not to cut the benchmark interest rate, already at the low rate of 0.5% since 2009, the Bank of England has previously indicated that a rate cut could be coming sooner rather than later. Governor Mark Carney stated after the referendum that "the economic outlook has deteriorated and some monetary policy easing will likely be required over the summer".
- The bull case: SA contributor Alexander Solianin believes that LYG represents an excellent long opportunity due to overly speculative economic fears. The author notes that 46% of the bank's tangible net assets are held in UK real estate, but believes that housing prices will rise rather than decline. He points to an analysis from TradingEconomics which illustrates that the UK unemployment rate is back to pre-crisis levels while UK household debt to GDP is below 2006 levels. He argues that "these facts indicate a presence of the favorable environment for the growth of demand for UK real estate".
The author also believes the Bank of England will not cut interest rates until after the "Brexit" process has completed. As a result, profit margins would not be subject to additional downward pressure in the short-term. The author concludes that the combination of unchanging interest rates, rising housing prices and increased expense reduction will increase profitability.
Mr. Solianin's viewpoint that British interest rates will not be cut until after the completion of "Brexit" is against-the-grain compared to other commentators that expect a rate cut during the summer. Mark Carney has stated that further quantitative easing is likely during this period and it would take two full years for the UK to formally withdraw from the EU once Article 50 is triggered.
- The bear case: Rupert Hargreaves of Yahoo Finance firmly believes that investors should stay away from the stock. The author's focus is entirely on the implications of the Brexit vote and notes that the worsening British economy will specifically hurt Lloyds since the bank is concentrated in the British market. Mr. Hargreaves also notes that while the Bank of England relaxed capital requirements in early July, Mark Carney warned that the additional breathing room should be used for lending rather than increasing dividends. Mr. Hargreaves's concludes that it will be unlikely that the bank's dividend is increased and predicts that "Lloyds will be hit by both lower demand for its mortgages and increased stress on its mortgage portfolio as property prices decline."
We ultimately agree that LYG is a stock to pass on despite the bank's strong capital position and low forward P/E ratio relative to its peers (displayed below). LYG is the only bank among its peers with negative projected EPS growth. Additionally, we believe that a future interest rate cut will further depress profitability while Lloyds will have fewer available levers to raise dividends given pressure from the Bank of England. The bank's high exposure to the UK is another drawback, which is why we believe that LYG does not warrant a long position.

Research report authored by Aris Tindianos and edited by Daniel Martins.
Disclosure: I/we have no positions in any stocks mentioned, and no plans to initiate any positions within the next 72 hours.
Business relationship disclosure: Research report authored by Aris Tindianos and edited by Daniel Martins