Veeva Systems Inc. (NYSE: VEEV) has turned out to be a very attractive opportunity. The company when public back in 2013 with an IPO price of $20 and an opening trade of $38. The stock closed at $37.99 on Friday.

Veeva has spent the last 3 years building a base, at one point falling to the high teens. During this period management has completed a secondary offering but more importantly executed what appears to be a very solid business plan.
Veeva is headed by Chief Executive Peter Gassner who left Salesforce.com (NYSE:CRM) to start Veeva in 2007. He had one singular goal in mind at the time - replace legacy systems at biopharma companies with cloud based solutions. Solutions that help these companies manage customer relationships, clinical trials, and more recently product manufacturing. It appears the company has done an excellent job of executing on these opportunities. Sales and earnings have been very strong since going public and a recent successful rollout of their technology at customer Johnson & Johnson (NYSE: JNJ), has captured industry attention.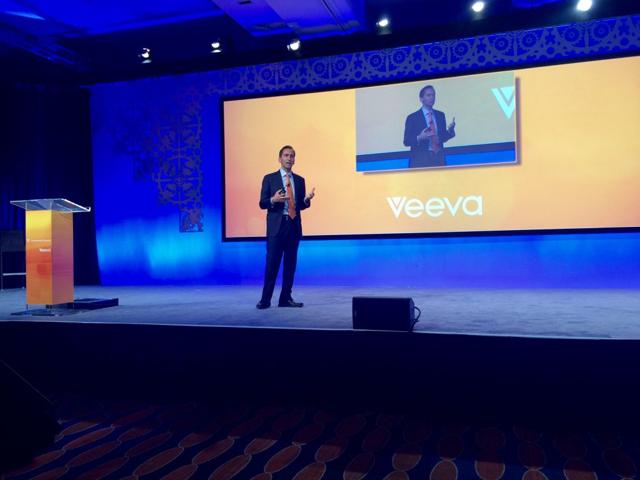 Biopharma is a heavy regulated industry with complex decision making involved with every step of the process; collectively involving thousands of employees at the larger companies. Veeva's ability to execute well on this industry may speak volumes about the potential for the company to tackle other industries. They have already announced the development of a small team to explore new market opportunities.
Prior to founding Veeva, Peter Gassner, was Senior VP of Technology at salesforce.com. The company was co-founded by Matt Wallach who has strong industry experience in biopharma application technology. He has clearly demonstrated his value and is now President after holding different roles at the company. A look at the rest of the large team and you will find a group of accomplished professionals. It short, Veeva looks to have a highly capable executive management team in place.
When you consider the massive burden regulations have placed on many industries (finance, energy, food, etc.) combined with the power and flexibility of cloud computing in general, it appears Veeva is presented with a very large growth opportunity. An investor presentation on the company earlier this year reported Veeva already had 375+ customers in over 80 countries.
Let's take a look at how the company has done to date. It should be noted; the company is schedule to report earnings on August 25th.
Sales growth has been strong.
| | | | | |
| --- | --- | --- | --- | --- |
| Sales Growth Last 4 Qtrs | Latest Qtr. | 2-Qs Back | 3-Qs Back | 4-Qs Back |
| VEEV | 33% | 31% | 28% | 30% |
| Source - Marketsmith | | | | |
| | | | | |
| --- | --- | --- | --- | --- |
| Actual Sales ($Mil) | Latest Qtr. | 2-Qs Back | 3-Qs Back | 4-Qs Back |
| VEEV | $119.8 | $114.3 | $106.9 | $98.1 |
| Source - Marketsmith | | | | |
A look back to quarterly date from July 2014 shows Veeva has been able to consistently deliver top line sales growth between 28% & 53%.
Next we want to see how much of their company's revenue is able to find its way to becoming earnings per share (NYSEARCA:EPS).
| | | | | |
| --- | --- | --- | --- | --- |
| EPS Growth Last 4 Qtrs | Latest Qtr. | 2-Qs Back | 3-Qs Back | 4-Qs Back |
| VEEV | 25% | 25% | 33% | 44% |
| Source - Marketsmith | | | | |
Actual Earnings Per Share

Latest Qtr.

2-Qs Back

3-Qs Back

4-Qs Back

VEEV

$0.15

$0.15

$0.12

$0.13

Source - Marketsmith

Ann. EPS Growth Last 3 Years

Latest Yr.

2-Yrs Back

3-Yrs Back

VEEV

38%

61%

53%

Source - Marketsmith
Here too we see a strong track record.
In terms of broad financial metrics, we find the following:
| | |
| --- | --- |
| 7/30/2016 | VEEV |
| Current P/E Ratio | 69 |
| Market Cap | $5.1Bil |
| Sales Total Last 4 Qtrs | $436mil |
| EPS Total Last 4 Qrts | $0.55 |
| Return on Equity | 16% |
| Debt Level | N/A |
| % R&D | 16.1% |
| Annual Pre-Tax Margin | 26.5% |
| Cash Flow Vs. EPS % Last Year | 8.1% |
| Source - Marketsmith | |
As a high-growth company many investors will be turned off by a P/E of 69. Salesforce.com (NYSE: CRM) currently has a P/E of 99 and has had an elevated PE for most of its amazing 12-year stock run from a split adjusted share price of around $4 to $81.80 today.
The 16% return on equity is a little underwhelming but respectable. It is nice to see the company allocating 16.1% of revenue to research and development and maintain a healthy 26.5% annual pre-tax margin.
The company has its eyes set on reaching a billion dollars in annual sales and is well on its way with just under five hundred million in aggregate sales over the last 4 quarters. What investors what to know is how much of that sales growth is going to result in future earnings. For that we take a look at the following.
| | |
| --- | --- |
| 7/30/2016 | VEEV |
| 2017 EPS Estimates | $0.57 |
| 2017 EPS Estimates Growth Rate | 12% |
| 2018 EPS Estimates | $0.73 |
| 2018 EPS Estimates Growth Rate | 28% |
| EPS Growth Rate | 81% |
| Earnings Stability | 25 |
| Source - Marketsmith | |
2017 estimates are lower than we would like to see but still quite healthy. The jump in 2018 EPS growth is closer to where we would like to see the company maintain earnings growth. We would also like to see the company improve earnings stability as it matures.
On balance it looks like Veeva has executed extremely well with tremendous market opportunities remaining in the biopharma space and new industries to potentially expand into. Now it is time to turn our attention to the trading characteristics of Veeva. Here is a look at trading over the last 90 days.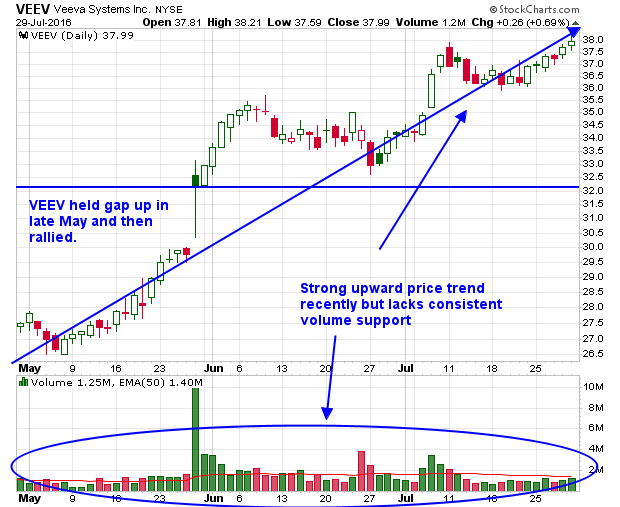 Veeva has clearly found some moment holding the gap up in late May and going on to rally.
Below is a chart that spans the last couple of years. Since going public Veeva has traded as high as $49 and as low as the high teens. Today, nearly three years after going public investors can purchase shares at near the first trade after going public in 2013.
Since going public Veeva has been building a long base which it just broke out of hitting a 2-year high in the process. Trading has been pretty sloppy but look for it to tighten up if more institutional support arrives. The float currently consists of 95.8 million shares of a total 134.8 outstanding according to MarketSmith.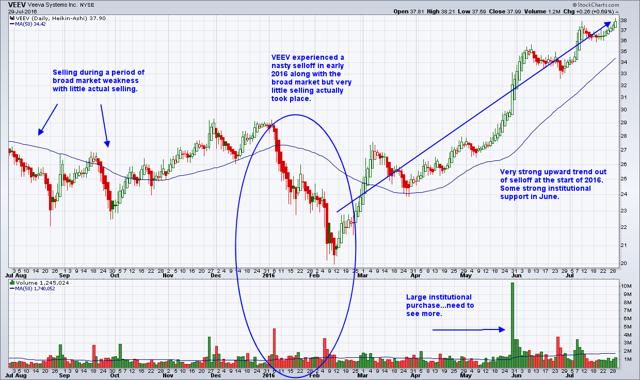 If anything, the Point & Figure (NYSE:PNF) chart below tells investors institutions have yet to arrive on the scene in mass. While there are some signs of accumulation by investors it's inconsistent and light.
Veeva is extended somewhat which may require a more aggressive entry. Certainly a pullback to the 20-day moving average would warrant serious considerate by interested investors.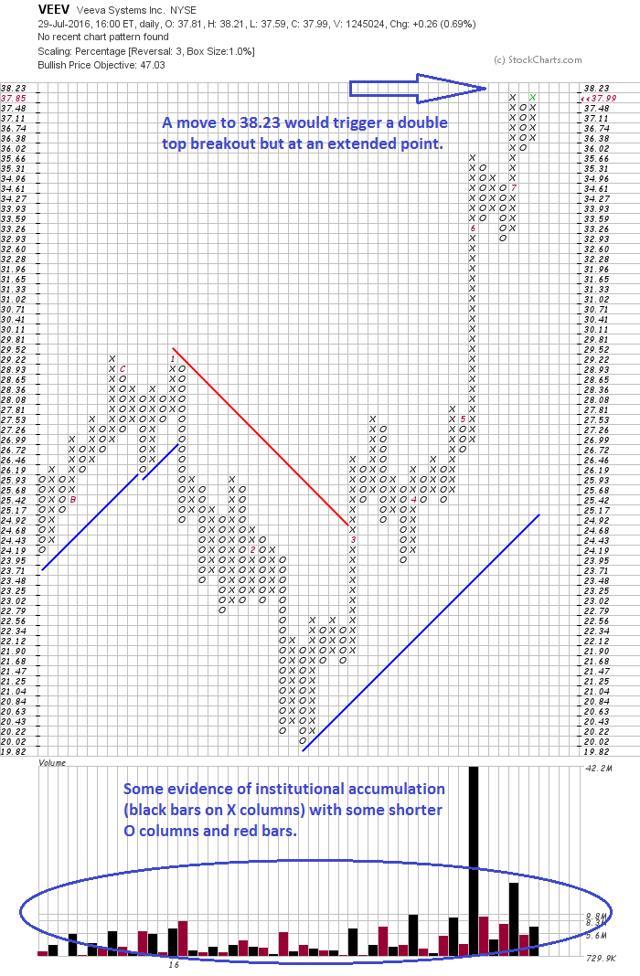 In terms of institutional sponsorship, Veeva is probably under represented for a company with a $5 Billion market cap. More funds looking to own shares and current funds increasing their stakes could help drive the stock price higher in coming years assuming the company continues to execute its business plan successfully and the broad market remains constructive.
| | |
| --- | --- |
| 7/30/2016 | VEEV |
| Funds % Increase | 7.8% |
| # Funds Reporting Ownership | 372 |
| Source - Marketsmith | |
Overall, this is a stock we would expect to see a 3-5x return. Yes, GDT believes Veeva has the potential to be a $15-25Bil company.
MarketSmith Data Definitions
Return on Equity: The amount of net income returned as a percentage of shareholders' equity.
Debt Level: Calculated by dividing long-term debt by shareholders' equity.
Annual Pre-Tax Margin: Calculated by dividing annual operating income by sales.
Cash Flow Vs. EPS % Last Year: Percentage difference between operating cash flow per share vs. earnings per share from the last completed fiscal year.
EPS Growth Rate: The compound growth rate using the least squared fit over the latest two to three year's earnings per share on a running 12-month basis.
Earnings Stability: Indicates in percentage from one standard deviation of the variability around the trend line fitted through 3 to 5 years of earnings history with a scale ranging from 1 to 99. Lower numbers represent more stable company earnings history.
Disclosure: I/we have no positions in any stocks mentioned, and no plans to initiate any positions within the next 72 hours.
I wrote this article myself, and it expresses my own opinions. I am not receiving compensation for it (other than from Seeking Alpha). I have no business relationship with any company whose stock is mentioned in this article.
Additional disclosure: No specific investment recommendations have been made to any person or entity in this article. Investing involves risk including the loss of capital. Conduct your own research before making any investment decision.