The construction spending release for the month of June shows that total construction spending has stagnated. Construction spending is completely ignoring the recent ISM surge. In all fairness, there has been disconnection during the last years. However, short term cycles are perfectly visible.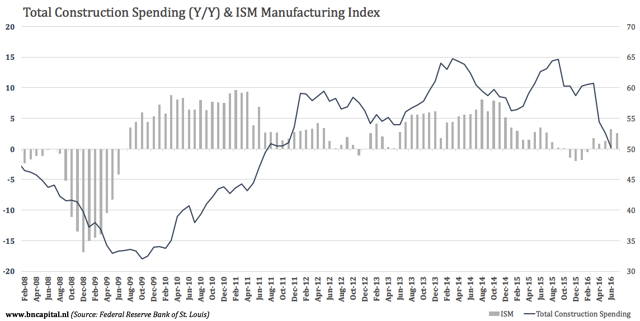 Nonresidential spending is contracting for the first time since 2013.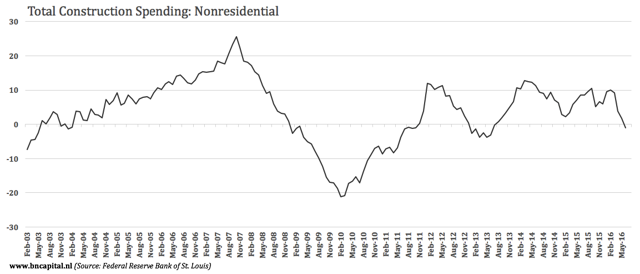 The question is whether this is a short term issue and construction will pick up in the next month or whether this is the start of a multi-year downturn like we saw in 2007.
The graph below might answer that question. The graph below displays the ISM non-manufacturing construction industry. This graph shows relative strength versus other industries and is a perfect indicator to get an idea of where an industry is headed.
The graph was struggling to stay in the growth zone untill 2011. After 2011, growth surged. Since 2015, we see a lower average and a decline that almost resulted in contraction. On Wednesday we get a new NMI release which might give us more information about a possible bottom or a further decline.
The last graph I want to show you is construction spending for manufacturing facilities.
At this point, spending is down more than 10% on a year-on-year basis after rising more than 50% in Q1 of 2015. I would love to see at least 10-20% growth if the latest ISM rally is indeed sustainable.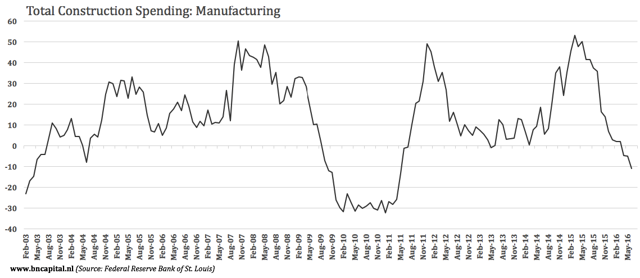 To me, the most important aspect of this report is that all major parts of the construction spending release are contracting. In addition to that, we saw a further growth decline in building permits last month. I recently wrote an article about shorting Fluor Corp FLR, one of the biggest construction companies in the US. The short has been confirmed. This month, the new building permits are going to give us more information about the general trend of construction in the US. Mainly residential construction.
Thank you for reading my article, feel free to leave a comment if you have questions or remarks.
Disclosure: I am/we are short FLR.
I wrote this article myself, and it expresses my own opinions. I am not receiving compensation for it (other than from Seeking Alpha). I have no business relationship with any company whose stock is mentioned in this article.