By CapitalCube
E.I. du Pont de Nemours and Co. (DuPont) (DD) reports financial results for the quarter ended June 30, 2016.
We analyze the earnings alongside the following peers of E.I. du Pont de Nemours and Co. - Dow Chemical Company (DOW), Eastman Chemical Company (NYSE:EMN), Monsanto Company (NYSE:MON), Huntsman Corporation (NYSE:HUN), Air Products and Chemicals, Inc. (NYSE:APD) and PPG Industries, Inc. (NYSE:PPG) that have also reported for this period.
Highlights
Summary numbers: Revenues of USD 7072 million, Net Earnings of USD 1023 million.
Gross margins widened from 38.62% to 43.82% compared to the same period last year, operating (EBITDA) margins now 24.01% from 18.96%.
Year-on-year change in operating cash flow of 337.18% is about the same as the change in earnings, likely no significant movement in accruals or reserves.
Earnings growth from operating margin improvements as well as one-time items.
The table below shows the preliminary results and recent trends for key metrics such as revenues and net income growth:
| | 2015-06-30 | 2015-09-30 | 2015-12-31 | 2016-03-31 | 2016-06-30 |
| --- | --- | --- | --- | --- | --- |
| Relevant Numbers (Quarterly) | | | | | |
| Revenues (mil) | 8596 | 4873 | 5299 | 7409 | 7072 |
| Revenue Growth (%YOY) | -11.75 | -35.1 | -30.4 | -19.15 | -17.73 |
| Earnings (mil) | 940 | 131 | -228 | 1223 | 1023 |
| Earnings Growth (%YOY) | -12.15 | -69.75 | -134.13 | 18.62 | 8.83 |
| Net Margin (%) | 10.94 | 2.69 | -4.3 | 16.51 | 14.47 |
| EPS | 1.03 | 0.26 | -0.29 | 1.39 | 1.16 |
| Return on Equity (%) | 28.27 | 4.15 | -8.63 | 46.97 | 38.6 |
| Return on Assets (%) | 7.98 | 1.19 | -2.24 | 11.79 | 9.74 |
Market Share Versus Profits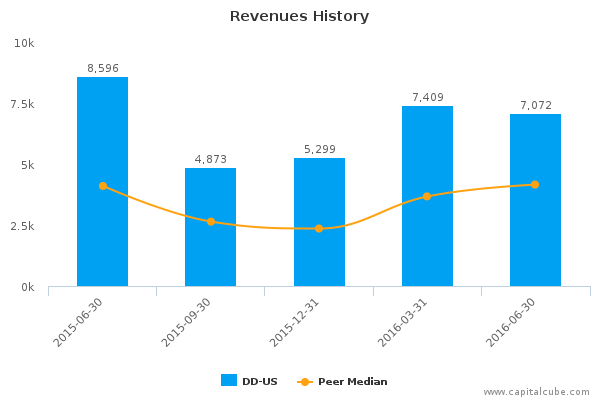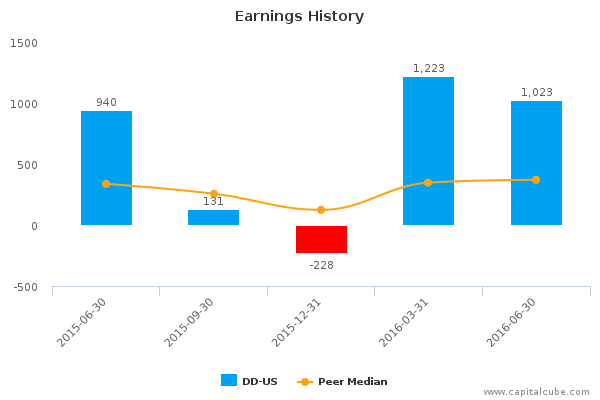 DD's change in revenue this period compared to the same period last year of -17.73% is almost the same as its change in earnings, and is about average among the announced results thus far in its peer group, suggesting that DD is holding onto its market share. Also, for comparison purposes, revenues changed by -4.55% and earnings by -16.35% compared to the immediate last period.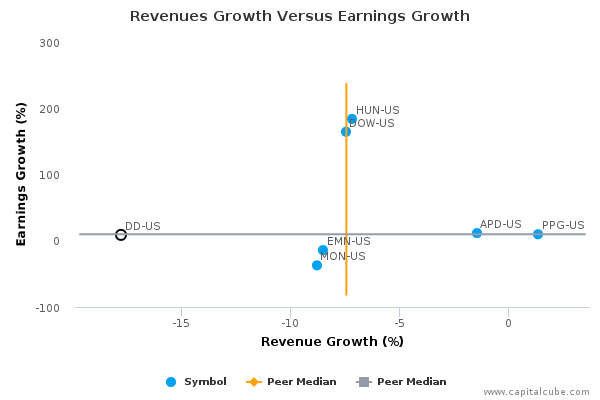 Earnings Growth Analysis
The company's earnings growth was influenced by a year-on-year improvement in gross margins from 38.62% to 43.82% as well as better cost controls. As a result, operating margins (EBITDA margins) rose from 18.96% to 24.01% compared to the same period last year. For comparison, gross margins were 42.60% and EBITDA margins were 24.42% in the last reporting period.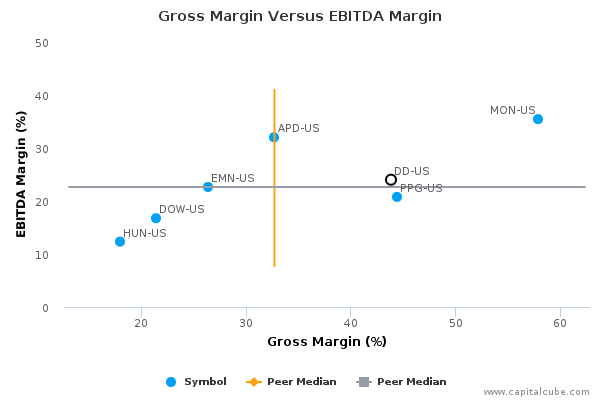 Gross Margin Trend
Companies sometimes sacrifice improvements in revenues and margins in order to extend friendlier terms to customers and vendors. Capital Cube probes for such activity by comparing the changes in gross margins with any changes in working capital. If the gross margins improved without a worsening of working capital, it is possible that the company's performance is a result of truly delivering in the marketplace and not simply an accounting prop-up using the balance sheet.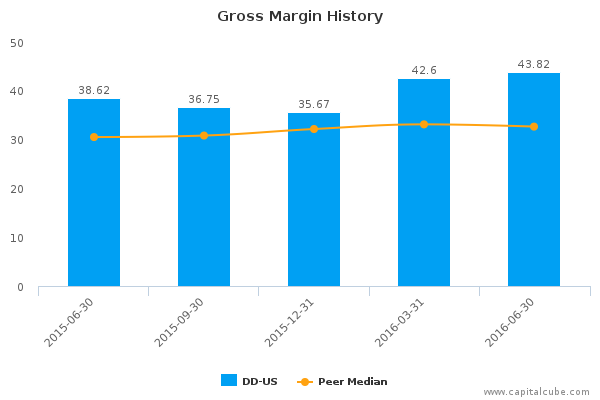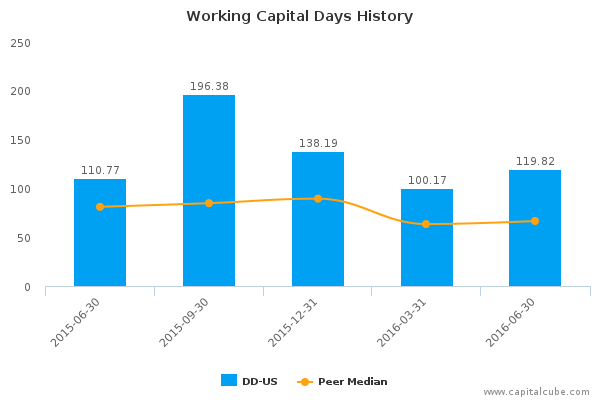 DD's gross margin improvement has not produced any big difference in its working capital. Working capital days are currently 119.82, compared to last year's level of 110.77 days. This leads Capital Cube to conclude that the improvements in gross margins are likely from operating decisions and not trade-offs with the balance sheet.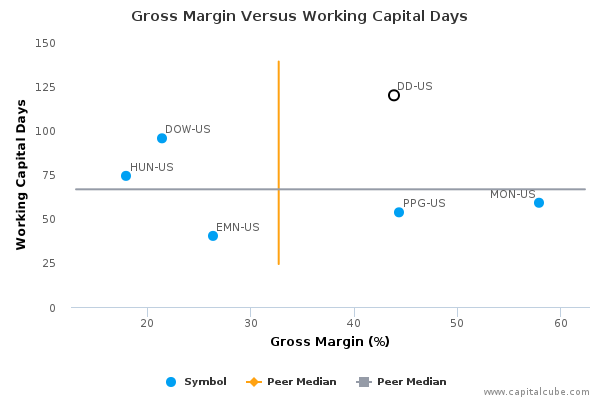 Cash Versus Earnings - Sustainable Performance?
DD's change in operating cash flow of 337.18% compared to the same period last year is about the same as its change in earnings this period. Additionally, this change in operating cash flow is about average among its peer group. This suggests that the company did not use accruals or reserves to manage earnings this period, and that, all else being equal, the earnings number is sustainable.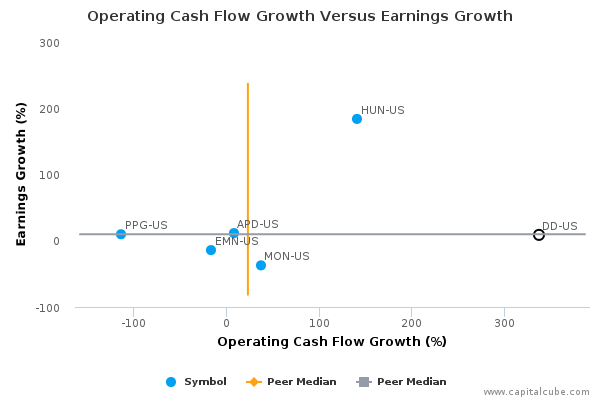 Margins
The company's earnings growth has also been influenced by the following factors: (1) Improvements in operating (EBIT) margins from 14.01% to 19.22% and (2) one-time items. The company's pretax margins are now 18.85% compared to 13.67% for the same period last year.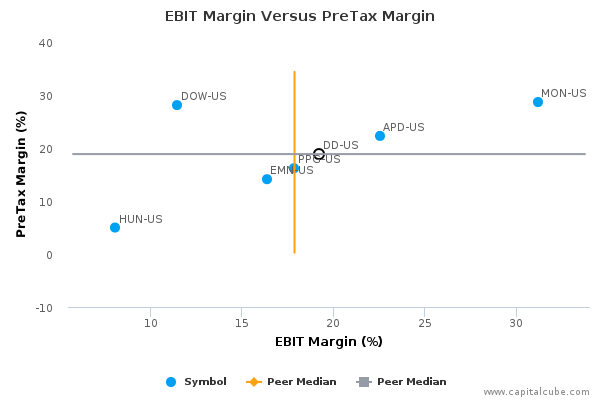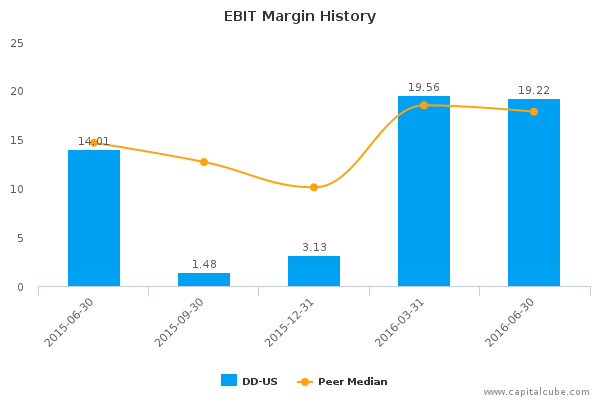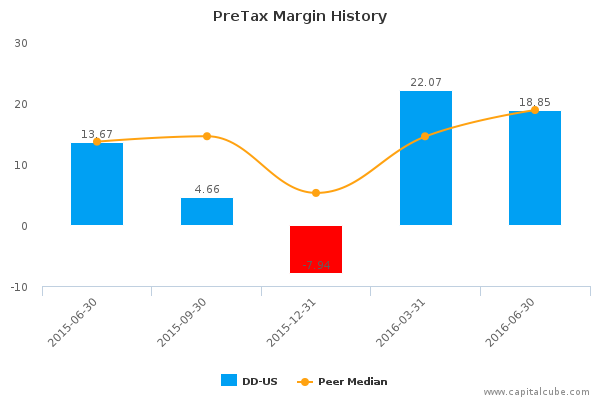 Company Profile
E.I. du Pont de Nemours and Co. provides science-based products and services. It operates through six segments: Agriculture, Electronics & Communications, Industrial Biosciences, Nutrition & Health, Performance Materials, Safety and Protection. The Agriculture business segment delivers a broad portfolio of products and services that are specifically targeted to achieve gains in crop yields and productivity, including pioneer brand seed products and well-established brands of insecticides, fungicides and herbicides.
The Electronics & Communications segment supplies differentiated materials and systems for photovoltaics, consumer electronics, displays and advanced printing that enable superior performance and lower total cost of ownership for customers. The Industrial Biosciences segment develops and manufactures a broad portfolio of bio-based products, enzymes that add value and functionality to a broad range of products and processes such as animal nutrition, detergents, food manufacturing, ethanol production and industrial applications resulting in cost and process benefits, better product performance and improved environmental outcomes.
The Nutrition & Health offers sustainable, bio-based ingredients and advanced molecular diagnostic solutions, providing innovative solutions for specialty food ingredients, food nutrition, health and safety. The segment's products include cultures, emulsifiers, gums, natural sweeteners and soy-based food ingredients, hold leading market positions based on industry leading innovation, relevant product portfolio and close-partnering with the world's food manufacturers.
The Performance Materials segment provides polymers, elastomers, films, parts, and systems and solutions, which improve the uniqueness, functionality and profitability of its customer's offerings. The Safety & Protection segment businesses, protection technologies, sustainable solutions and building innovations, delivers products and services to a large number of markets, including construction, transportation, communications, industrial chemicals, oil and gas, electric utilities, automotive, manufacturing, defense, homeland security and safety consulting. The company was founded by Eleuthere Irenee du Pont in 1802 and is headquartered in Wilmington, DE.