Introduction:
Infinera Corporation, (NASDAQ:INFN) took a nasty tumble when it reported earnings last week. The company's share price plummeted over 30% as investors abandoned ship due to near-term outlooks being significantly lower than the market expected. While some have rushed out, I am jumping in as an investor with a long horizon ahead of me. In this article I will be laying out my thesis and logic for taking a position in INFN and addressing the areas of risk, as well as reward.
What Happened:
Let's first address the earnings call in a bit more detail to get a better handle on what management said that has investors spooked. EPS of $0.21 beat expectations of $0.18, revenue increased 25% totaling $259 million, and net income rose 33%, or $30.9 million. The rough patch came when addressing forward guidance for the coming quarters, leaving investors disappointed to say the least. Rather than the street's expectation of $273 million in revenue for the 3 rd quarter, management pegged estimates between $180 and $190 million. If the sizable gap between analysts' and management's estimate wasn't bad enough, the company's estimated upcoming 3 rd quarter estimates are around 20% lower than last year's 3 rd quarter. EPS also estimated to come in around break-even, compared to last year's $0.22.
Why it Happened:
Management cited weakness in long-haul demand by some of its largest customers having recently completed major upgrades to their networks and therefore will be not have any major purchases from INFN. While it is inevitable that all the company's customers' purchases have ebbs and flows, this time it's the perfect storm as several of the largest customers are on a pause.
Another sector that slowed was its subsea business which had a record year in 2015, but has declined so far in 2016 as management has noted the company's win rate was below their expectations. Management was mention that the upcoming "Infinite Capacity Engine" should cause this situation to reverse in the future once it is released.
It was also made known in the earnings call that the metro segment has not been increasing as rapidly in prior quarters. Management explained that cross-selling these services to current customers has not taken off as well as expected.
Risks:
An obvious risk here is that INFN's major customers continue to hold off on purchases, further dampening the company's growth potential. A second risk that was talked about in the company's earning call is mergers and acquisitions in the sector creating downward pressure on margins. As customers grow larger, they purchase volumes increase, giving them leverage to negotiate a more favorable price. So far though INFN has not succumb to that risk as the chart below shows that margins have grown over the past several years.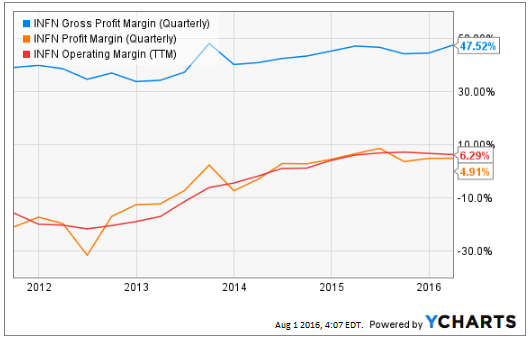 While the margins have increased, I still have the lingering concern of INFN's dependency on larger customers and would like to see a more diversified pool of customers. This is a characteristic that will definitely keep me up at night wondering once in a while.
Another concern is that the infinite capacity engine seems to be the company's answer for most of its woes. While the infinite capacity engine seems extraordinary, if it does not pan out as management hopes, it could spell trouble for INFN.
Opportunities:
Internet Content Providers (ICPs) will be a major driver for INFN as bandwidth demand will likely continue to increase and that very bandwidth moves from the internet to private backbones. Modern ICPs are able to build their own infrastructure to specific to their needs and optimize them for quicker delivery. ICPs range from email, social media, storage, search, and cloud-based services. This market has seen, and will continue to see significant growth, providing INFN a tremendous opportunity with its Cloud Xpress solution which is capable of providing 50% lower power consumption and 300% bandwidth density.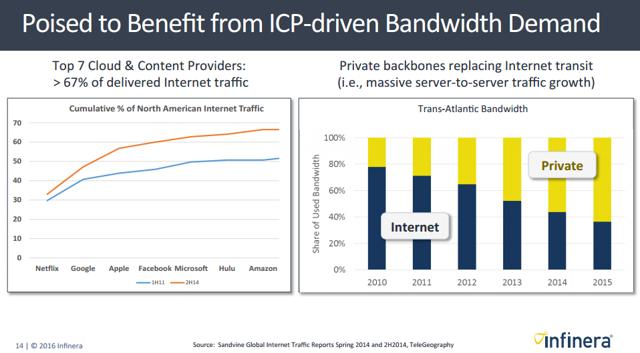 The Infinite Capacity Engine has capacity up to 2.4 TB that integrates several hundred optical functions in a single chip. Housing 1.6 billion transistors it is able to provide 4x to 12x more capacity while being smaller and more energy efficient than the competition. For full details see the videos here and here. Once again, there is no denying that the world's need for bandwidth is growing every day, and INFN has the solutions.
INFN is also poised for growth in its metro segment. Though management has expressed frustration with the slower than expected cross-selling, projections are showing that the sector is ready to begin its ascent in the coming several years and is predicted to have a 68% CAGR.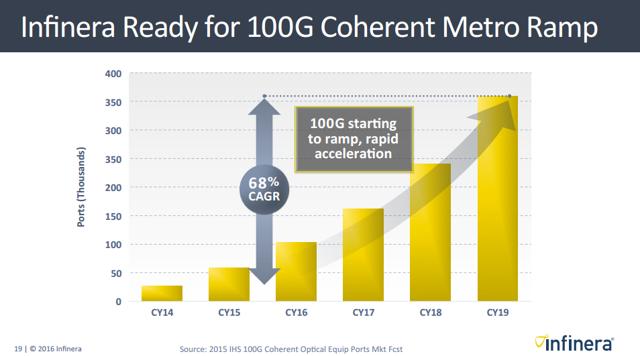 Another Important Factor:
Back in early May, CEO, Thomas Fallon, purchased 100,000 shares of INFN for a cool $1.2 million, at $11.95 per share; increasing his ownership in the company to over 1 million shares. Brad Feller also purchased stock acquiring 25,000 shares for $11.75 apiece. Those prices are much higher than current levels at which the company trades for and while there are many reasons for a sale, there is only one reason for a buy - management believes the price will go up. Jamie Dimon has done the same with JPM and we know how that's gone so far (up almost 11% since his purchase). I really like management's strategic view and that the CEO is eating his own cooking, that says more about their confidence in the company than any spoken statement.
EDIT 8/2/16 - CEO, Thomas Fallon, just purchased another 100,000 shares on 8/1/16
baseballnewssource.com/markets/insider-b.../
Takeaway:
While there is no arguing that the near-term will be tough for INFN, I am doubtful that the long-term (3+ years) are as grim. I am a fan of the CEO's forward-looking vision and while he admits the short-term issues, remains focused on the future. INFN provides equipment and services to over 100 major internet and networking service providers. The world is becoming more connected and demand for bandwidth must increase to provide the desired level of connectivity. While Wall Street has sold this company with its myopic view of short-term problems, it has failed to see the long-term potential here. Investors will have to be patient with this investment and likely wait at least a year to see some of management's visions take hold. Those that are patient and can resist the urge to sell and hold this company for the next 3+ years should be nicely rewarded. While the company's growth has been slowing, I think that it is a bump in the very long road of success ahead of INFN.
Disclosure: I am/we are long INFN.
I wrote this article myself, and it expresses my own opinions. I am not receiving compensation for it (other than from Seeking Alpha). I have no business relationship with any company whose stock is mentioned in this article.