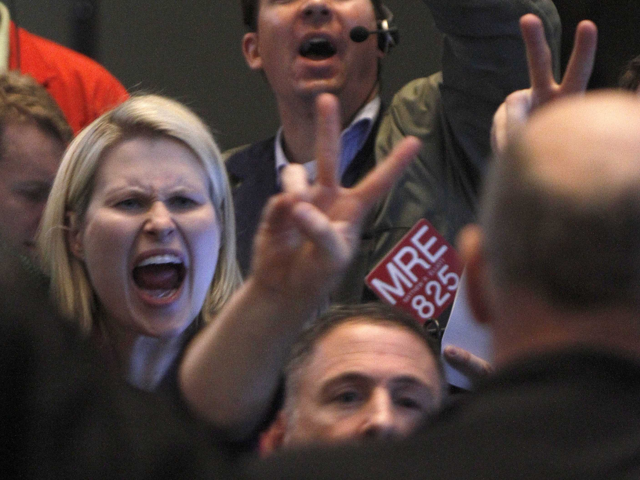 Source
Insperity's (NYSE:NSP) recent history with an activist firm, Starboard Value, is well-documented. Starboard purchased a majority ownership in the PEO (professional employer organization) in January 2015. In March, the two entities reached a compromise resulting in three directors recommended by Starboard being appointed to the Insperity board of directors.
Starboard believed Insperity was undervalued and considered the stock price's potential as much as $64.80 in 2016. It had also defined a list of actions to drive value. The list included Insperity putting itself up for sale. Obviously, that hasn't happened. But, there has been progress on other items from the list:
Cutting operational expenses including those associated with two privately-owned jets.

Repurchasing shares of the company's common stock.

Increasing the dividend rate.
The two firms also created an independent advisory committee to advise on capital allocation plans, expense reductions and targets for margins.
When Starboard initiated its interest in Insperity, its revenue growth had dipped in 2013 and stalled in 2014. It is clear that trend line has been improved.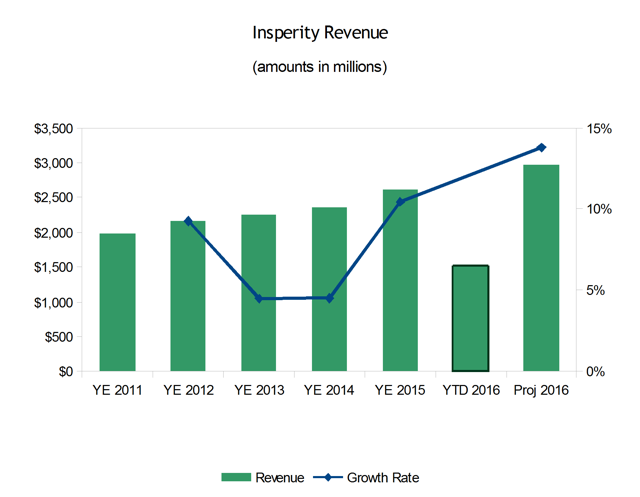 Source: Author-created from company data
Revenue grows in line with the number of worksite employees paid. Besides being able to increase the average number of worksite employees paid per month, Insperity also decreased its expense structure. Adjusted EBITDA grew nearly 31% in 2015 over 2014.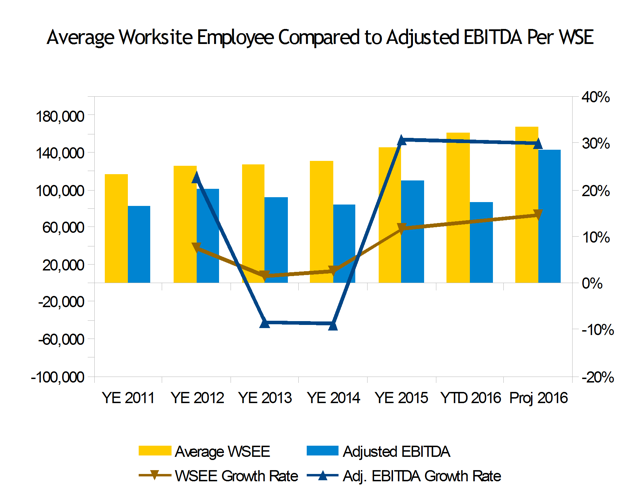 Source: Author-created from company data
In March 2016, Starboard notified Insperity more changes were necessary. It acknowledged the company's improvement in 2015. But it still believed the company was undervalued. Starboard sought to add two more directors to Insperity's board.
On May 18th, 2016, the two companies reached a second agreement, which superseded the first. Former Paychex (NASDAQ:PAYX) CFO, Mr. John Morphy, was immediately appointed to the board. Insperity also began a comprehensive search for a tenth independent director. Days later, Insperity increased its dividend to $1.00 annually and authorized a buyback for an additional one million shares.
Insperity reported 2016 first quarter results on May 2nd. The company's share price shot up 10% to $62.58 in response to the EPS beat of $0.16. Revenue missed the mark by approximately $3 million.
Shares climbed another 11% between May 3rd and May 18th. The announcements detailed above increased shares by as much as another 4% to a high of $72.25.
On May 23rd, Starboard started unloading its position. By June 2nd, it had sold one-third of its position at prices ranging from $70 to $72. Still the share price climbed. On June 23rd, Insperity hit a 52-week high of $76.24.
On June 27th, the stock pulled back to as low as $72.45. The 5% decline from a new high caught Jim Cramer's attention. He highlighted the Insperity/Starboard story on his show, Mad Money, on June 28, 2016. The share price took off again. Some call it the Cramer effect. Shares soared to $82.18 on July 26th.
On August 1st, Insperity reported 2016 second quarter results. The company missed analysts' average revenue estimates by $13.5 million. It beat the average EPS estimate by $0.01.
In its first quarter reporting, the company offered guidance for adjusted EBITDA in a range of $24 million to $27 million for the second quarter. It reported $25.6 million. The guidance range for average WSEEs was 163,000 to 164,000. Insperity reported 163,521. Its guidance range for adjusted EPS was $0.54 to $0.62. Adjusted EPS registered $0.60. The company easily delivered in every guidance range it set.
As well, even though revenue did not meet the analysts' average estimate, it did improve 12.7% year over year. Operating income improved 31.2% and net income improved 32.8%. Adjusted diluted EPS improved 42.9% compared to 2015.
For the full year, Insperity improved its guidance range for adjusted EPS. In the first quarter, Insperity's projection was $3.46 to $3.58 with a midpoint of $3.52. In the second quarter, the range increased to $3.50 to $3.60 with a midpoint of $3.55.
In reaction to the report, Insperity's share price fell as much as 17% from a close of $78.29 on July 29th to a low of $66.73 on August 1st. The price closed at $67.22. Volume of 1.5 million shares was over five times the three-month average volume.
Two pieces of statistical data could be considered the culprits for the sell-off. Revenue per worksite employee month decreased 1.4% from $1,462 to $1,442. In turn, gross profit per worksite employee decreased 4.9% from $243 to $231. Insperity's management credited seasonality with the decline.
Operating expense also decreased per worksite employee per month. The net effect was an increase of over 17% in both operating income per worksite employee per month and net income per worksite employee per month.
Another comment about revenue in the earnings call could have triggered a mild sell-off.
"When people continue to migrate to the lower cost, higher deductible plans that we expected or forecast for the quarter or for the year, obviously our revenues going to be lower."
It could be that panic impacts hearing.
"But as you all know, it isn't about our revenue anyway. It's about the gross profit and the contribution at the operating income line because every worksite employee is a unit of revenue and unit of risk. And, so, that's how we measure it."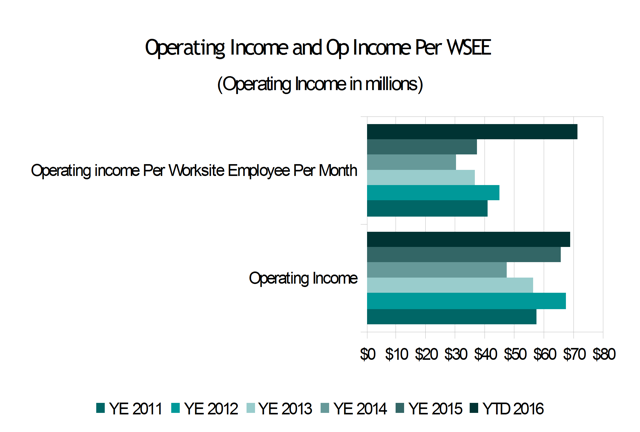 Source: Author-created from company data
It's possible the sell-off was profit-taking. It's also possible the sell-off reflected the next phase of a purposeful unloading. The question is really whether the sell-off provides an opportunity to initiate a position.
At a midpoint of $3.55 for adjusted diluted earnings per share, the current year multiple, after the sell-off, is approximately 19. At the midpoint, adjusted diluted EPS in 2016 will grow 62% compared to 2015. The multiple could easily be considered too conservative.
However, it is quite appropriate to look forward rather than backward. For 2017, analysts are projecting growth over 17%. Coincidentally, the historical five-year average P/E ratio for Insperity's industry is 17.5. At a multiple of 17.5, Insperity's stock would be fairly valued at $72.63. Thus, any ability to purchase below that point should provide upside as well as at least a 1.38% yield.
Disclosure: I am/we are long NSP.
I wrote this article myself, and it expresses my own opinions. I am not receiving compensation for it (other than from Seeking Alpha). I have no business relationship with any company whose stock is mentioned in this article.
Additional disclosure: I belong to an investment club that owns shares in NSP