I first wrote about my bullish stance on GrubHub (NYSE:GRUB) last week before the earning release. Given the rockstar earning, I want to provide an updated view. Overall I am still bullish on the company for the following three reasons.
1. Focused platform delivers superior execution to drive margin expansion
One of GRUB's biggest differentiators is that the company got into the food delivery industry early and it has been very focused on developing its platform, such as on the front of API and technology integration. This is lacking and cannot be easily built by its competitors. Over time, we have seen such investments paying off. Platform improvements around search, page load times, and onboarding continue to positively impact conversions and order frequency. 30-day orders per ending active diner declined less than 1% year over year, the smallest year over year decline since GRUB went public. The company also made a lot of improvements to the product in Q2, including improved layout of mobile web restaurant landing pages, personal recommendations, simplified search, and funnel improvements. Additionally, GRUB is aggressively adding ratings and reviews, generating 70K consumer data points daily. While none of these improvements is groundbreaking on an incremental basis, a focused platform is able to produce a superior product, allowing GRUB to better understand its customers, direct them to buy more and craft a more seamless shopping experience. Customers certainly appreciate this high quality platform over others. In Q2, EBITDA per order increased to $1.50 to record new height.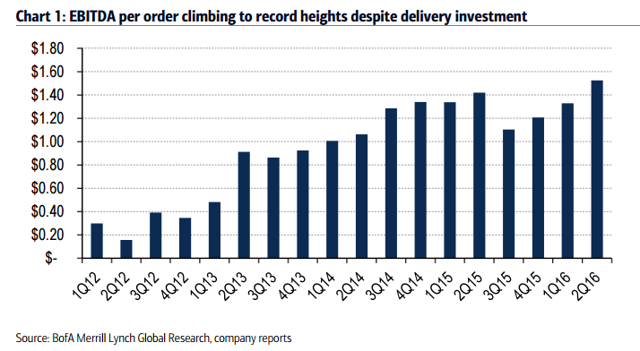 2. Success in own delivery network drives revenue growth
In Q2, performance from GRUB's own delivery network proved to critics that it is the right investment to boost company's growth. Delivery accounted for ~12% of gross food sales in the quarter compared to ~9% in 1Q. The company will continue ~$4 million investments per quarter. This points to more room for revenue to grow. Currently delivery is only available in 50+ market but the goal is to expand to 70 markets by the end of the year. Furthermroe, GRUB's own delivery network is effectively improving demand. It allowed for addition of restaurants that were not able to participate in GRUB due to lack of delivery offers. These restaurants tend to skew to the mid to upper end. Based on feedback of restaurants that joined the GRUB delivery network, they saw ~10% more orders per restaurants and ~60% more new diners per restaurant than other restaurants on the platform. This amount of high traffic also locks in loyalty on the supplier side. They are willing to pay for the higher commission rate charged by GRUB. Average take rate reaches a new high of 16.5%. There is more room to expand as GRUB squeezes out competition.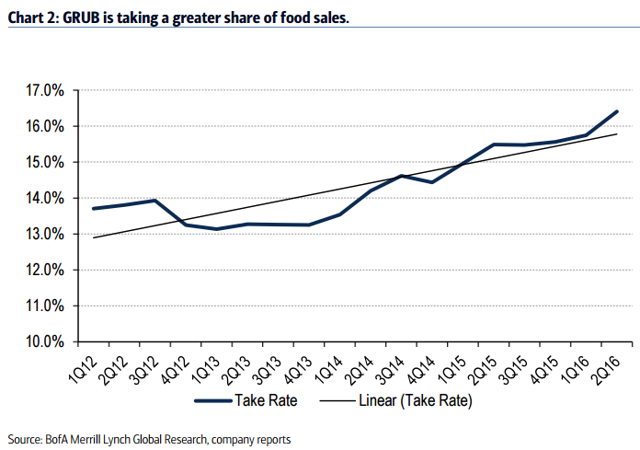 3. Competition has no material threat
The late earning was able to prove to critics that competition fears from Amazon, UberEats and other private players pose no threat to GRUB. As discussed earlier, Amazon (NASDAQ:AMZN) and UberEats are not focused business, so they have less resources to enhance their products for meal delivery. Similar to the private players, those tech giants also compete on pricing. However, sometimes consumers value qualities and their user experiences much more. As indicated in my previous article, GRUB beats other players in both the quantity and quality of reviews on Google Play and iOS app. 90%+ of sales on GRUB is from repeat sales. From surveys, restaurants also said that they are reluctant. Perhaps the more astonishing fact from Q2 is that despite persistent growth in active diners, sales and marketing expenses have been falling as a percent of revenue. New diner acquisition costs has also fallen down to historical average.

The Q2 earning shed a lot of light on the latest operational improvements within GRUB. The fact that the company was able to capture such high growth in the short time that these new improvements were rolled out point to the strength of the company. The re-acceleration of the business has only just started. Competitors cannot keep competing on their loss-making platforms and will eventually be squeezed out of the market.
Disclosure: I am/we are long GRUB.
I wrote this article myself, and it expresses my own opinions. I am not receiving compensation for it. I have no business relationship with any company whose stock is mentioned in this article.