Continuing the series on statistically overvalued closed end funds, today I will look at Western Asset Income Fund (PAI).
Again, I am looking at data from a statistical point of view. Researching the fund's holdings and finer details is not in the scope of this article as I aim to provide a concise view. You can leave me a comment if you there are any additions you would like me to make in future articles.
The fund
This fund invests in investment grade debt, primarily corporate bonds. It does not use leverage: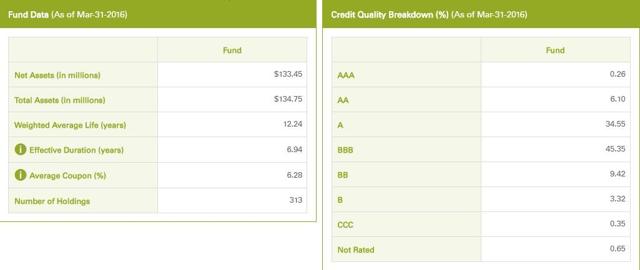 The average coupon figure is tempting in this low yield environment, but this is just nominal yield. There is no current yield calculation, nor yield to worst calculation. You will hardly find an investment grade corporate bond with a 6.28% yield to worst. As a matter of fact there aren't even any preferred stocks with those characteristics currently.
The distribution rate is 4.64% at current price which is a positive sign that tells you the fund is not returning your own capital as a distribution.
Firstly you would have to ask, why pay fees to a fund when the distribution is a measly 4.64%? Secondly, and most importantly, you have to ask, why overpay for such a yield? The fund has a 52 week average premium/discount of -5.5% to NAV. Currently that premium/discount is 1.75%.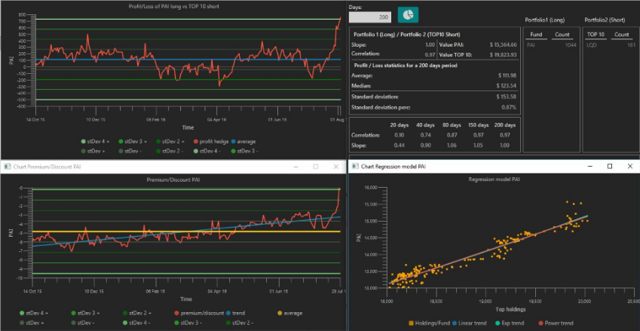 Price is 4.8 standard deviations higher than the average discount to NAV. This is what happens when an aggressive buyer is involved in an illiquid fund.
The extreme valuation is also shown by constructing two portfolios; one holding the iShares iBoxx $ Investment Grade Corporate Bond ETF (LQD) short, and one holding PAI long. The correlation of PAI and LQD is 0.97 over 200 days and they should effectively cancel each other out. The disconnect shown in the top left chart above is therefore concerning.
I would not expect the disconnect to continue for long, and if possible I will trade the inefficiency by creating a hedge of PAI short and LQD long. This all depends on hard to borrow fees and is not an easy trade.
If you hold PAI you should simply switch to an alternative at the first opportunity. The buyer has given you a few extra percent for free and you should take it while it's there.
Alternatives
It's impossible to find bargains in this environment, but we can at least find an alternative trading at extremes.
Below we can see funds with high correlations and high deviations to PAI.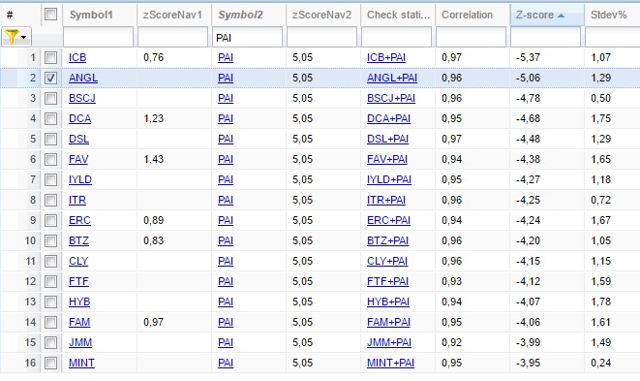 VanEck Vectors Fallen Angel High Yield Bond ETF (ANGL) has a 0.96 correlation with PAI and a higher yield of 5.73%. You may think this comes with higher risk, but not based on statistical models.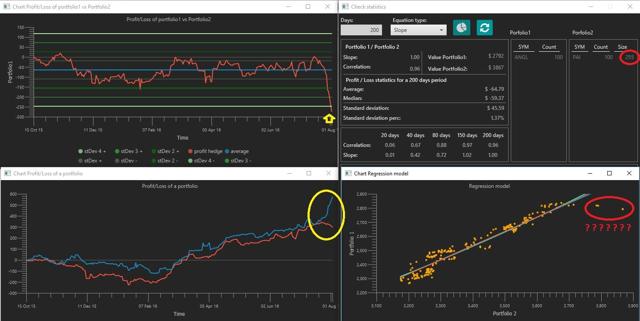 Switching to ANGL actually gives you a buffer. If you like PAI that much, you can just wait while the inefficiency is gone and switch back to your beloved fund.
Conclusions
PAI holders should be happy; an illogical buyer has just bid up this 4.64% yielding fund to extreme levels. If you can, you should make the switch to another fund as extreme moves tend to correct sharply.
Click 'follow' by my name at the start of the article to receive more updates like this.
Disclosure: I/we have no positions in any stocks mentioned, and no plans to initiate any positions within the next 72 hours.
I wrote this article myself, and it expresses my own opinions. I am not receiving compensation for it (other than from Seeking Alpha). I have no business relationship with any company whose stock is mentioned in this article.