The S&P 500 has been continually reaching new highs despite weak domestic GDP growth and with aggregate earnings expected to fall for a fifth consecutive quarter. There is evidence to suggest that the current all-time highs have little to do with the broader health of the macroeconomy and more to do with money being pumped into the U.S. equities markets as a consequence of uncertainty abroad and historically low debt yields.
According to Citi, approximately 35% of the world's debt is trading at a negative yield in nominal terms and a clear majority is trading at a negative rate in real terms.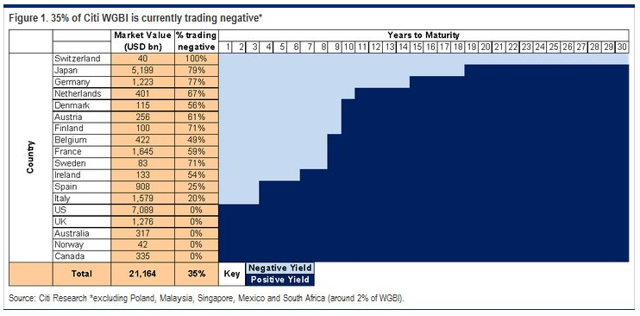 (Image source: Citi)
This possibly includes 10-year U.S. Treasuries, trading around all-time lows south of 1.50%, if inflation picks up to the Federal Reserve's target of 2%. A full 100% of Swiss debt is trading at a negative rate, including 79% of Japan's and 77% of Germany's. This is a direct result of many investors having no other risk-averse option but to prioritize capital preservation over appreciation. Nonetheless, many have been incentivized to pursue the riskier proposition of the equities market with the idea that striving for positive returns is the underlying premise behind investing in the first place.
Second quarter corporate earnings have expectedly not been overly compelling outside of a few big names. Many companies are beating revenue and EPS expectations, but only because estimates are low to begin with. The price of the market has continued to trend up despite falling earnings per share.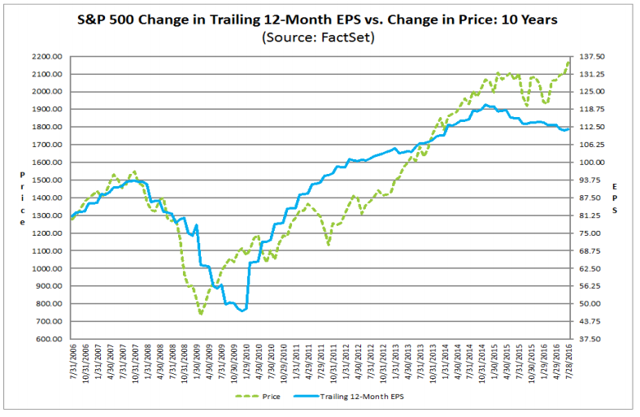 (Image source: FactSet)
The Intrinsic Value of the S&P 500
About once per month, I assess a rough figure for the current intrinsic value of the S&P 500 to determine how the current market situation falls in line with respect to historical norms and to back out what type of returns investors are expecting. The model is quite simple, using the market's current earnings yield and dividend yield, a cash payout rate (i.e., sum of dividends and buybacks) that matches with historical expectations, an estimated earnings growth rate, the current 10-year Treasury yield and equity risk premium as components of the discount rate, and a terminal growth rate roughly on par with the long-term expectations of the U.S. economy.
The current earnings yield on the S&P 500 is 3.98%, computed on the basis of trailing twelve month earnings divided by the value of the index.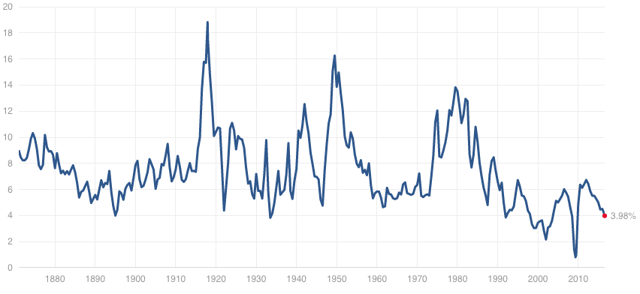 (Image source: multpl.com)
The current dividend yield of the S&P 500 stands at 2.05% based on trailing twelve month dividends divided by the value of the index.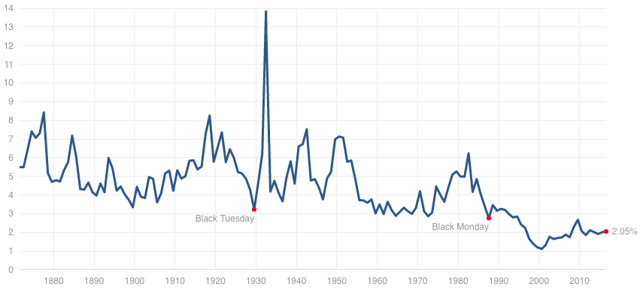 (Image source: multpl.com)
The current market is providing a cash payout of greater than 100% of earnings with the help of share buybacks, which of course is not sustainable long-term. Historical norms have approximated a cash payout of 74%-75%, allowing for a portion of earnings to be retained by the company. For the cash payout, I prefer to use a number that is realistic for the long-term.
An earnings growth rate can be forecasted using historical data or on a forward-looking approach if such future estimates can be reasonably derived. I prefer the historical approach in this case, as 2016 earnings look to be lower than 2015's and 2017's are really anyone's guess. Historical earnings growth over the past decade has come in at around 4.2%-4.3%. On the basis of return on equity, this approximates closer to 4.5%-4.7%. For purposes of this model, I am using 4.7%.
The 10-year Treasury is entered at 1.5% to accord with recent price levels, while the equity risk premium (i.e., expected return beyond the risk-free rate) represents the sensitivity parameter in the model, ranging from 4.0%-5.5% to develop a range of possible intrinsic value outcomes.
Historically, the equity risk premium for the U.S. market has approximated 4.5%-4.6% going back to 1928 when considering the compounded appreciation rate of stocks over 10-year Treasuries. Since 1960, using the annual average of the sum of the S&P 500's earnings yield and dividend yield minus the year-closing 10-year Treasury rate, it has approximated 4.1%. Over the past decade, the premium has been closer to 5.3%. Globally it's held around 4.0% over the past 55 years. The terminal growth rate is taken as 2%, which is a fairly standard assumption with respect to the U.S. economy.
Based on these inputs, if the U.S. equities markets were trading off historical equity risk premiums (4.1%-4.6%), the S&P 500 would be valued more toward the 1800-2040 range, suggesting the market could be 6%-17% overvalued.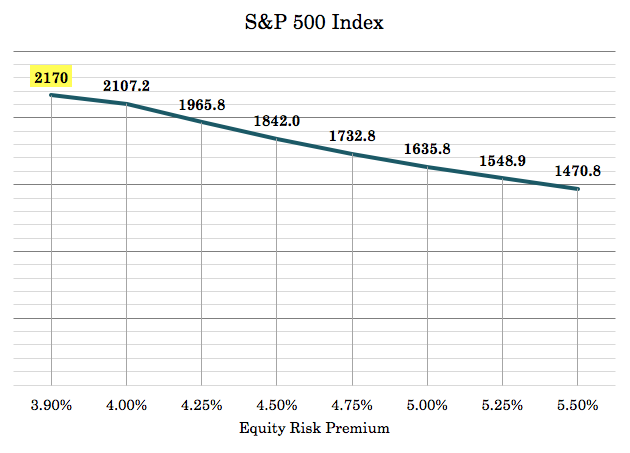 Today's 2170 figure suggests investors are expecting over a full percentage point less than the ~6.6% annualized return that the S&P 500 has provided since 1960. As might be expected from the historically low debt yields, investors are chasing the prospect of better yield potentially offered by equities investments and driving valuations higher on aggregate despite indications that the market is already overvalued. With the weak Q2 GDP figures released last week, the likelihood of a rate increase before December is low. Accordingly, the current trend may continue for some unknown period. To reach today's figure, we back out an equity risk premium that's been driven all the way down to just 3.90%.
Conclusion
The current highs in the 2100's, pushing to 2200, could continue with investors pouring more funds into the U.S. equities markets in response to ongoing low interest rates and unattractive yields among bonds with quality risk characteristics. The implied risk premium is consequently low in comparison with historical norms due to the lack of quality earnings growth.
Companies have counteracted the lack of earnings growth through higher than average cash payout ratios (notably buybacks) to help keep share prices growing, but this is only a viable strategy for so long. As mentioned, I would normally expect a market trading on these fundamentals to be valued somewhere in the 1800-2040 range. The current 2170 figure doesn't manage to fit within a fairly broad valuation range set by the sensitivity parameters discussed above.
Obtaining solid returns is becoming more difficult at these levels in the sense of the standard approach of being uniformly long and passively trending with the market [whether through a market-flavored ETF - e.g., (NYSEARCA:SPY), (NYSEARCA:SSO), (NYSEARCA:IVE), (NYSEARCA:VOO), (NYSEARCA:SDS) - or individual stock selections]. I have found fewer and fewer investments worth pursuing to the long side as the market has passed beyond the 2100 barrier and sold off several positions in the past month. Accordingly, I think a strong argument could be made for hedging positions in the current, likely inflated, market environment. While the market may continue to proceed on its present upward trajectory with the incentives investors are currently facing due to dried up fixed income yields, achieving quality returns arguably becomes less doable when valuations begin to stretch outside of their expected fundamental bounds.
Disclosure: I/we have no positions in any stocks mentioned, and no plans to initiate any positions within the next 72 hours.
I wrote this article myself, and it expresses my own opinions. I am not receiving compensation for it (other than from Seeking Alpha). I have no business relationship with any company whose stock is mentioned in this article.