Over the last year, high yield bond prices have been highly correlated with oil prices. This correlation is a function of Supply and Supply. The first form of Supply came from the U.S. shale revolution and the renaissance in domestic oil production. This led to a second form of Supply - a marked increase in high yield bond issuance in the Energy space. Energy company debt as a percentage of the high yield bond market tripled to roughly 14% in the pre-crisis era as the shale revolution prompted new speculative-grade issuance.
With oil prices elevated (average price of $88 from YE10 to YE14), this higher marginal cost supply was economic, especially as the global oil cartel kept prices artificially elevated by controlling supply. When Saudi Arabia decided to keep the spigots flowing in late 2014, in an effort to retain market share in a suddenly more competitive global oil market, high-cost producers, which included onshore and offshore in North America, were disproportionately harmed.
As graphed below, HY bonds struggled through the first half of the first quarter as oil prices were drilled (pun intended). As oil prices began to bounce back, we saw the sharpest recovery in high yield bond prices since the 2009 recovery.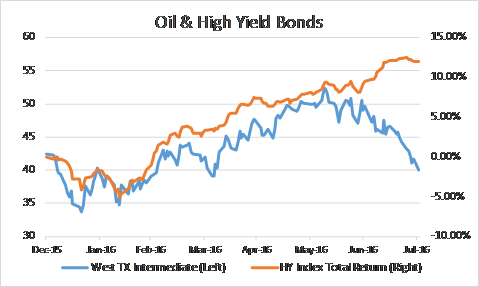 We have seen these two indices - oil prices and high yield bond prices - decouple in recent weeks. As oil has headed lower in recent weeks, high yield bond prices have stayed elevated. When oil was last trading at these levels in early April, the Barclays High Yield Bond Index was trading to yield 8.2%, and HY Energy bonds were trading at an average price of $71 to yield 13.6%. Today, the High Yield Bond Index is trading with an average yield-to-worst of 6.7%, and speculative grade Energy has rallied to yield 9.3%, an average price of $84. The SPDR Barclays High Yield Bond ETF (NYSEARCA:JNK) and the iShares iBoxx $ High Yield Corporate Bond ETF (NYSEARCA:HYG), the two largest high yield bond exchange-traded funds, were also trading 4-5% lower in price terms when we were last at $40 on WTI.
Some of this pricing improvement is justifiable. Many high yield energy companies have used the reprieve in oil market stress to raise equity, sell non-core assets, layer in hedges, become more operationally efficient, and right-size capital spending to a "lower for longer" environment. However, a prolonged period of oil prices sub-$40 will again challenge the balance sheets of more levered producers. High yield bond prices should adjust to this heightened stress and higher probability of default.
For investors who have piled into high yield bonds and bond funds and ridden this rally to double-digit returns in 2016, the market may not be appropriately pricing in the potential re-acceleration of stress in commodity-sensitive credits.
Disclaimer: My articles may contain statements and projections that are forward-looking in nature, and therefore inherently subject to numerous risks, uncertainties and assumptions. While my articles focus on generating long-term risk-adjusted returns, investment decisions necessarily involve the risk of loss of principal. Individual investor circumstances vary significantly, and information gleaned from my articles should be applied to your own unique investment situation, objectives, risk tolerance, and investment horizon.
Disclosure: I/we have no positions in any stocks mentioned, and no plans to initiate any positions within the next 72 hours.
I wrote this article myself, and it expresses my own opinions. I am not receiving compensation for it (other than from Seeking Alpha). I have no business relationship with any company whose stock is mentioned in this article.
Additional disclosure: I am long high yield bond closed-end funds, and have recently modestly reduced my exposure.