Quotient Limited (NASDAQ:QTNT) has experienced a few setbacks over the last couple of weeks. On July 11, the company said a minor manufacturing facility modification was recently identified, which will delay MosaiQ's European field trials by six to eight weeks. This delay will shift the milestone payment from Ortho Clinical Diagnostics, or OCD, by six to eight weeks, and the EU launch as well. Quotient was clearly counting on that milestone payment, since the company announced a 2.8 million secondary offering at $5.50 last week, representing a significant discount to Thursday's closing price. While I am disappointed with the latest developments, I still think the company is well positioned to disrupt the global transfusion diagnostics market. I am reiterating my bullish view on Quotient, but reducing my price target due to the increased share count and the launch delay.
Delayed launch in the EU forces the company to dilute
As mentioned in the introduction, Quotient suffered a few setbacks over the last few weeks:
On July 11, the company announced that a minor manufacturing facility modification was identified and underway for MosaiQ consumables. The company stated that "this factory modification, which has no direct impact on the manufacturing system itself, is expected to delay completion of validation for the initial manufacturing system for MosaiQ consumables by six to eight weeks, until the end of August 2016." This effectively delays the EU launch as well by six to eight weeks.
As a result, the company expects to receive a $10 million milestone from its partner, OCD, a quarter later than expected - in fiscal Q1 2018 (calendar Q2 2017).
On July 28, Quotient announced an underwritten public offering, which was priced at $5.50 a day later, representing a 26% discount to the previous closing price. The company should raise around $15 million, which is really enough to last one more quarter considering the cash burn in recent quarters and the operating loss guidance for fiscal 2017. It seems Quotient was hoping to get the $10 million milestone from OCD earlier, and that it would be short on cash in early 2017.
This is really poor financial stewardship, if you ask me. I would not let myself get into that kind of situation - having just enough money to get MosaiQ to the commercial stage and diluting at the worst possible time, when the share price is at the lowest levels since the company went public in 2014. The delayed launch and the dilutive offering are really not an issue for me - the timing and pricing of the offering are. For example, the company went public at $8 per share two years ago, and OCD bought $10 million worth of shares for $22.50 per share last year.
But we have to take the poor market conditions into consideration. Other companies have done secondary offerings near bear market lows as well, although this is not an excuse. Others have raised debt instead, and this seems like a better solution, but perhaps the company tried and failed to raise debt instead of diluting at $5.50 per share.
At the end of fiscal Q4 2016, Quotient had $44 million in cash and equivalents. The cash on hand was probably enough for the next four quarters, and the $15 million from this offering should last another quarter (or somewhat longer). Assuming the company does get the $10 million from OCD in calendar Q2 2017, and if sales in the EU pick up as expected next year, Quotient should not have funding problems anymore. However, at this point, I would not exclude another small offering next year (but hopefully done at a higher price).
Impact on my thesis
The company said last year that fiscal 2018 revenues should be around $100 million or greater. Given the launch delay, that number will probably be lower. Analysts agree - the revenue consensus for fiscal 2018 is $51.7 million, and includes the $10 million milestone payment from OCD. Management also reported earlier this year that some large customers are already holding off on new contracts and waiting for MosaiQ's launch. The chart below shows the company's target penetration rate over the next few years.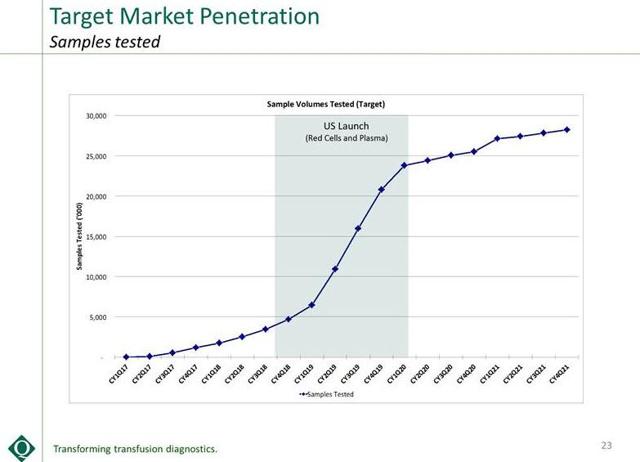 Source: Quotient Investor Presentation
The projection assumes peak penetration of almost 30 million samples a quarter, representing a large part of the addressable market, which was pegged at $3.4 billion in 2015. The technological advantages I talked about in my previous article could make this happen, but I am a bit more cautious due to the company's recent missteps, and would be satisfied if the base case comes to fruition over the next 4-5 years (10-15% market share). The partnership with OCD has validated MosaiQ's potential and gives me a reason to be optimistic about its market potential. The transfusion diagnostics market has significant barriers to entry given the need for a broad range of complex products and rigorous regulatory requirements. OCD's global reach should speed up market penetration in the markets in which it has the commercial rights (the $900 million worldwide patient testing market).
Although I am disappointed with the latest developments, my thesis on Quotient remains largely unchanged. My conviction is a bit lower due to this offering, but the upside potential is still quite significant. I am reducing my base case price target from $19 to $14.50. Half of the decrease is due to the increased share count, while the other half is due to an increased discount factor - I am moving peak sales one year further. The bullish case price target is down from $31 to $24. The analyst PT range is $14-22, but we will probably see some downward price target revisions in the following weeks, though probably no downgrades.
| | | |
| --- | --- | --- |
| | Low estimate | High estimate |
| Annual sales | 300 | 400 |
| Net income | 60 | 100 |
| Multiple | 15 | 15 |
| Future value | 900 | 1500 |
| Diluted shares outstanding | 30.8 | 30.8 |
| Future EPS | 1.95 | 3.25 |
| Discount factor | 0.497 | 0.497 |
| Present value | 447.46 | 745.77 |
| Price target | 14.53 | 24.21 |
Source: author's calculations
The stock is currently trading at post-IPO lows, and it might receive support and bottom around $5.50 in the following weeks.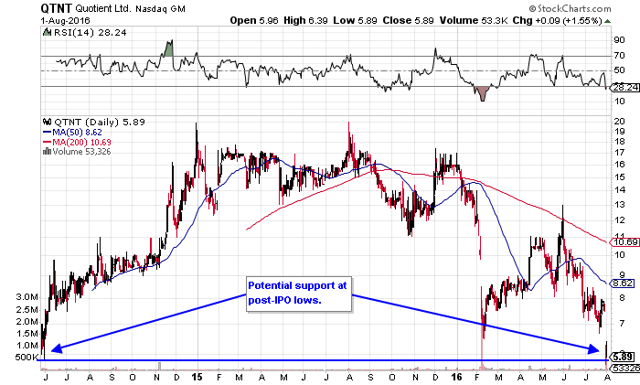 Source: Stockcharts.com
Conclusion
Quotient remains well positioned to disrupt the global transfusion diagnostics market despite the recent setbacks. MosaiQ's technological advantages and the partnership with OCD should lead to rapid market penetration following the EU launch next year and the U.S. launch in 2018.
Disclosure: I am/we are long QTNT.
I wrote this article myself, and it expresses my own opinions. I am not receiving compensation for it (other than from Seeking Alpha). I have no business relationship with any company whose stock is mentioned in this article.
Additional disclosure: This article reflects the author's personal opinion and should not be regarded as a buy or sell recommendation or investment advice in any way.