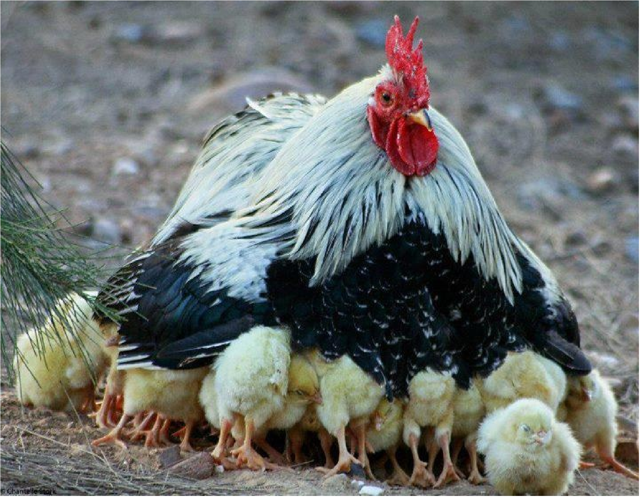 It became clear in the 2016 first quarter and the second quarter did not change the assessment - Echo Global Logistics (NASDAQ:ECHO) needs to get acquisition-ready if the company is to meet its 2018 goal. Echo intends to reach $3 billion in revenue by 2018. When the company lowered full-year guidance in its first report of the year, there was no question organic growth alone would not meet the goal. Its revised guidance for 2016 was a range of $ 1.7 billion to $1.78 billion.
On July 27th, the transportation and logistics service provider reported second quarter results. Revenue increased to $443.8 million from $405.3 million in the previous quarter and from $371.6 million a year ago. The year-over-year increase is primarily due to the acquisition of Command Transportation. Command contributed to revenue in all three months of the second quarter in 2016 but only made a partial contribution in the second quarter of 2015.
At $849.1 million, Echo's run rate for the first six months is barely missing the low end of full-year guidance. In recent years, the third quarter has outpaced the other three in revenue. Still, as a result of the persistence of lower rates in the industry, Echo tightened full-year guidance by $20 million on the high side to a range of $1.7 billion to $1.76 billion.
Revenue increased in the quarter because volumes increased even though overall industry shipping demand for truckloads still lags the prior year. The lull in demand pressures rates.
"Our truckload volume growth continues to outpace the market, and despite all of our efforts preparing for a game-changing integration, we are delivering double-digit volume growth at both Echo and Command."
Enabled by the Command Transportation acquisition, Echo Global is capturing market share. Command Transportation was primarily (over 90%) a truckload (TL) provider in the eastern United States. Echo, on the other hand, had more operations west of the Mississippi River. Its business was a mix of TL at 55%, light truckload (LTL) and managed transportation services. Command served middle-market and larger-market businesses. Echo's business tended to meet the needs of middle-market and small-market businesses. The combination of the two has expanded Echo's reach with larger businesses and Command's reach for LTL business and managed transportation services.
Another Beneficial Asset
Beyond market share, Command contributed another beneficial asset to Echo.
"......they brought significant technology to the table....."
This is an impressive statement because Echo, itself, has a stellar reputation based on its proprietary technology. Echo's technology is not focused on simply "running the business". Changes and enhancements had to deliver a return on investment. This ROI-driven attitude resulted in a single data store that supported data capture, information exchange, transaction execution as well as reporting for all three classes of user - client, carrier and employee.
Just after the acquisition of Command in the 2015 second quarter, Echo and Command integrated their Information Technology and Human Resources teams. The combined HR addressed the recruiting needs of the two companies. The combined HR and IT teams defined integrated process flows for the merged company. The process flow definitions facilitated improved training. Before year-end, an integrated, proprietary technology platform will be wholly implemented across the company.
To date, the integrated IT team has delivered:
enhancements to the legacy Command truckload platform,

a common CRM (customer relationship management) application to eliminate customer replication,

Echo's legacy LTL platform to the legacy Command sales team, and

initial training on the updated, integrated proprietary platform.
Plans are to complete the technology implementation alongside a co-location of Chicago-area employees to the company's new location. The synergy expected from co-location and a common technology platform equates to a value of $200 million to $300 million annually.
Acquisition-Ready
Yet, as proposed in this author's 2016 first quarter analysis, to reach $3 billion in 2018, it certainly seems Echo must quickly turn its attention to the next acquisition after the Command integration is completed. Though the company has delivered 29.6% revenue growth in the first six months of 2016, it must be remembered Command's contribution in the first half of 2015 was minimal. Revenue growth in the remainder of 2016 will not likely track anywhere near that pace.
Looking toward 2017 and 2018, between organic growth and synergies, it is plausible the company will stabilize on a growth rate nearing 15%. At that pace, an acquisition contributing revenue of $400 million to $500 million becomes necessary.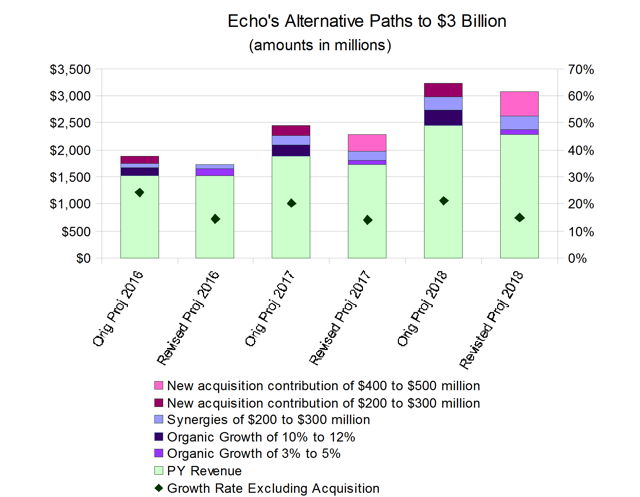 Source: Author-created from company data and author analysis
As Echo kept one eye on the integration of Command and the other on M&A opportunities, its strategy for a next move seems to have transformed. In the 2015 fourth quarter earnings call, Echo's management was confident in its acquisition strategy.
"And we also expect to be able to replicate that acquisition success (Command) again in the coming years through that 2018 date."
Yet, six months later, in the 2016 second quarter earnings call, the approach mirrored its acquisition strategy prior to Command. Before Command, Echo Global had acquired 19 companies in ten years, expanding its footprint while managing to stay debt-free.
"And as we become a bigger player with a bigger geographic presence and a bigger customer presence and a bigger carrier presence, we have to be mindful that what we do fits within our existing network and strategies. So we have to look at, in some cases, niches that are underserved by us today, whether they're modal or geographical or niche services that we don't offer."
There's certainly a possibility a "niche" player could be comparable to Command. But, it does appear Echo may, again, be more interested in several smaller players.
"We think there are a lot of those opportunities out there. So, we are active as we speak. We've got a pipeline. We're looking at deals. It's just impossible to say when one will close."
If the company does elect to build revenue through multiple acquisitions, its share price may not experience significant jumps. Rather it may just trend steadily higher.
Summary
There is one factor very difficult to debate against Echo Global. The company has a solid track record successfully integrating its acquisitions. Whether the next acquisition is a large player or a smaller, niche player will not likely be an issue.
It is possible, but not probable, the company may run into issues with its "game-changing" technology implementation next quarter.
It is more likely the technology implementation will flow smoothly. It's also very probable the company will again engage in M&A activity similar to a hen gathering her chicks. Based on those probabilities, potential investors have just one quarter to initiate a position before the market begins to reward Echo for its accomplishments.
Disclosure: I am/we are long ECHO.
I wrote this article myself, and it expresses my own opinions. I am not receiving compensation for it (other than from Seeking Alpha). I have no business relationship with any company whose stock is mentioned in this article.