Charter Financial: Three-Year Mark Post-Conversion Moratorium Expiration Passed
The three-year mark post-conversion moratorium expiration has passed, allowing the company to be bought out. In the past three years the company has bought back 35.6% of the shares outstanding. A recent acquisition may double net income. There is a few activist bank M&A funds who own a good chunk of the shares. The bank is priced around 1.17x TBV, which isn't too bad given the conversion status.
Charter Financial (NASDAQ:CHFN) is an eighteen branch bank located in West Georgia, East-Central Alabama and the Florida Gulf Coast. The bank was founded in 1954 as a federally-chartered mutual savings and loan association. In April of 2013 the bank converted into a stock holding company. The three year date since the conversion has passed.
Investment Thesis
CHFN just passed its three-year post-conversion moratorium expiration and now the bank can be bought out. If not bought out, the company will benefit from expected growth (de novo and acquisitions) and through management's ability to allocate assets-company has bought back >35% of the shares outstanding in the past three years; below TBV. At the current price, the company looks fairly valued, but on a go-forward basis, there will be near-term earnings accretion, further repurchases and potential for loan growth in an attractive market.
Post-Conversion Moratorium and Allocation Capabilities
On April 8th, 2013, the company converted from a mutual holding company to a stock holding company. Three years have now passed since the conversion and regulations on the company getting bought out are now lifted. The company is well capitalized, in an attractive market and they have a strong loan portfolio. At the right price, another company could swoop in, cut non-interest expenses and have immediate accretion to earnings. Furthermore, the company is trading around 1.17x TBV. Buyouts are pushing the 1.4-1.5x range, making the company near attractive buyout ranges. Finally, 59% of post-converted mutual holding companies are bought out (above book) within the next two years of the post-conversion moratorium expiration.
Since converting, the company has bought back 8.1 million shares or 35.6% of the outstanding for a total aggregated amount of $91.9 million. Management bought all of these shares around TBV and through five different share repurchase programs. The company still has the ability to purchase 192,577 shares under the current program. The current program was started in December of 2015 in order to repurchase 5% of the outstanding or 800,000 shares. I am expecting the company to complete the program and initiate a new one, unless the TBV is too high.
The high amount of shares outstanding repurchased and sent into treasury stock is a good sign that management is very capable in the skill set of asset allocation. Since the recent acquisition (talked about later), the company's Total Risk-Based Capital Ratio has fallen to 13.75%; from around 22% YOY. Capitalization isn't as high as it was pre-acquisition, but the company is still well-capitalized (regulations required Total Risk-Based Capital Ratios >8.0%). Furthermore, the company has $275,844,494 in 'liquid' assets, in which $106,107,507 is based in cash and the other $169,736,987 is based in investment securities. There is plenty of leg-room for the company to continue putting capital to work in the near-term.
De Novo Branching and Growth through Acquisition
Management expects a branch to be opened in Buckhead market of Atlanta, Georgia in the early fall of 2016. Buckhead is an affluent uptown district of Atlanta, Fulton County area of Georgia. The area is heavily invested in commercial and financial centers-great for CHFN given their focused outlook on growth via commercial loans.
Growth through De Novo is a tough way to play the game. Banks just don't open new branches and expect customers to rush the door on opening day. There is a significant amount of pre-planning and the bank should be sprinting at full speed months before a new branch is opened. Furthermore, if the bank is properly engaged within the community and offers potential customers a 'huge' incentive to bank with them, they may do well. De Novo growth can be tough…to say the least. I haven't gotten a hold of management yet-in order to understand their De Novo plan-if I get a hold of them, I will provide a prompt update.
Making for an interesting growth strategy is the recent acquisition the company completed. The company acquired Community Bank of the South, which has four locations in Smyrna and Marietta, Georgia. Upon the successful completion of the bank, $370 million of total assets, $304 million in total loans and $331 million in total deposits were added to the company's balance sheet. Furthermore, the conversion and integration of the acquisition is now fully complete; as of the most recent quarter.
The price CHFN paid wasn't the best price based upon comparable transactions nationwide-211.3% TBV and 13.7x Price/LTM EPS. The company also realized around $25 million in goodwill, which lowered the TBV in the most recent quarter. Despite the high price paid, the company paid $58.8 million in an all cash consideration. Furthermore, the company is expecting to cut 35% in non-interest expense.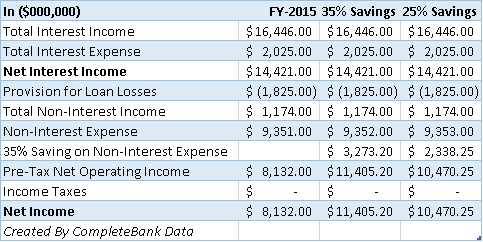 There is a significant amount of net income the company will realize in the forward looking year. In the FY-2015 for Community bank of the South, the bank brought in $8.1 million in net income. If CHFN saves 35% of non-interest expense from Community Bank of the South, the company will rake in $11.40 million. If CHFN is only able to realize a 25% savings, the company will bring in around $10.47 million.
This will be a significant increase in net income for the forward looking year. In 2015, CHFN collectively did $5,572,000 in net income. This is significantly lower than Community Bank of the South's net income, despite the fact that CHFN has interest income of $37,893,000 compared to Community Bank of the South's $16,446,000.
CHFN has a horrible expense structure. Noninterest Expense equated to 112% of Net interest income for 2015. If the company didn't have any Noninterest Income, CHFN would have been unprofitable. If the expense structure doesn't raise post-acquisition, the company has potential to more than double their bottom line going forward.
Community Bank of the South also had attractive demographics. The median household income in Cobb County is $61,964-highest median income in Georgia. Cobb County also has the 9th lowest employment rate of 5.40% and a high first mortgage value of $153,781 (5th highest in GA). A map of the locations acquired can be seen below…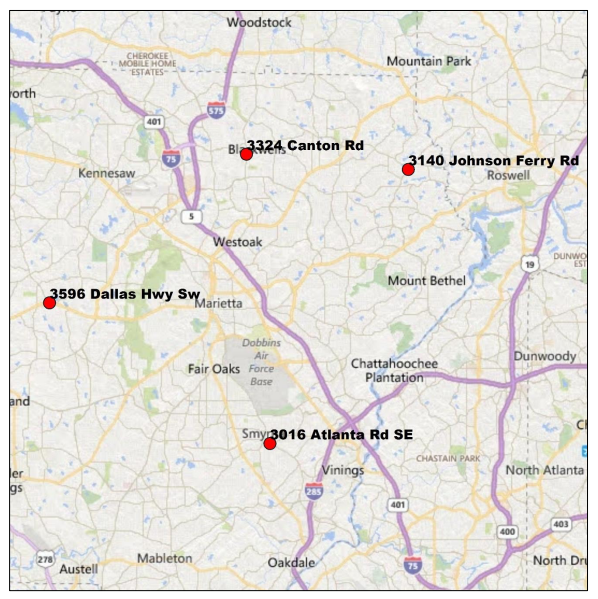 Source: Investor Presentation
Community Bank of the South has a low cost of deposits of 0.62% and expects a TBV earn back period of less than five years. Finally, Comcast is investing $100 million into the area which will generate over 1,000 new jobs and the Kennesaw State University is down the road housing over 32,000 students. Needless to say, the demographics of the area are impressive and should be beneficial as a collective whole.
Key Takeaways from Acquisition:
Acquisition was expense.
Although, the bank acquired had a tightly run ship: NIM 4.04%, ROA 1.94%, ROE 18.90% and Efficiency Ratio 53.29%.
The bank had lower Tier One Risk Based Capital Ratios (12.49%). This brought down Capital Ratios as a collective whole significantly.
35% savings on noninterest expense is significant and net income going forward should at least double.
Deposit base more than doubled, ranking CHFN as the 9th largest community bank in the area with less than $10 billion in assets.
Bought a solid loan book; noncurrent loans to loans of 1.35%.
Attractive demographics
Valuation
At first glance, CHFN seems fairly valued. The bank has a TBV of 1.17x and P/E around 22x. On a go-forward basis, the company is continuing to improve…
The company also continues to improve its loan portfolio…

With the recent acquisition and the conversion integration complete, the bank has high potential of at least doubling its earnings in the forward looking year. If the company doubles its earnings, its P/E ratio will be around 11x-not too bad. Furthermore, the retention of the earnings and/or further repurchases will help increase TBV. This time next year, the P/E ratio and TBV will be much lower; ceteris paribus.
If the company does not realize accretion from the acquisition, the TBV is still below the average buyout range 1.4-1.5x TBV. Given that the majority of buyouts happen two years after the three-year mark post moratorium expiration, the thesis is also based upon a larger player entering and taking over CHFN.
Finally, the company has a few activist shareholders who own the stock that specialize in bank M&A.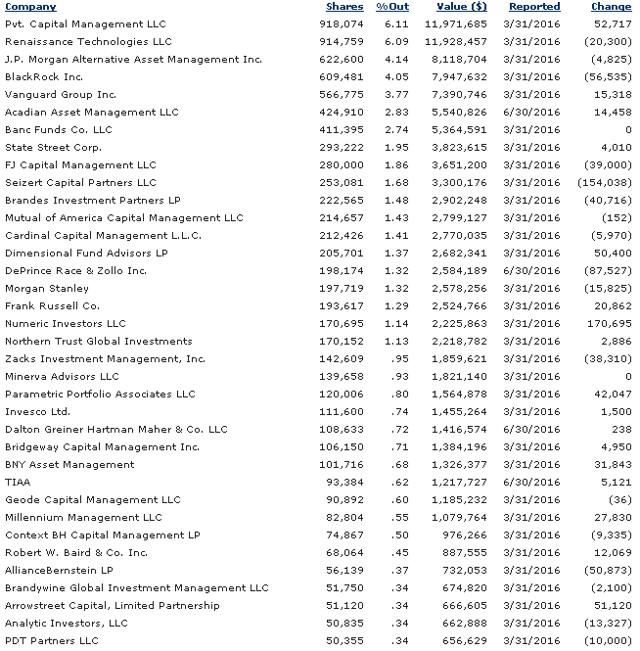 Source: Ownership
FJ Capital Management and Banc Funds are activist bank M&A specialists. Both of these funds also own Westbury Bancorp (NASDAQ:WBB), another mutual conversion. My write-up on WBB can be found here.
Overall, value in CHFN can be realized through accretion of earnings through acquisition/organic growth, more share repurchases (if its near or below TBV) and through a potential buyout. Mutual conversions have historically outperformed. Getting in a 1.17x TBV isn't too bad.
Risks
If the acquisition is not accretive to earnings, it was an expensive price to pay. The earn back period may be higher than five years.
The bank is heavily dependent on the Atlanta, Georgia area. Any negative economic impact to that area in particular will not bode well with the bank.
Management may do more acquisitions lowering Capital Ratios and artificially dropping TBV through goodwill costs.
The expense structure of CHFN is weak. If management doesn't focus on lowering its expense structure, the stock my lag.
Conclusion
A price target between 1.4.1.5x TBV is arrived by using the current average acquisition value of TBV for banks acquired in the US. Additionally, mutual conversion companies are acquired for a premium to TBV and have outperformed the broad market as a whole. Buying a bank that just completed a strategic acquisition, post three-year mark conversion and for only 1.17x TBV isn't too bad. Furthermore, on a go-forward basis, the bank looks decently cheap-if acquisition is accretive. Overall, this is a unique situation that should at least be on your radar.
Disclosure: I/we have no positions in any stocks mentioned, and no plans to initiate any positions within the next 72 hours.
I wrote this article myself, and it expresses my own opinions. I am not receiving compensation for it (other than from Seeking Alpha). I have no business relationship with any company whose stock is mentioned in this article.
Editor's Note: This article covers one or more stocks trading at less than $1 per share and/or with less than a $100 million market cap. Please be aware of the risks associated with these stocks.