By CapitalCube
Celanese Corp. (NYSE:CE) reports financial results for the quarter ended June 30, 2016.
We analyze the earnings alongside the following peers of Celanese Corp. - Eastman Chemical Company (NYSE:EMN), Dow Chemical Company (DOW), E. I. du Pont de Nemours and Company (DD), Westlake Chemical Corporation (NYSE:WLK) and OMNOVA Solutions Inc. (NYSE:OMN) that have also reported for this period.
Highlights
Summary numbers: Revenues of USD 1351 million, Net Earnings of USD 221 million.
Gross margins narrowed from 25.19% to 24.87% compared to the same period last year, operating (EBITDA) margins now 23.76% from 21.26%.
Year-on-year change in operating cash flow of 23.32% is about the same as the change in earnings, likely no significant movement in accruals or reserves.
Earnings growth from operating margin improvements as well as one-time items.
The table below shows the preliminary results and recent trends for key metrics such as revenues and net income growth:
| | 2015-06-30 | 2015-09-30 | 2015-12-31 | 2016-03-31 | 2016-06-30 |
| --- | --- | --- | --- | --- | --- |
| Relevant Numbers (Quarterly) | | | | | |
| Revenues (mil) | 1477 | 1413 | 1334 | 1404 | 1351 |
| Revenue Growth (%YOY) | -16.51 | -20.12 | -14.43 | -3.17 | -8.53 |
| Earnings (mil) | 207 | 161 | -298 | 256 | 221 |
| Earnings Growth (%YOY) | -20.08 | -37.6 | -263.41 | 8.47 | 6.76 |
| Net Margin (%) | 14.01 | 11.39 | -22.34 | 18.23 | 16.36 |
| EPS | 1.33 | 1.07 | -2.03 | 1.73 | 1.5 |
| Return on Equity (%) | 24.78 | 19.28 | -39.56 | 34.55 | 28.75 |
| Return on Assets (%) | 9.4 | 7.2 | -13.63 | 12.06 | 10.63 |
Market Share Versus Profits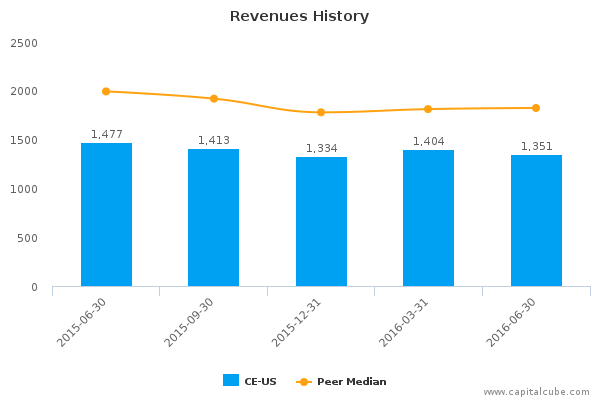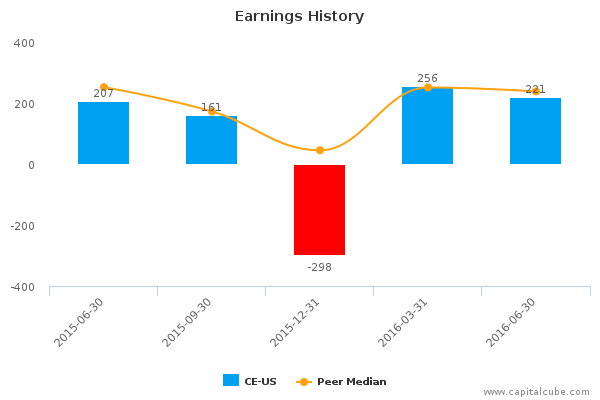 CE's change in revenue this period compared to the same period last year of -8.53% is almost the same as its change in earnings, and is about average among the announced results thus far in its peer group, suggesting that CE is holding onto its market share. Also, for comparison purposes, revenues changed by -3.77% and earnings by -13.67% compared to the immediate last period.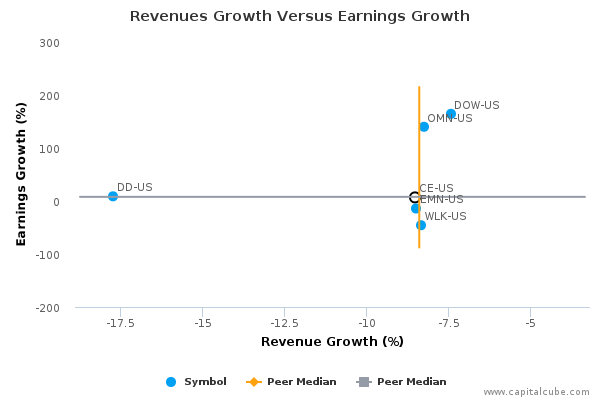 Earnings Growth Analysis
The company's gross margins showed no year-on-year improvement. In spite of this, the company's earnings rose, influenced primarily by the improvement in operating margins (EBITDA margins) from 21.26% to 23.76%. For comparison, gross margins were 27.64% and EBITDA margins were 25.85% in the last period.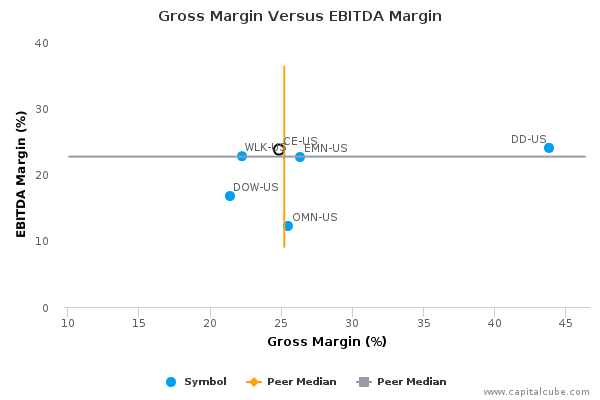 Gross Margin Trend
Companies sometimes sacrifice improvements in revenues and margins in order to extend friendlier terms to customers and vendors. Capital Cube probes for such activity by comparing the changes in gross margins with any changes in working capital. If the gross margins improved without a worsening of working capital, it is possible that the company's performance is a result of truly delivering in the marketplace and not simply an accounting prop-up using the balance sheet.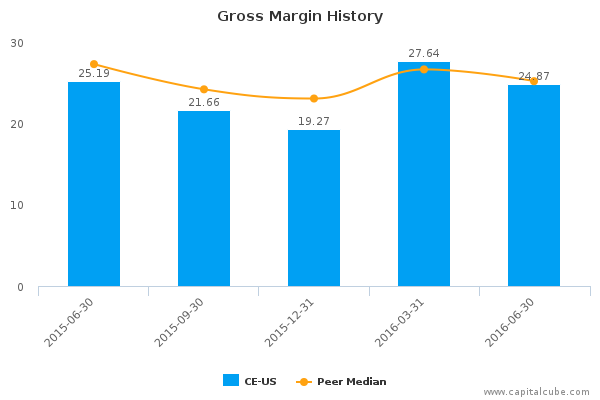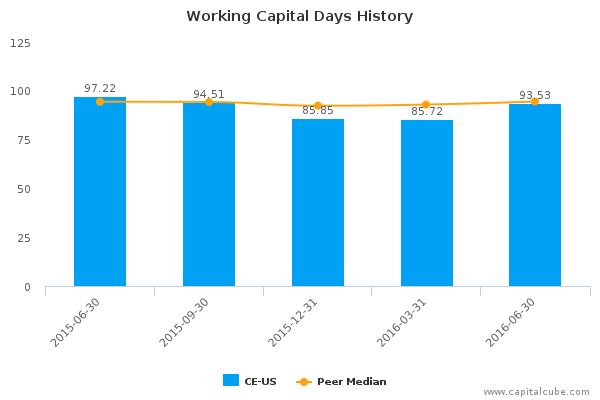 CE's decline in gross margins were offset by some improvements on the balance sheet. The management of working capital, for example, shows progress. The company's working capital days have fallen to 93.53 days from 97.22 days for the same period last year. This leads Capital Cube to conclude that the gross margin decline is not altogether bad.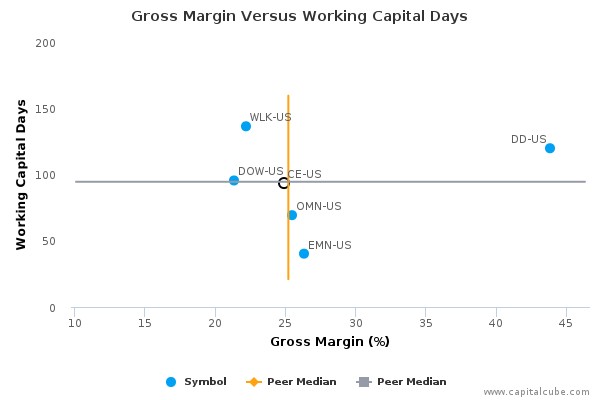 Cash Versus Earnings - Sustainable Performance?
CE's change in operating cash flow of 23.32% compared to the same period last year is about the same as its change in earnings this period. Additionally, this change in operating cash flow is about average among its peer group. This suggests that the company did not use accruals or reserves to manage earnings this period, and that, all else being equal, the earnings number is sustainable.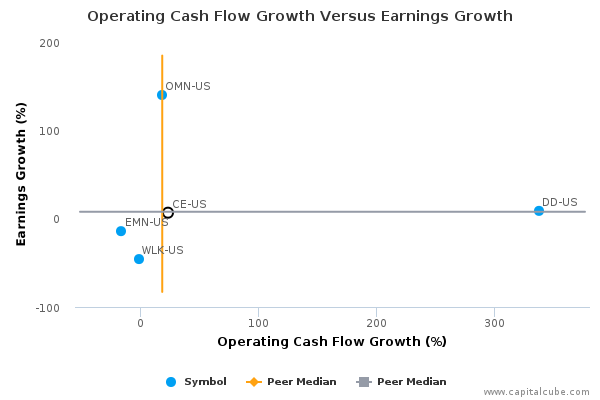 Margins
The company's earnings growth has also been influenced by the following factors: (1) Improvements in operating (EBIT) margins from 14.01% to 18.21% and (2) one-time items. The company's pretax margins are now 20.36% compared to 15.37% for the same period last year.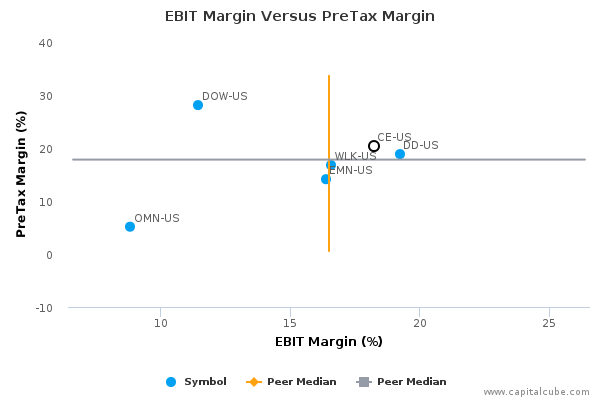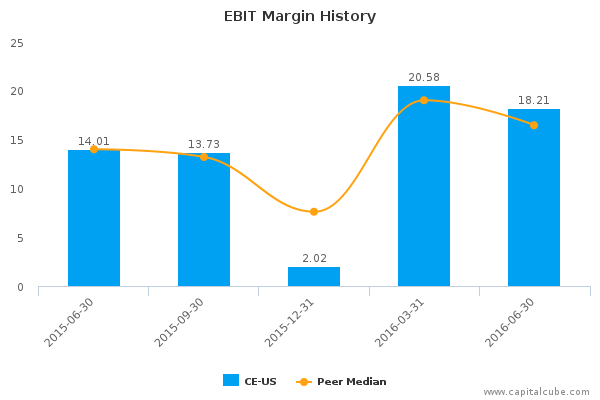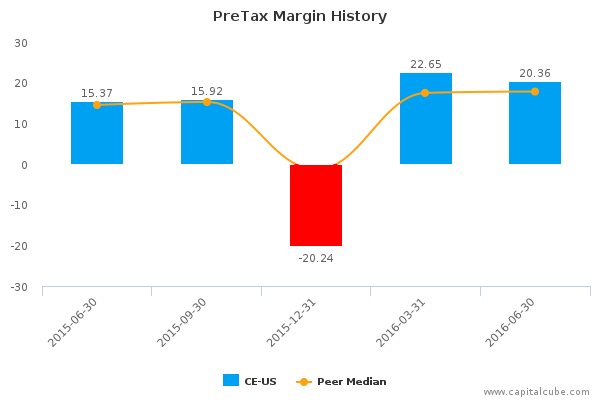 Company Profile
Celanese Corp. is a technology and specialty materials company that engineers and manufactures a wide variety of products essential to everyday living. It operates through the following segments: Advanced Engineered Materials, Consumer Specialties, Industrial Specialties, Acetyl Intermediates, and Other Activities. The Advanced Engineered Materials segment uses advanced polymer technology to produce a broad portfolio of high performance specialty polymers used in a wide spectrum of applications, including automotive, medical and electronics products, as well as other consumer and industrial applications.
The Consumer Specialties segment includes Acetate Products and Nutrinova businesses, which serves consumer-driven applications. The Industrial Specialties segment, which includes the Emulsions and EVA Performance Polymers businesses, is active in every major global industrial sector and serves diverse industrial and consumer end-use applications. The Acetyl Intermediates segment produces and supplies acetyl products, including acetic acid, VAM, acetic anhydride, and acetate esters. The Other Activities segment includes other activities made by the firm. The company was founded in 2005 and is headquartered in Irving, TX.