Market Outlook
We Are In A New Resource Bull Market
After four grinding years of falling metal prices and vanishing market capitalizations, we have seen a stunning shift in market sentiment since mid-January. Multiple physical commodities are now in technical bull markets and resource equities in particular have enjoyed a spectacular 2016 thus far. It is obvious to me that we are in the early stages of a new bull market for the following reasons:
1. Metal prices are again on the rise. Particular standouts include: silver, lithium, zinc, gold, platinum and palladium. All of the aforementioned metals have entered new technical bull markets in 2016 and seem to be building momentum.
It took four painful years, but this proves yet again that low prices are the best cure for low prices. When the price of a particular commodity drops precipitously, two phenomena inevitably occur: (I) higher cost suppliers of the commodity cut production and (ii) buyers of the commodity purchase more in real terms. These twinning events may take a while to play out, but they inevitably do.
The story of this bull market so far has been supply disruption, with production cuts occurring across multiple metals for the past 18 months. We haven't seen significant demand growth so far (aside from lithium and a few other outliers) but this could change over the coming 24 months.
2. M&A activity has picked up, particularly in Q2 2016. Notable transactions over the period included:
· Nevsun's (NYSEMKT:NSU) $500m takeover of Reservoir Minerals and its Timok Project
· Goldcorp's (NYSE:GG) $400m takeover of Kaminak Gold and its Coffee Project
· Centerra's (OTCPK:CAGDF) $1.1b takeover of Thompson Creek Metals
· Freeport's (NYSE:FCX) $2.7b sale of Tenke to China Molybdenum
· Anglo's (OTCPK:AAUKY) $1.5b sale of niobium & phosphate businesses to China Molybdenum
· Silver Standard's (NASDAQ:SSRI) $250m takeover of Claude Resources
· Tahoe's (NYSE:TAHO) $540m takeover of Lake Shore Gold
· Hecla's (NYSE:HL) $600m takeover of Aurizon Mining
This pick-up in deal volume is great news for quality development projects not yet owned by a major producer. The recent bear market has left a dearth of near-term production candidates and those still remaining are that much more valuable to a potential acquirer.
Additionally, if this indeed becomes a multi-year bull market, then explorers too will receive increased attention. Within the past month, mining legend Eric Sprott stated that it was an appropriate time to be buying junior explorers. Shareholders of well-managed prospect generators are poised to do very well over the coming few years.
3. The increase in private placement volume has been even more pronounced. Mining investor Marin Katusa reported earlier this year "the first 55 days of 2016 have already seen almost 50% of the capital raised in the mining sector during all of 2015." Since then, metal prices have continued to rise and the financing pace has only quickened. I would not be surprised to see more capital raised this year than in 2014 and 2015 combined ($7.7b USD).
4. People are making serious money again in a space that has been hated for so long. Meanwhile, the global financial market is starved for yield in a world of real negative interest rates.
Those who don't normally invest in resources are just recognizing the tremendous wealth creation that is taking place. These investors will be tempted to join the fray. Inflows from generalist funds and retail investors will increase into 2017.
Bull Market To Be Similar In Duration And Magnitude To The 1200-Day Bear Market We Just Endured
As Rick Rule famously says "bear markets are the authors of bull markets." What we witnessed between 2011 and 2015 leads me to believe that the ensuing bull market will be similarly long-lived and similarly violent.
The below chart from our friends at Palisade Research does a great job of illustrating the following:
1. The natural resource industry is as cyclical as it gets.
2. The bear market we just endured was the longest and most severe of the past 25 years.
3. Long periods of losses are often followed by long periods of gains and vice versa.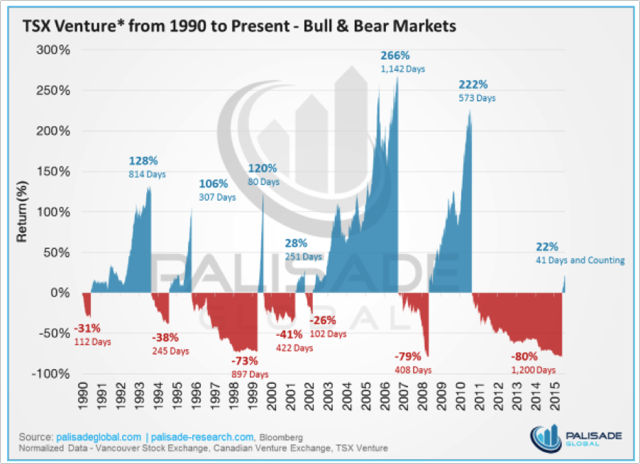 Anyone proclaiming to know the exact duration of any cycle is fooling you, fooling themselves or both.
However, I do believe it is important to have a rough expectation of what will transpire - based on history, one's experience and common sense. My expectation is for this current cycle to last between 900 and 1500 days. Operating under this assumption, we still have two years to feast ourselves before we need to worry about cashing in.
Musings On Specific Commodities
Precious Metals
The clear winners of this bull market so far have been the precious metals -gold, silver, platinum and palladium. Mining equities associated with these metals have done even better, with 200% gains year to date not uncommon. Barchart.com provides a YTD chart with 57 major commodities, currencies, and stock indices. Silver, platinum, palladium and gold occupy four of the top six spots.

Precious metals are likely to continue their outperformance for at least another 18 months. After years of pain there are at least two major tailwinds:
1. The age of negative real interest rates has invalidated one of the major bear cases against precious metals. For now at least, it is more expensive to hold OECD debt than it is to hold bullion. Wall Street is recognizing this and every month another bank seems to turn positive on gold.
2. Precious metal ownership is at a historic low. Over the past thirty years, precious metal investments have generally constituted ~2% of total assets under management in the United States. As recently as the 1980s this number was closer to 7%. Today we're at 0.3% of total investments but the tide is quickly turning.
Out of the aforementioned precious metals, silver will be the biggest beneficiary. Roughly 80% of the world's silver comes as a by-product from base metal mines. This is significant because these base metal mines are not as sensitive to the price of silver (as it is often a small percentage of the overall revenue mix), and won't necessarily respond to higher silver prices by increasing production. You don't see this dynamic for gold, platinum and palladium, which are mostly produced from primary sources.
Rare Earths
Rare earths seem to be a nice contrarian bet at the moment. After the monumental REE bubble of 2009-2011 and the ensuing collapse, rare earth prices have languished near pre-bubble levels. While real demand destruction occurred with the prices surge we saw five years ago, we can't forget the significance of these metals in our high tech world.
The market is currently discounting the possibility, but a 20-30% rise in rare earth prices is likely over the next 12-24 months. Low capex projects with a short timeline to production should be able to benefit from this expected rebound.
Uranium
Uranium is indisputably THE contrarian bet in the resource sphere right now. Despite supply-demand dynamics over the next 5-10 years that look more promising than most any other commodity, uranium has lagged considerably -U308 prices are down by roughly 30% year to date.
This will reverse and, as long as you have the stomach for it, now is a fantastic time to put money to work in select uranium equities. Out of conservatism, one should be willing to wait at least two years before we start seeing a significant rebound.
Uranium likely will be one of the best performing metals in the later stages of this bull market, and the recent weakness means that you can still snap up ounces at dirt-cheap prices.
Zinc
It is safe to say that industrial metals won't see significant price moves for another 12-18 months. The one exception that I am particularly excited about is zinc - which has seen substantial supply cuts over the past year. Zinc smelters are running out of feed, and the few near-term production stories are currently being inundated with off-take requests for zinc concentrate.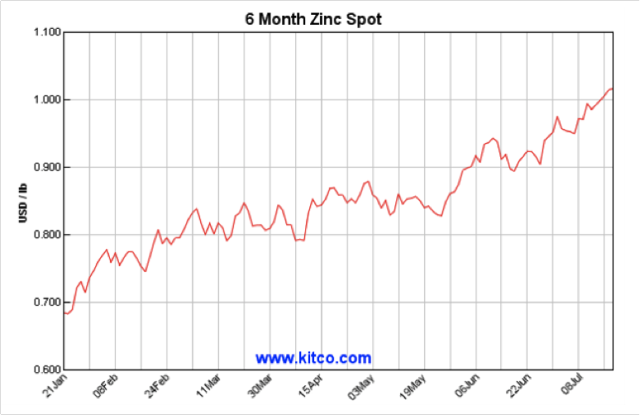 The zinc price has already had a significant run in 2016, but I wouldn't be surprised to see another move of 20% over the next 12 months. The supply-demand dynamics for this metal have been skewed for too long, and it appears as if the market is beginning to recognize that the current price isn't sustainable. There are plenty of signs pointing to a new equilibrium above $1.20 USD per pound.
One implicit assumption in the above statements on precious metals, rare earths, uranium and zinc, is that each commodity will trade on its own merit for at least the next two years. (Remember this is not always the case - we've seen within the past decade multiple instances where ALL commodities have traded in unison for relatively long periods of time.) However, a decoupling of commodity prices has been apparent throughout the whole of 2016, and I expect supply-demand fundamentals to continue to win out for some time. I don't believe we will see extreme correlation between commodities return until the manic stages of this current bull market, whenever that may be.
In summary, we are just entering the second inning of a major metal bull market. Now is the time to get greedy - as long as you can stand a 20% correction in the next 6 months without panic selling. There are still excellent management teams out there trading at insulting valuations, and there are plenty of opportunities beyond the metals I discussed above. We can worry about taking profits in the sixth inning or so - but for now let's feast!
Disclosure: I am/we are long NSU.
I wrote this article myself, and it expresses my own opinions. I am not receiving compensation for it (other than from Seeking Alpha). I have no business relationship with any company whose stock is mentioned in this article.