This article focuses on some of the key facts and trends revealed by Kinder Morgan, Inc.'s (NYSE:KMI) results for 2Q 2016. Data presented below for quarters prior to 4Q14 reflect consolidated results for KMI prior to the merger transactions with Kinder Morgan Energy Partners (NYSE:KMP), Kinder Morgan Management (NYSE:KMR) and El Paso Pipeline Partners (NYSE:EPB). Data for 4Q14 and subsequent periods reflect results after the merger transactions.
Adjusted earnings before depreciation and amortization ("adjusted EBDA" or "segment earnings before DD&A and certain items") is one of the important yardsticks used by management to measure its success in maximizing returns to shareholders, to evaluate segment performance, and to decide how to allocate resources to KMI's five reportable business segments. Adjusted EBDA over the past eight calendar quarters is shown in Table 1 below: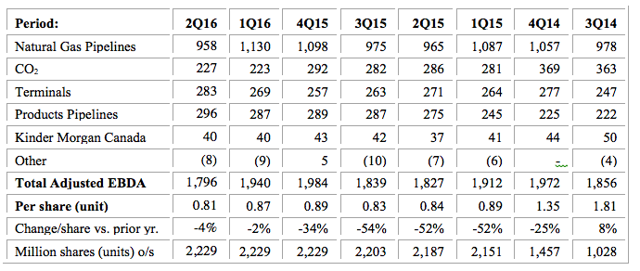 Table 1: Figures in $ Millions (except per share amounts and % change).
Source: Company 10-Q, 10-K, 8-K filings and author estimates.
Adjusted EBDA generated by Natural Gas Pipelines, the largest segment in terms of EBDA contribution, was down 0.7% in 2Q16 vs. 2Q15. There are notable declines in gas gathering volumes (down 16%) and crude/condensate gathering volumes (down 12%). Adjusted EBDA increased 7.6% at the Products Pipelines segment, 4.4% at the Terminals segment, but declined 26% at the CO2 segment. This segment's business includes: a) production, transportation and marketing of CO2 for use as a flooding medium enabling increased production in mature oil fields; b) interests in and/or operation of oil fields and gas processing plants in West Texas; and c) ownership and operation of a crude oil pipeline system in West Texas. CO2 continues to adversely affect overall results primarily due to lower commodity prices.
In total, adjusted EBITDA in 2Q16 is down about 1.7% from 2Q15 measured in absolute terms and down about 3.6% on a per share basis.
To derive net income, KMI deducts from adjusted EBDA depreciation, depletion and amortization ("DD&A"), general & administrative ("G&A") expenses, interest expenses, taxes, non-controlling interests' share of net income, and reverses items deemed non-cash, non-recurring (referred to by management as "certain items"). Net income increased by $39 million (11.7%) in 2Q16 vs. 2Q15. Of that, $31 million is due to these certain items:

Table 2: Figures in $ Millions (except per share amounts).
Source: Company 10-Q, 10-K, 8-K filings and author estimates.
"Certain items" are an aggregation of various adjustments detailed in Table 3 below:

Table 3: Figures in $ Millions (except per share amounts).

Source: Company 10-Q, 10-K, 8-K filings and author estimates.
To derive Distributable Cash Flow ("DCF"), KMI adds the negative values and subtracts the positive values in Table 3. Adjustments in 1Q16 and 4Q15 included large amounts for asset impairments, the principal components of which were, respectively, a $170 million write-off of costs associated with the NED Market and Palmetto Pipeline projects, and a $1,150 million write-off of Natural Gas Pipelines assets.
"Certain items" also reflect the addition of $24 million of other items, the largest component of which is $39 million of revenues generated upon an early termination of a storage contract by a customer.
Table 4 indicates that, in addition to the "certain items" in Table 3, KMI made further adjustments for purposes of deriving DCF: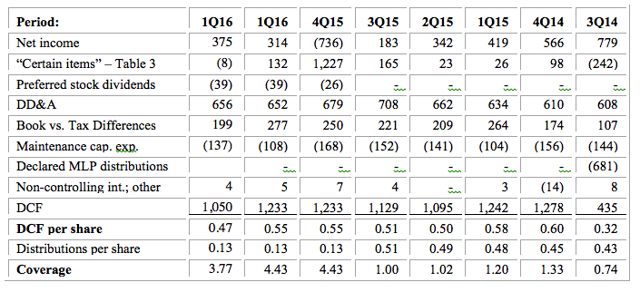 Table 4: Figures in $ Millions (except per unit amounts).
Source: Company 10-Q, 10-K, 8-K filings and author estimates.
DCF is one of the primary measures typically used by a midstream energy master limited partnership ("MLP") to evaluate its operating results. Because there is no standard definition of DCF, each MLP can derive this metric as it sees fit; and because the definitions used vary considerably, it is exceedingly difficult to compare across entities using this metric. Additionally, because the DCF definitions are usually complex, and because some of the items they typically include are unsustainable, it is important (albeit quite difficult) to qualitatively assess DCF numbers reported by MLPs.
The generic reasons why DCF as reported by a master limited partnership ("MLP") may differ from what I call sustainable DCF are reviewed in an article titled "Estimating sustainable DCF - why and how". DCF definitions used by other MLPs are described in an article titled "Distributable Cash Flow".
Table 5 provides a comparison between the components of reported and sustainable DCF:

Table 5: Figures in $ Millions.
Source: Company 10-Q, 10-K, 8-K filings and author estimates.
Reported DCF in 2Q16 was down 4.1% from 2Q15. Sustainable DCF was lower than reported DCF by approximately 7.3% in the TTM ending 6/30/16 and by approximately 11.8% in 2Q16 vs. 2Q15.
The components of the variance between reported and sustainable DCF (designated as "Other" in Table 5) are shown in Table 6:

Table 6: Figures in $ Millions.
Source: Company 10-Q, 10-K, 8-K filings and author estimates.
The DD&A and tax adjustments in Table 6 reflect KMI's share of equity investees' DD&A and KMI's share of equity investees' book tax differentials.
Coverage ratios based on reported DCF vary significantly from those based on my sustainable DCF calculation:

Table 7: Figures in $ Millions.
Source: Company 10-Q, 10-K, 8-K filings and author estimates.
The large increases in DCF coverage in 2Q16 and the TTM ending 6/30/16 over the corresponding prior year periods shown in Table 7 are largely due to the dividend being cut to approximately 25% of its prior level in 4Q15. At the currently low dividend level, distribution coverage becomes less meaningful.
The dividend cut decimated quarterly cash inflows many investors were counting on and came on top of large capital losses caused by the precipitous drop in the stock price. However, investors who maintained, or recently initiated, their positions have a stake in a company that is now on a much more solid footing. Based on management's statement accompanying the release of 2Q16 results ("we do not expect to need to access the capital markets to fund our growth projects for the foreseeable future beyond 2016"), investors can assume KMI will self-fund its $2.8 billion 2016 capital expansion program as well as its 2017 and 2018 capital budget without the need to access the equity market or, for that matter, the debt markets (except for rollovers).
The simplified cash flow statement in Table 8 shows substantial increases in the amounts of excess cash being generated by KMI after instituting the dividend cut: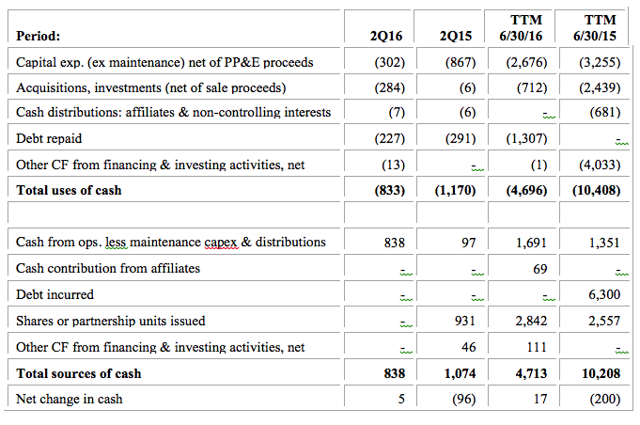 Table 8: Figures in $ Millions.
Source: Company 10-Q, 10-K, 8-K filings and author estimates
The excess cash can be used to either raise the dividend, buy back KMI's shares, reduce debt, for new projects and/or acquisitions, or most likely a combination of these steps. Coverage on what I consider a sustainable basis can give an indication of the level to which dividends can be restored, if that route is chosen. Sustainable DCF per share can be a useful metric for comparison between KMI and MLPs in the midstream energy sector.
KMI budgeted $7.5 billion in Adjusted EBITDA and $4.7 billion of DCF in 2016. The current run rate is $7.4 billion and $4.6 billion, respectively, on a TTM basis. Management now expects actual 2016 results to fall short by 3% and 4%, respectively, mainly due to production declines (oil and gas) at the Eagle Ford and the bankruptcy of a coal customer (Peabody Energy Corporation). KMI still anticipates meeting all of the rating agencies' requirements to remain investment grade. In its July 20th press release, KMI notes that it expects "…to end the year at a leverage ratio of 5.3 times net debt-to-Adjusted EBITDA, down from our previous guidance of 5.5 times…" Management articulated a longer-term target ratio of 5 times in the analyst call discussing 1Q16 results, but no specific date has yet been set for that target.
The reduction in leverage will be partly achieved through asset sales. In June, KMI announced the sale of a 50% interest in its $500 million to-be-constructed Utopia pipeline project to Riverstone Investment Group LLC for half of the project capital costs plus an amount in excess of its share of project capital. In July, KMI announced the sale of a 50% interest in its Southern Natural Gas (SNG) pipeline to Southern Company (NYSE:SO) for $1.47 billion plus SO's share of SNG debt. KMI also announced, in July, other asset sales aggregating $175 million, including sale of its 50% stake in the Parkway refined products pipeline (to its partner Valero (NYSE:VLO)), sale of a transmix facility and sale of a biodiesel processing plant.
KMI significantly reduced its growth capital backlog from $18.2 billion as of 4Q15 to $13.5 billion as of 2Q16. The backlog reduction was primarily due to the removal of the $3.1 billion Northeast Energy Direct (NED) Market project due to insufficient contractual commitments from customers in the New England market, the removal of the $550 million Palmetto Pipeline project following unfavorable action by the Georgia legislature, and a $500 million reduction in the capital required for the Utopia pipeline project as a result of an agreement whereby the Riverstone Investment Group will fund 50% of that project. A single project, the $5.4 billion expansion of the Trans Mountain Pipeline (which has encountered delays), now accounts for 40% of the reduced backlog. KMI's dependence on proceeding with this project and successfully executing it on time and on budget has increased.
As previously noted, I began reducing my MLP investments the fall of 2014 and eliminated my KMI position in 2Q15.
Disclosure: I/we have no positions in any stocks mentioned, and no plans to initiate any positions within the next 72 hours.
I wrote this article myself, and it expresses my own opinions. I am not receiving compensation for it (other than from Seeking Alpha). I have no business relationship with any company whose stock is mentioned in this article.