Just a few months ago (April 22, 2016) I wrote an article detailing how Great Basin (NASDAQ:GBSN) had decimated shareholders with the help of dilution, reverse splits and slow growth. At the time I concluded that GBSN was a very speculative trade. It is now time for a recap of what has transpired since April.

The stock price has dropped another 85%.
Short interest has exploded.
Revenue increased over 38% on a year-over-year basis.
The number of outstanding shares has increased over 200%.
Accounts signed up have increased dramatically,even beating managements own guidance by a significant margin.
Let's explore these areas one by one.
The Stock Price
Back on April 22, 2016, when I last wrote about GBSN, the stock closed at $3.38. As of Monday, Aug. 1, GBSN closed at $0.47. That represents an 85% drop in the stock in just over three months. This happened despite extremely positive comments from GBSN management regarding the company's future (I'll provide more on that later in this article). Since preliminary earnings came out July 14, 2016, the stock has spiraled down from $1.45 and has closed down 12 straight days.
Short Interest
Short interest has exploded by almost 4,000% in 2016. Clearly the short sellers love Great Basin thanks to the massive dilution in the past that has assisted their agenda. Here is the 2016 short interest as reported at NASDAQ.com: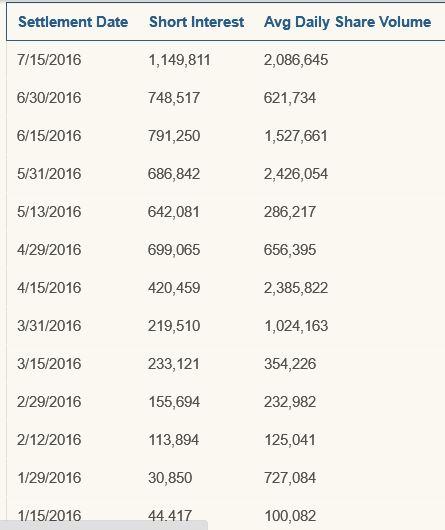 Revenues and Customer Acquisitions
Great Basin management reported preliminary results on July 14, 2016. They paint a picture of a company that is growing rapidly. But that growth comes at a price. Great Basin's growth is similar to that of Rocket Fuel (NASDAQ:FUEL). As the revenue stream increases, the net losses continue to disappoint shareholders. The increased sales do not lead to efficiencies of scale and have actually increased.
The business results of the most recent preliminary Q2 2016 results have been impressive. The most recent preliminary results show year-over-year sales came in up 38.7% and were $728,000. Customer acquisitions were also a highlight, topping management's own guidance. Here are some of the excerpts from the Great Basin Q2 2016 earnings call transcript:






As you can see, management is putting a nice spin on the most recent results. While the management spin is to have faith in the company, shareholders have clearly been the ones feeling the pain.
Shares Outstanding and NASD Compliance
Earlier this year, Great Basin had a 1-for-35 reverse split in an attempt to increase the share price and maintain NASD listing compliance. Great Basin seems to be heading down that path again. On April 22, 2016, when I wrote my last article, GBSN had 3.38 million shares outstanding. As of June 24, 2016, when GBSN released their 10-K annual report there were 7.10 million shares outstanding. Per the companies most recent SEC 14A Proxy filing as of July 11, 2016, there were 12.42 million shares outstanding. Unfortunately, there is no end in sight to the shareholder dilution. The exercisable warrants essentially ensure this likelihood.
On April 22, 2016, when I wrote my last article, the market capitalization of Great Basin was $13.32 million. As of Aug. 1, 2016, the market capitalization stands at $5.83 million. NASD compliance requires a market capitalization of $35 million. Despite this shortfall, Great Basin expects to be NASD compliant thanks to their most recent $75 million capital infusion.
Conclusion
Reading the preliminary results for Q2 2016 customer acquisitions, there is no doubt that Great Basin has a promising future. The roadblock that shareholders face is, unfortunately, multi-faceted. GBSN's growth is being offset by the short sellers relentless assault and poor bottom-line results. These forces unfortunately are battling each other and the end result is a non-stop deterioration in Great Basin's stock price.
For Great Basin stock to appreciate and to get the short sellers to cover, the company needs to do four things: 1) reduce the per-unit cost of their machines to a level that will stop the net losses; 2) continue the rapid new customer acquisitions; 3) stop shareholder dilution; and 4) maintain NASD compliance. In my prior article, I suggested that Great Basin was a very speculative long position -- that opinion still stands.
If you enjoyed this article and would like to follow me to read future articles, go to the top of the page and click the "Follow" button under the title and next to my name or click here.
Disclaimer: Investing in micro-cap stocks such as Great Basin with a market capitalization of under $100 million can be risky. There is no guarantee that your investment will be safe. There is also a possibility that you may lose some or all of your investment. Please do your own due diligence before investing in Great Basin or any other investment. Information provided in this article is informational and should not be the sole guide to determine if investing in the company is appropriate for you. The above are my opinions and should not be the sole purpose for initiating a trade. Always do your own due diligence prior to investing. Also remember to only initiate trades that are within your pre-defined risk parameters.
Disclosure: I/we have no positions in any stocks mentioned, and no plans to initiate any positions within the next 72 hours.
I wrote this article myself, and it expresses my own opinions. I am not receiving compensation for it (other than from Seeking Alpha). I have no business relationship with any company whose stock is mentioned in this article.
Editor's Note: This article covers one or more stocks trading at less than $1 per share and/or with less than a $100 million market cap. Please be aware of the risks associated with these stocks.