On July 21, 2016, AT&T (NYSE:T) reported Q2 2016 adjusted EPS of $0.72, which was in line with analysts estimates. For comparison purposes, AT&T reported adjusted EPS of $0.69 in the same quarter in the prior year.
Overall, AT&T reported impressive Q2 2016 results, but, in my opinion, the biggest takeaway from the quarter was how well this management team has been able to integrate the DirecTV assets in such a short period of time. The DirecTV acquisition has greatly impacted AT&T's results over the last few quarters, and this was again the case in the most recent quarter.
For Q2 2016, AT&T reported a 22% increase in consolidated revenues ($40.5b) and this increase was largely attributable to the assets acquired from DirecTV. Mr. Randall Stephenson, AT&T Chairman and CEO, said it best in the press release: "One year after our acquisition of DIRECTV, the success of the integration has exceeded our expectations". The DirecTV assets are already beginning to play an important role in the company's current operations and management continues to tout this acquisition as an important component of AT&T's long-term business prospects.
The Q2 2016 operating results have already been well-covered by several contributors here on Seeking Alpha (see here and here for two great articles on AT&T's Q2 2016 earnings results), so I do not plan to bore you with the same facts and metrics.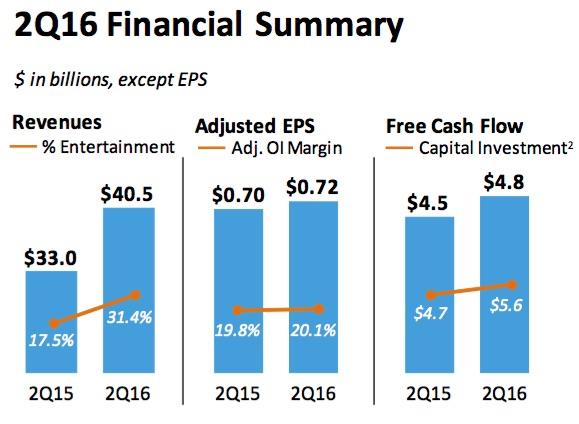 (Source: Q2 2016 Earnings Presentation)
Instead, I want to focus on the two metrics that long-term investors should be most interested in - free cash flow and the debt balance.
Analysis of AT&T's Free Cash Flow ("FCF")
Before the DirecTV acquisition closed, investors had concerns over AT&T's extremely high FCF dividend payout ratio and some investors were actually worried about the long-term sustainability of the company's above-average dividend. Management has done a great job bringing the FCF dividend payout ratio down from the upper 80% (and at times lower 90%) range, but there is still work that needs to be done to completely put the concerns to rest.
Six Months Ended June 30, 2015 and 2016
Free Cash Flow Analysis
2015
% of Net Cash
2016
% of Net Cash
Period Chg (%)
Net cash provided by operating activities
$15,898
100%
$18,207
100%
15%
Less: Construction and capital expenditures
(8,667)
55%
(10,139)
56%
17%
Free Cash Flow
7,231
45%
8,068
44%
12%
Dividends paid
(4,873)
(5,899)
21%
Free Cash Flow After Dividends
2,358
2,169
-8%
FCF Dividend Payout Ratio
67%
73%
8%
(Source: Reconciliation of Capital Investment and Free Cash Flow)
Highlights from the table:
The net cash provided by operating activities and the free cash flow increased by 15% and 12%, respectively, but the free cash flow after dividends declined by 8%
The dividends paid increased by over 20%, which was a direct result of the increased share count and the previous increase in the dividend
The FCF dividend payout ratio increased by 8% to 73%, but this is still in line with management's expectations
The 73% FCF dividend payout ratio is above where it was at this point in time in the prior year, but compared to Verizon (NYSE:VZ), the company's closest peer, AT&T is in pretty good shape because VZ reported a FCF dividend payout ratio of ~83% for the first six months of 2016.
It is also important to note that AT&T's ratio was 61% for the three months ended June 30, 2016, which was a big improvement from the ratio reported for Q1 2016. Management's 2016 guidance is for the ratio to stay in the 70's for the current year, so the slight YoY increase in the ratio should not be considered a major concern. Moreover, in my opinion, it is encouraging that management still anticipates the FCF dividend payout ratio to stay in the 70's when considering the fact that AT&T is currently heavily investing in its future (i.e. international expansion, DirecTV integration, etc.).
The Growing Debt Balance
Let me start by saying that high debt balances are not unusual for capital intensive companies like AT&T and Verizon. However, AT&T's net debt balance is significantly higher today than it was before the DirecTV acquisition was closed (full disclosure: AT&T assumed a lot of debt with this acquisition).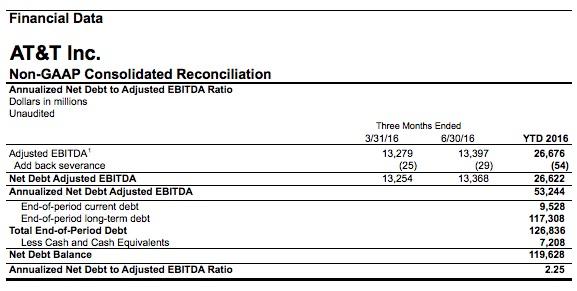 (Source: Net Debt To Adjusted EBITDA Ratio)
Currently, AT&T has ~$120b in net debt and this is materially higher than the $92.0b net debt that the company had outstanding at Q1 2015. For comparison purposes, Verizon had $98.6b in net debt at Q2 2016.
AT&T's high (and growing) debt balance is one of the few areas of concern for me, and it has actually already negatively impacted the company's debt rating (see this article for more on this topic). I am not concerned enough to re-evaluate my investment thesis, but I do plan to monitor the balance over the next few years to see if management is able to make a dent in the balance.
Bottom Line
AT&T reported impressive Q2 2016 operating results, and there is no denying the fact that the DirecTV acquisition is already paying huge dividends. Additionally, the company has made some encouraging progress with its international expansion and management is excited about the company's long-term growth potential in these countries.
AT&T shares have greatly outperformed the market so far in 2016, as T shares are up ~27% while the S&P 500 is up only ~9%, and I believe that this company will have the opportunity to continue this outperformance throughout 2016, if management is able to do two things over the next few quarters (of course while also reporting improving operating results). First, if management is able to keep the FCF dividend payout ratio in the 70 percent range, and, secondly, if management is able to convince investors that the growing debt balance will not be a burden to the company in the years ahead. As I mentioned above, the net debt balance and the FCF metrics are not significant concerns [yet] but this could change over the next year if positive progress is not made.
Currently, I believe that AT&T is a long-term buy around the $39 range.
Full Disclosure: In early May 2016, I trimmed my AT&T position in my R.I.P. Portfolio when the stock price hit the mid-$39 range.
If you found this article to be informative and would like to hear more about this company, or any other company that I analyze, please consider hitting the "Follow" button above.
Disclaimer: This article is not a recommendation to buy or sell any stock mentioned. These are only my personal opinions. Every investor must do his/her own due diligence before making any investment decision.
Disclosure: I am/we are long T.
I wrote this article myself, and it expresses my own opinions. I am not receiving compensation for it (other than from Seeking Alpha). I have no business relationship with any company whose stock is mentioned in this article.