Trina Solar (NYSE:TSL) has entertained going private in the past, but to no avail. However, the company announced Monday that a consortium led by Trina chairman and founder Jifan Gao would take the company private for $1.1 billion or about $12 per share. Shares obviously reacted accordingly:
The deal seems to be flying somewhat under the radar at Seeking Alpha with no analysis or even news articles being published Monday. But I think investors would be wise to keep Trina on their radar for the time being as the potential upside from Monday's closing price of $10.33 to the buyout price of $12 is still a cool 16% for those that go long TSL.
Gao's desire to take Trina public is likely the result of frustration with how unenthusiastically the market treats TSL despite the progress the company has made towards becoming among the largest installers of solar panels and towards profitability. Investors have been reluctant to place a concrete value on Chinese solar firms because the market has been volatile and unstable in recent years as margins came under pressure and supply gluts pushed companies out of business.
Yet despite Trina Solar's outperformance in a tumultuous period, the stock has barely responded (positively at least):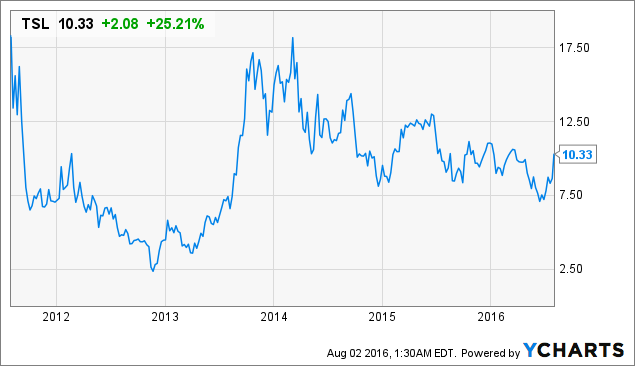 Aside from a few brief spikes, shares have trended downwards since 2014 in spite of the progress the company has made. 5.6 GW of capacity and $90 million in net income over the past year, yet the valuation remains depressed. In the last four quarters alone, Trina has generated revenue of $3.3 billion, yet the stock has not legitimately crossed $1 billion in market cap, save for a few short-lived spikes, in 12 months or so. Other Chinese solar firms JA Solar (NASDAQ:JASO) and JinkoSolar (NYSE:JKS) are suffering from the same negative investor sentiment. When will it end?
Not soon enough for Jifan Gao. The stock has remain range-bound for too long and Gao has come to the conclusion that if the market will not place a value on TSL that is fair, then taking the company private is the best strategy. Is this optimal for current TSL shareholders though? Gao better hope most agree with him because the deal will require a two-thirds vote by TSL investors in order for it to go though. If the vote is passed, the deal is expected to close in Q1 2017.
The merger arbitrage on TSL at the Monday closing price is fairly substantial, which indicates some reluctance on the part of investors to take this deal as cut and dried. Part of that could be that a similar deal was announced back in December of 2015 that never materialized, and part could be that investors are unsure if two-thirds of Trina shareholders will vote yes to the go-private offer.
Let's address the actual offer first. Concerns over whether the deal will close as planned probably originate with a proposal by Gao and a consortium of investors to take Trina private for $11.60 per share back in December. That deal was non-binding and never materialized, though it appears negotiations were still ongoing as this most recent offer is a definitive agreement and is much more likely to come to fruition than the previous deal.
Regarding whether TSL shareholders will accept this offer, there is obviously no way to tell for sure. If shareholders believe TSL is worth much more than $1.1 billion and are willing to wait until the value rises, then they will likely vote against this offer. However, considering the stock's lackluster performance despite the increasing stability of Trina's financials and fundamentals, I find it likely that individual investors are equally as frustrated as Gao with how their investment in TSL has progressed to this point.
Chinese solar firms are heavily discounted by the market and the resistance this negative sentiment has placed on shares in these firms has shown no signs of loosening. Taking the company private is a way for management to give itself more freedom in running the company, and allows shareholders to make it out with a decent price and put TSL behind them.
Personally, I think this deal will go through and Trina will be taken private in early 2017 according to plan. For those that assess the situation, do their own due diligence, and decide to play the merger arb by going long TSL, it's my opinion that the risk-reward profile is in the your favor.
JASO and JKS both got a lift after the takeover offer for Trina was announced Monday, due to speculation they might be taken private next. With current market conditions and the mispricing of Chinese solar firms, JA Solar and JinkoSolar could very well be targets for going private, but that is a discussion for another day.
If you want to stay up-to-date on my articles, you can Follow me by going to my author page or by clicking "Follow" at the top of this page.
Thanks for reading!
Disclosure: I am/we are long TSL.
I wrote this article myself, and it expresses my own opinions. I am not receiving compensation for it (other than from Seeking Alpha). I have no business relationship with any company whose stock is mentioned in this article.