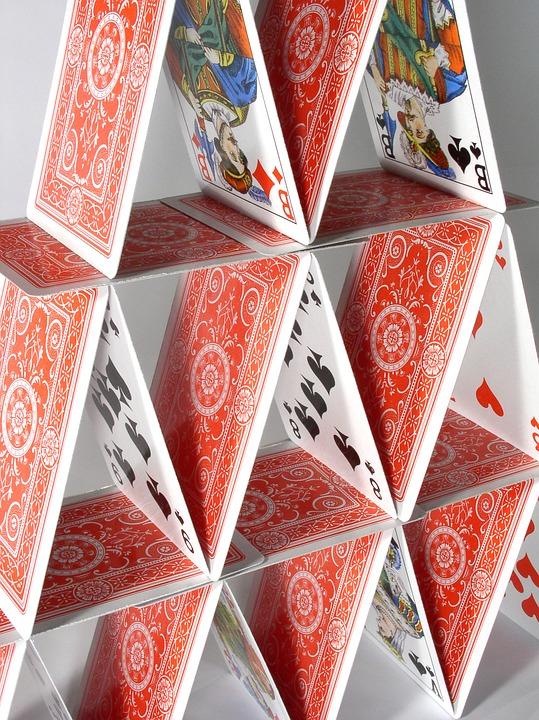 Back on May 31st, I wrote an article titled Exxon And Chevron: Tremendous Downside Lurks. In the article, I discussed the irrational market pricing of Exxon Mobil (NYSE:XOM) and Chevron Corporation (NYSE:CVX) given the prolonged low price of crude oil (NYSEARCA:USO) that continues to ravage the profits of the oil majors.
When the oil slide began in 2014, it took the stock prices of the oil majors with it. For the majority of 2015, that slide continued. Both Exxon Mobil and Chevron Corporation established new lows that hadn't been seen since 2011, which was reasonable given crude oil prices had established new lows that hadn't been seen since the financial collapse. This relationship was ultimately rational and well founded.
In 4Q2015, a divergence occurred - the oil majors suddenly stopped tracking the cost of crude oil. I created this chart in my previous article which clearly shows the divergence, which may be seen below.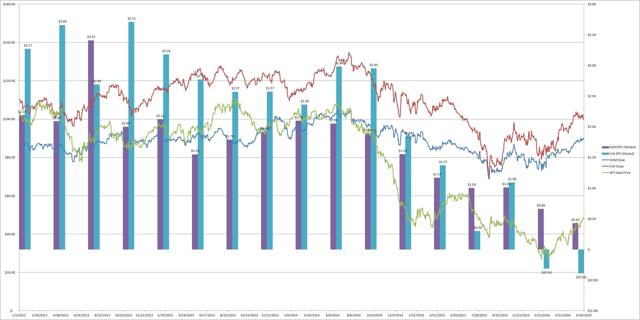 Since that article had been written, the divergence between crude price and the market price of the oil majors has continued to accelerate. Now that the deluge of 2Q2016 earnings has begun, investors are left with more questions than answers. US GDP numbers came in more than 50% below analyst expectations, and Q2 earnings released from Exxon Mobil, Chevron Corporation and Royal Dutch Shell (NYSE:RDS.A) (NYSE:RDS.B) this past week blew away analyst expectations to the downside.
Exxon Mobil and Royal Dutch Shell both dramatically missed estimates, and Chevron posted an "unexpected" loss (and I say "unexpected" because it seems as if only the analysts didn't expect it). All three showed steep drops in earnings and revenues compared to 2Q2015, despite low oil prices persisting during that time period as well.
XOM
CVX
RDS.A/RDS.B
XOM Revenues [M]
XOM EPS (diluted)
CVX Revenues
CVX EPS (diluted)
RDS.A/RDS.B Revenues
RDS.A/RDS.B EPS (diluted)
Q1 2015
$ 67,618.00
$ 1.17
$ 34,558.00
$ 1.37
$ 68,846.00
$ 1.39
Q2 2015
$ 74,113.00
$ 1.00
$ 40,357.00
$ 0.30
$ 73,950.00
$ 1.24
Q3 2015
$ 67,344.00
$ 1.01
$ 34,315.00
$ 1.09
$ 69,184.00
$ (2.34)
Q4 2015
$ 59,807.00
$ 0.67
$ 29,247.00
$ (0.31)
$ 60,176.00
$ 0.30
Q1 2016
$ 48,707.00
$ 0.43
$ 23,553.00
$ (0.39)
$ 49,732.00
$ 0.14
Q2 2016
$ 57,694.00
$ 0.41
$ 29,282.00
$ (0.78)
$ 60,271.00
$ 0.30
An illustration comparing revenues and EPS clearly shows each major setting new multi-year lows. The question remains: Why do their stock prices continue to sit near 52-week highs that rival all-time highs when oil was firmly trading in the $90-100/barrel range?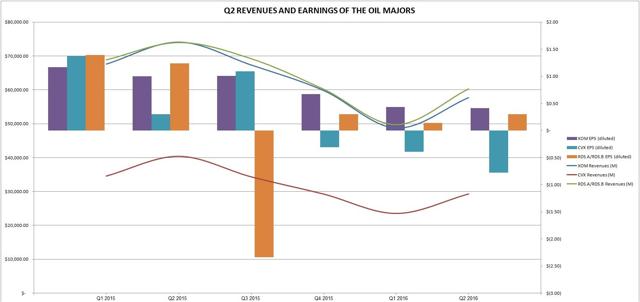 Part of the answer may lie in WTI crude's spot price.
The Crude Recovery That Wasn't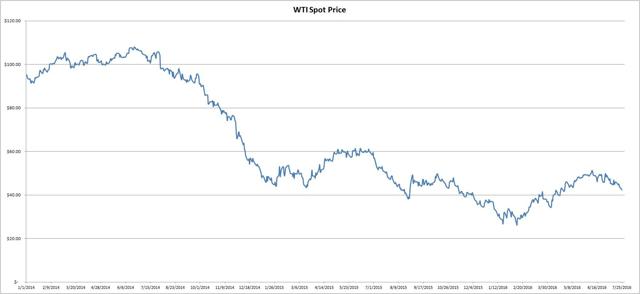 In 1Q2016, crude prices began to recover, gaining nearly 100% from January 2016 to June 2016. The $50 resistance level was penetrated, which may have propelled investors to believe that the worst is behind us and the oil majors will return to strong profitability once more. The problem was that market conditions didn't warrant crude's price recovery. Since early June, oil prices have once again reversed course. Today, something potentially troubling occurred. WTI crude broke through the psychologically important $40 barrier, falling as low as $39.86/barrel. That was its lowest price since April 20, before settling at $40.06, down $1.54, or 3.7% for the day.
I have been calling for the oil majors to correct for some time now, and maybe... just maybe... the recent crude collapse paired with the terrible 2Q2016 results of the oil majors and the tremendous downward revisions of the entire US economy is having an effect. The energy sector has been the biggest loser in the past couple of trading days, and the oil majors - who were previously (undeservedly) crushing the S&P 500 (NYSEARCA:SPY) and Dow Jones (NYSEARCA:DIA) are finally falling to roughly break-even.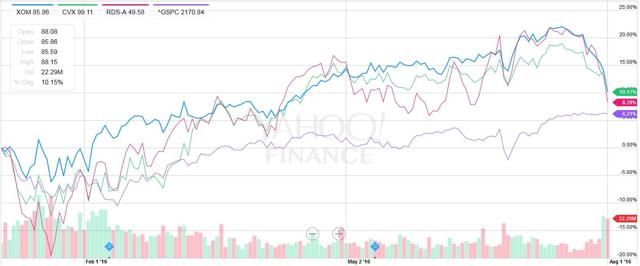 Is The House Of Cards Collapsing?
I want to be crystal clear in the analysis that I am presenting: I am not short the oil majors. In fact, I have never been short a company in my life. That's just not my style. I am in this game for the long haul, and while I believe the oil majors certainly have a tough road to hoe for the medium term, in the span of decades, I believe they will be just fine.
That being said, the meteoric rise in the stock prices of the oil majors during the first two quarters of 2016 was completely nonsensical. Investor's justification for the run-ups appears to have been tied to the recovery of oil to the $40-50/barrel range. Let's think about that for a moment. Even if the 100% gain in oil from its lows was warranted by real market forces - which it wasn't - we know that price range is still insufficient for the oil majors to generate enough cash flow to sustain their dividend, let alone even be GAAP profitable in the case of Chevron Corporation.
What we have here is a house of cards. In a vacuum-like environment free of external stresses, the delicate balancing act allows the house to stand tall, but apply any significant external stresses and it all comes crashing down. It's simple gravity, folks - what goes up must come down unless you have a strong foundation holding it up. A strong foundation would be strong revenues and earnings, or a sudden, dramatic worldwide supply-demand shift favoring the demand side of the equation. Neither of these things have materialized, and gravity always wins out in the end.
Investments in all three of these companies at current prices is, in my opinion, irresponsible.
Show me Exxon Mobile at $70.
Show me Chevron Corporation at $80.
Show me Royal Dutch Shell at $40.
That would require approximately a 20% decline in market price across the board. I own all three of these companies, and if the decline I am looking for above comes to pass, I will be sure to own even more. Until then, I will continue to patiently hold, reinvest the dividend and go about my daily business.
Disclosure: I am/we are long XOM, CVX, RDS.B, SPY.
I wrote this article myself, and it expresses my own opinions. I am not receiving compensation for it (other than from Seeking Alpha). I have no business relationship with any company whose stock is mentioned in this article.
Additional disclosure: All information found herein, including any ideas, opinions, views, predictions, commentaries, forecasts, suggestions or stock picks, expressed or implied, are for informational, entertainment or educational purposes only and should not be construed as personal investment advice. I am not a licensed investment adviser.