Overview
Despite reporting a worse than expected loss this quarter, CONSOL (NYSE:CNX) revealed in its Q2 call that plenty of things are going right.
For brief overview, CONSOL reported GAAP losses of $470 million, a figure which includes $431 million of non-cash after tax write-downs. EBITDA from continuing operations came in at $135 million for the quarter.
Goals Outlined by Management
More important than any quantitative measure reported, is CONSOL management's financial agenda going forward. CEO, Nicholas DiIuliis, and CFO, David Khani, emphasized and then reemphasized CONSOL's commitment to generating free cash flow and deleveraging the balance sheet- management is actually compensated in part based on how much FCF the company generates. CONSOL has shown two consecutive quarters of positive FCF.
Aside from generating positive operating cash flow, this program has been supplemented by $5.1 billion in asset sales since 2012. CONSOL is specifically focused on divesting coal assets as it completes its transition into a gas E&P play. Essentially this kills two birds with one stone as CONSOL divests the coal assets it no longer wants and uses the proceeds to reduce debt.
All of this activity has proved successful in cleaning up the balance sheet. CONSOL reduced approximately $490 million in outstanding borrowings on its credit facility using a combination of FCF and cash on hand. With April 2017 bonds yielding just 6.23% to maturity (near-term bonds may yield 20-30%+ for more distressed oil & gas E&P's), the credit market is showing faith in CONSOL.
Unlike many in the industry, management does not believe they will have to issue new equity any time in the foreseeable future. This has been a common risk for investments across the oil & gas E&P sector.
"Controlling what we can" - Ops Cost control
Aside from liquidity and deleveraging, CONSOL management has gradually improved the company's profitability. CONSOL's E&P cash costs are down 30% over the past two years. Cash costs across operations now average $1.23 per Mcfe, with all-in costs at $2.27. Alongside average sales prices of $2.50 per Mcfe this quarter, the company has shown impressive profitability on an operating basis despite the current natural gas market condition.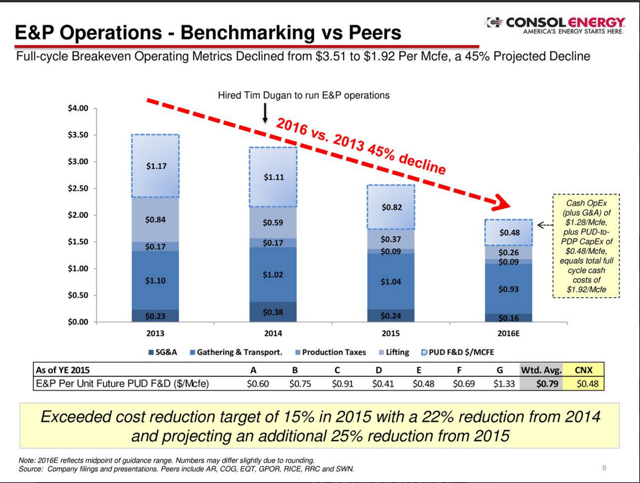 Figure 1: Consol has dramatically reduced operating costs and is now far below industry averages. (Source: Q2 Slideshow)
Utica and Marcellus
CONSOL shares jumped on the day of its earnings report as the company simultaneously announced that it would bring two more rigs in the Utica and one more rig in the Marcellus shale plays back online after suspending their operations earlier in the year.
Within the Utica basin, CONSOL owns 22 non-operated and just 6 operated wells. Between the two plays are 91 drilled but not completed wells. Combined with the fact that Utica all-in costs are the lowest across company ops at just $1.76 per Mcfe, management and investors are predicting a strong 2H rebound in the plays. Moreover, expanding production in these plays will require minimal capital investment as most of the infrastructure is already there.
Conclusion
CONSOL management's extreme discipline has positioned the company to continue functioning in any reasonable natural gas market. Growing production in the Utica and Marcellus plays alongside falling production costs are extremely promising for the company going forward.
Disclosure: I am/we are long CNX.
I wrote this article myself, and it expresses my own opinions. I am not receiving compensation for it (other than from Seeking Alpha). I have no business relationship with any company whose stock is mentioned in this article.