I like both Nike's (NYSE:NKE) and Under Armour's (NYSE:UA) products. In fact, I think I have a slight preference for UA at the moment. But from an investment point of view, I would go for a long NKE, short UA pair trade. After a somewhat disappointing Q2 for UA in my point of view, the stock's valuation remains significantly high, even with the current share price over 20% below its all-time high reached in September last year. Sustaining its high valuation will depend on keeping up a stunning 30-ish percent growth rate for a while. Or, it would have to become an acquisition target, which given its current market cap does not seem very likely.
First, Let's Break Down NKE's and UA's ROE
Breaking down NKE's and UA's ROE in order to scrutinize their sources of profitability, we can see that the main difference lies in the operating margin: 14% for NKE vs. 10% for UA. A big part of this is likely explained by the much greater scale of NKE vs. UA (sales almost 8x bigger for the former). The below analysis of operating leverage seems to corroborate this thesis. There are also other differences, such as much greater tax rate for UA than for NKE.
Figure 1: ROE Breakdown

Source: Companies and author
Figure 2: Degree of Operating Leverage (% chg. in EBIT/ % chg. in sales)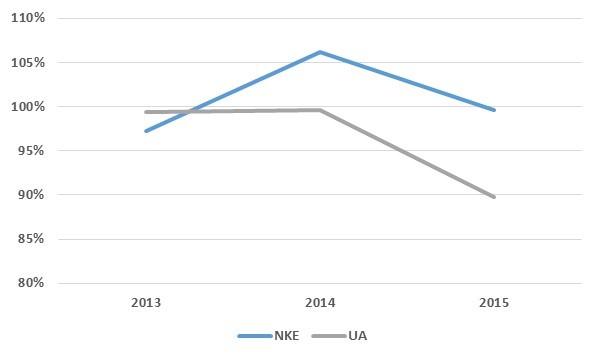 Source: Companies and author
Catching Up With NKE's Margin is Not an Easy Task for UA
UA already commands a gross margin premium to NKE (51% vs. 45%), presumably because of its focus on higher-price/margin categories. When it comes to SG&A expenses, NKE has better numbers as a result of a greater dilution of fixed expenses. UA needs to invest in its infrastructure in order to continue delivering fast growth, whereas NKE is already flying at cruise speed. It is crucial for UA to grow its sales as fast as possible in order to dilute its fixed expenses. Both UA and NKE already invest very similar amounts in marketing. This is a critical point to drive sales. A constant presence in the media coupled with the endorsement of high-level athletes, leagues, clubs and celebrities (through sponsorship deals) is vital for athletics and footwear brands. The conclusion here is that there is not much UA could do in order to improve its margins through more efficient marketing expenses: it will likely have to continue investing pretty much the same percentage of sales in this line for a long time, if not even more. Moreover, UA is highly exposed to competitors' aggressiveness. An increase of just 100bps in NKE's marketing expenses (roughly 10% increase in its budget), would represent almost UA's entire marketing budget for a year.
Figure 3: SG&A Expenses as a % of Sales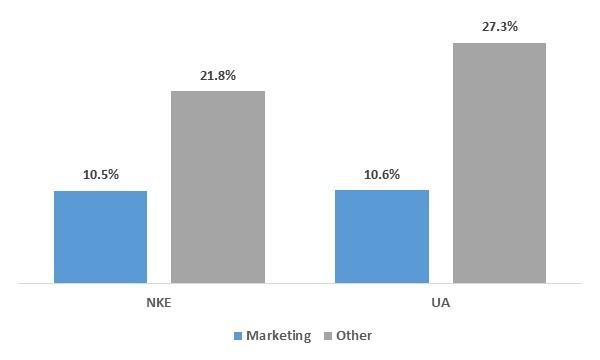 Source: Companies and author
Without a Significant Improvement in ROE, UA's P/E Must Fall
It's not easy to grow fast and keep or improve margins simultaneously. At the current price of ~US$40/share, UA seems to be pricing in both very high growth for the next 10 years and an improving ROE, maybe towards a 30% level. This seems too risky in my view. The room for error is minimum, and the possibilities for something to go wrong are innumerous. In fact, we have already seen some slowdown in underlying growth drivers as of 2Q16. On the other hand, NKE's valuation is not as stretched, although I can't say it's cheap either. My estimate is that at the current cost of equity for NKE and in light of its strong fundamentals, it could be valued at a 25x-30x P/E, vs. the current 12-month forward 20x. At my target price, NKE would trade at 25x 12-month forward EPS according to my estimates. I like the athletics and footwear sector, and I think a great way to play it right now is through NKE, trying to ignore here how the whole market seems overpriced. But doing a pair trade by going long NKE and short UA makes sense.
Figure 4: Cost of Equity Calculation

Source: Author's estimates
Some important assumptions in Figure 4 above:
Current yield for a 10-year treasury bill.
Damodaran's estimate for equity risk premium.
Current betas for the high-growth period and assuming both will converge to 1.00 in the long run.
Figure 5: Target Multiples and Target Prices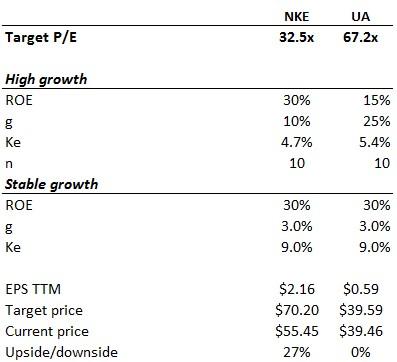 Source: Author's estimates
Some important assumptions used in Figure 5 above:
UA EPS TTM normalized in order to exclude non-recurring losses, assuming a 15% ROE multiplied by its BV/share.
Current ROEs and growth rates for the high-growth period.
NKE sustains its ROE in the long run, while UA's converges towards NKE's.
Perpetuity growth rates derived from a 30% ROE and 90% estimated payout ratio.
Looking at a 15% Return
Considering the estimated target prices and upside potentials as shown above, I would look for a somewhat safe 15% return on this trade, which is lower than NKE's estimated upside. Going beyond this looks possible, but I wouldn't get too greedy. As I said, I think this is a great business if you have strong branding and innovation expertise (and both companies do have), and UA is not a bad company. It just seems to be going through too much growth in different geographies at the same time.
Disclosure: I/we have no positions in any stocks mentioned, and no plans to initiate any positions within the next 72 hours.
I wrote this article myself, and it expresses my own opinions. I am not receiving compensation for it (other than from Seeking Alpha). I have no business relationship with any company whose stock is mentioned in this article.