Chinese internet giant Baidu (NASDAQ:BIDU) announced second quarter earnings last week, and as CEO Robin Li said in the press release, it was a challenging one. Baidu beat on both the top and bottom lines, but it was an overall bittersweet report. While revenue and profit were better than consensus analyst estimates, revenue was still below management's guidance even after the company issued a revenue warning back in June. In addition to that miss, Q3 guidance was well below expectations, which has led some to wonder whether Baidu's growth has hit a wall.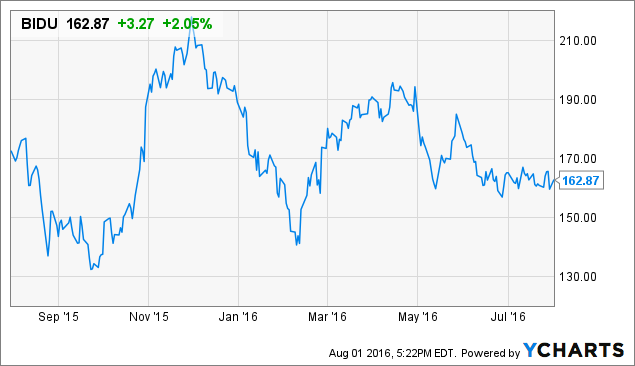 In this article, I will break down the reason Baidu's growth has hit a snag and I will lay out my reasoning for why growth will bounce back to its previous robust pace going forward. Let's first take a look at what caused Baidu's the revenue warning back in June and whether the effects will be permanent.
Regulatory Pressures Weigh on Revenue
I wrote a full article on the regulatory pressures facing Baidu and their origin in an article that can be found here, but I will give a brief summary of the salient points.
In its Q2 warning, Baidu revised its revenue expectations downwards by 10%, citing the multiple investigational probes into its business and the decreased number of advertisements allowed to be shown on web pages. The former detracted from revenue because many marketers and advertisers were holding off on buying space on Baidu's services until the investigations were concluded, and the latter dragged on revenue because, intuitively, fewer ads means less money.
Basically what happened was Baidu's customers delayed spending on ads and needed to change up their ads to comply with new regulations, and new restrictions placed on web pages drove down short-term revenue growth. If you are a BIDU investor and these things worried you, it is my opinion that the Q2 report should put fears to rest.
Long-term Growth Fears are Overblown
Despite the regulatory headwinds, year-over-year ("YoY") revenue growth was in the double digits, mobile search MAUs grew 6% YoY to 667 million, mobile map MAUs grew 13% to 343 million, and Baidu reported growth in other key areas as well such as Baidu Wallet and O2O services. In additional positive news, despite the tough quarter Baidu managed to generate free cash flow $515 million to bolster its already substantial $11.4 billion cash hoard. Of course the report contained some negative developments as well, mostly in the form of lower margins and cautious revenue guidance.
Baidu's financial statements show that in Q2 2015 gross margin was 60%, operating margin was 26%, and average revenue per active marketing customer was 29,400 RMB. In Q2 2016, these metrics took big hits as the regulatory pressures set in. Gross margin for the quarter was 52.1%, down 790 bps YoY, operating margin was 15.7%, down 1030 bps YoY, and average revenue per active marketing customer was 28,400, down 3.4% YoY.
Revenue guidance also left much to be desired with Baidu projecting Q3 revenues to be between $2.714 billion and $2.796 billion. The midpoint of that range is about 4% lower than the already reduced consensus estimate and about 13% lower than the guidance originally provided after Q1 (before the investigations and probes began).
And yet, despite all these negative metrics, I'm going to recommend BIDU and make a case for future growth? Yes!
There is no denying that revenue is suffering from the new rules being imposed by Chinese regulatory agencies, but the long-term effects of these headwinds will be negligible compared to the organic growth Baidu will experience from its leadership of multiple huge markets. Even with so many things weighing on the top line, Baidu's revenue guidance for Q3 still represents a 5.4% to 8.6% YoY increase on an organic business-only basis.
The long-term argument for Baidu's growth and success has not changed, and the fact that this company is currently being valued at $54 billion is an absolute gift for investors. The metrics haven't caught up to the business yet, and might not for years still, but Baidu has built such a huge competitive moat and user base that the risk-reward profile for the stock is too good to pass up. When people call Baidu the Google (NASDAQ:GOOG) (NASDAQ:GOOGL) of China, they're not joking.
Baidu has invested significantly in autonomous vehicles, like Google, has made impressive progress in artificial intelligence, like Google, owns both the desktop and mobile search markets in the region in which it operates, like Google, has the most popular map application in its region, like Google, and is now being regulated like a Google as well. And Baidu also a few advantages that Google does not. Namely, Baidu has made much more progress in O2O services than Google, and has a much larger potential market size than Google.
I don't want to hear anything about short-term regulatory obstacles. In my opinion, this company and this stock are almost sure-fire winners, which, perhaps one day, will be valued like a Google.
If you want to stay up-to-date on my articles, you can Follow me by going to my author page or by clicking "Follow" at the top of this page.
Thanks for reading!
Disclosure: I am/we are long BIDU.
I wrote this article myself, and it expresses my own opinions. I am not receiving compensation for it (other than from Seeking Alpha). I have no business relationship with any company whose stock is mentioned in this article.