TFS Corporation (OTC:TFSCF)
Featured In: July 2015
Partnership Average Cost per Share: $1.86 AUD
Current Market Price (July 29, 2016): $1.63 AUD
TFS Corporation was the Partnership's featured investment in July 2015. The company remains my favorite forestry pick. Though shares have remained virtually flat year to date, it was another productive six months for the company and TFS investors saw constant news flow. Four company-specific developments stood above the rest:
1. In late February, TFS announced in their mid-year earnings report that numerous multi-year supply agreements had been signed with Chinese and Indian wood buyers. CEO Frank Wilson, who co-founded TFS nearly two decades ago, commented on the transaction:
"I am delighted we have signed new agreements with wood buyers in China and India at attractive prices for TFS. With our existing contracts with Galderma and Lush Cosmetics, I am very pleased to announce that we have now forward sold all of the TFS owned yield from the forthcoming two harvests. We are now in the enviable position of having multiple customers across multiple markets in four different continents and this perfectly illustrates the global demand for Indian sandalwood."
Not only does this deal provide earnings visibility for the next 2 years, but it also confirms that Indian Sandalwood prices have been entirely untouched by the soft commodities slump that began in mid-2014. The last time TFS publicly announced the price of a supply agreement was in August 2014 - when the company signed an agreement with Galderma, a Nestle (OTCPK:NSRGY)-owned dermatology company. The deal was to sell up to 20 years of sandalwood oil at $4500 USD per kilogram.
This year's supply deal was also struck at prices "broadly equivalent to US$4,500 per kg of oil". Skeptics of the sandalwood story should take note; there are now buyers on multiple continents willing to pay this price for TFS's sandalwood oil. While sandalwood's price increase over the past two decades has been monumental, it is clear to me at least that the market can handle these prices. This bodes very well for TFS over the coming decade.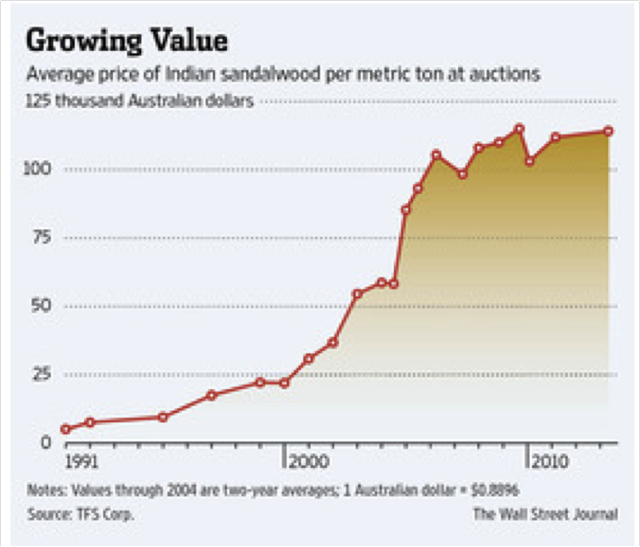 2. In April 2016, the company undertook a $60m AUD placement at $1.55 per share. While the dilution is unfortunate, the company raised this placement for good reason - to embark on a project with a "blended internal rate of return of approximately 37% over the period of FY17 to FY23". This type of IRR is unheard of in the forestry space and, as long as the company gets reasonably close to this 37% goal, the investment seems very well warranted.
What exactly is this project? Remember that TFS both (I) directly owns sandalwood plantations and (ii) manages sandalwood plantations owned by large investors. TFS sees an opportunity to "buy out" some of these larger investors earlier than originally expected, and would then use this sandalwood to satisfy the company's end-user obligations over the coming years. The company provided more specifics in an April 2016 presentation:
· The Company will make offers to acquire up to 221 hectares of MIS Grower interests in five MIS Projects due to be harvested between 2016 and 2022
· TFS's offers will provide growers with an option to sell ahead of harvest at a cash price based initially on the 31 December 2015 book value
· The Buy-Back is expected to have a maximum cost of $53m AUD
· The acquired plantations are expected to yield around 600 tonnes of heartwood which TFS intends to supply to its recently announced customers in China, India and the Middle East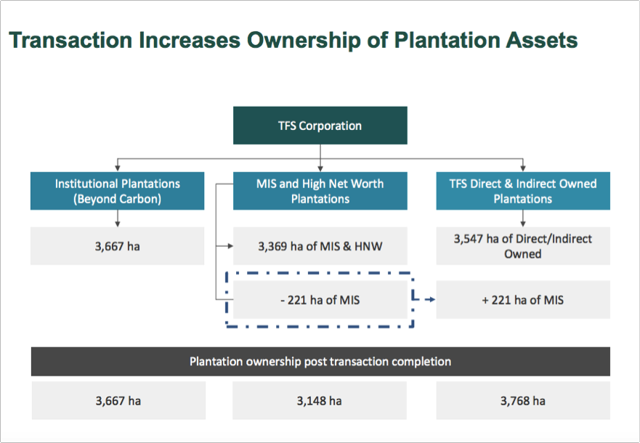 A month later, the company announced that "the first of a series of its buy-back offers to investors in certain of TFS's Managed Investment Schemes closed with a 66% acceptance rate." This high rate of acceptance shows that the project is off to a fast start. The company will be making additional buy back offers over the rest of this year.
3. TFS has announced publicly that they want to sell a $40m loan book by the end of this year to raise cash for operations. This makes sense - the company is not a financial institution and would be better served putting this money into new company-owned plantations.
On June 28th, TFS announced that it had "entered into agreements to sell loans and receivables with a book value of $25 million for cash proceeds of $24 million."
This is a very small discount to the loan book value, and demonstrates that the company should be able to get another ~$15m by the end of the year. This is not insignificant money, and it comes without dilution. Additionally, it sets the precedent for additional loan monetization down the line. As stated by Frank Wilson: "the establishment of the on-going funding programs provides TFS with valuable optionality to release capital from future loans on pre-arranged terms."
4. On June 28th, TFS announced yet another plantation sale to a new institutional investor. According to the news release, "The new investor is a US-based global investment management firm with over US$100 billion of assets under management and an established track record of investing in Australian and New Zealand agriculture."
The key terms of the investment include:
· Sale of new Indian sandalwood plantations.
· Sale of the freehold land in the Northern Territory, originally acquired by the Company in 2015.
· TFS to manage the plantations through to harvest.
· Total FY16 revenue from the sale of the land and plantations of AU$27.0 million.
· Cash settlement scheduled for 29 June 2016.
TFS already manages sandalwood plantations for a whole host of institutions, including Harvard and the Church of England. Management fees derived from these partnerships compromise an important component of the company's earnings. Additional institutional plantation sales are to be expected over the coming months.
TFS's market capitalization is still below the net value of the company's assets - though the discount has narrowed from 10% to 5% since I last wrote about the company. For those with longer-term time horizons, TFS shares offer compelling upside with minimal risk. The market clearly doubts the credibility of TFS's core plantation ownership/management business. Continued operational execution and consistent dividend payments will slowly change this sentiment going forward.
Disclosure: I am/we are long TFSCF.
I wrote this article myself, and it expresses my own opinions. I am not receiving compensation for it (other than from Seeking Alpha). I have no business relationship with any company whose stock is mentioned in this article.
Editor's Note: This article covers one or more stocks trading at less than $1 per share and/or with less than a $100 million market cap. Please be aware of the risks associated with these stocks.