There are two pieces of information that you have to know when thinking about the future of big oil consumption. The first is the effect of fuel economy increases, including EVs, and the second is the level of pollution in Asia.
For production, it is a little less certain, but there are a couple of things to consider there as well, including the rear guard land grab for market share and an impending global economic slowdown that is in the cards in the next few years.
Both of these spell the long-term demise of big oil, which in today's world means that nothing can justify the P/E values of Exxon Mobil (NYSE:XOM) at 28 or Chevron (NYSE:CVX) at 148 or Total (NYSE:TOT) at 28. These all imply that the market thinks oil is coming back. It is not.
Let's hit the facts for consumption first, then production.
World Consumption Will Peak by 2020
Average Fuel Economy Kills Consumption
Today it is 2016. The average fuel economy for a vehicle on the road in the USA is about 20 mpg. But the fuel economy for a vehicle on the new dealer's lot is 25 mpg, and according to CAFE standards that are already in place, will keep going up. So in 5 years, the average fuel economy for a vehicle on the road will be approaching 25 mpg. This will take US consumption down from 7 billion barrels to 5.6 billion. If the average fuel economy hits 30 mpg in 2025, the consumption will be 4.7 billion barrels/year.
Oil consumption in the US has been coming down for ten years - since 2006. This trend will not reverse. The same is true for Western Europe.
Electric Vehicles Are the Lid on the Coffin for Oil
We will one day think of that blue cloud of crud that came out of the back of the school bus in front of us in the same way we today would think of a brown pile of crud coming out of a horse in front of us. It just will not exist: but today it does.
Today, there are more than 1 million electric vehicles on the road, which reduce consumption only by about 30 million barrels/year - nothing. But by 2020, there will be about 4-5 million, reducing oil by 0.14 billion, or about 2%. By 2025, there will be about 20 million, reducing oil consumption by 10%. And the number will just keep going up. (For this, I used 1/2 of the cumulative EV fleet projections by the International Council on Clean Transportation.)
This also is a trend that will not reverse.
People Just Can't Breath in Asia, so Gas Cars are Out
Here is a picture I took in China last year.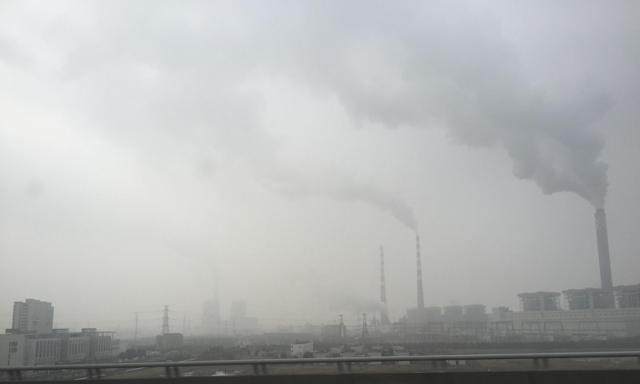 Since then, I have spent about two months in China. This was not an isolated day in an isolated town, but every day in every part of China. It is very difficult today in China to get a license for a new gas powered vehicle, but much easier, and has significant subsidies for electric vehicles. They have no choice. The momentum is still toward higher consumption, but that trend will change - it has to or they will all die of suffocation. I give them less than 5 years for consumption to start declining, and when it does, oil is over, everywhere. That is when the bankruptcies start.
World Production is Not Going to Respond, Keeping Prices Low
I chuckle every time I predict that a big incumbent company is going to keep predicting that their market will not change, that they can keep doing what they are doing forever. In this case, there are two reasons why, in addition to the head-in-sand mentality:
Oil Producers Already Know The Market Is Shrinking, and Are Fighting For Market Share
The oil producers already know the market is going to shrink, and so are fighting for market share. They are not a cooperative market, and none of them want to be the one that cut production first and lose market share in order to help prices. So production will keep going up.
The alternative way to interpret production going up is that the leaders don't believe their analysts and think that Asian consumption will continue up forever, and they want their share. Either way, production will keep going up, despite prices.
A Near Term Downturn Will Keep Prices Low
Any way you look at things, we're in for at least a mild downturn in the next 2-3 years, and historically, during a downturn, oil prices come down. This, compounding the other forces I've mentioned, will make profitability for the major oil companies very difficult to come by.
A Final Summary
The bet for the intelligent investor is not whether oil will come down, but when is the right time to short the major producers. If you have the capital to weather a couple of peaks, I would say the time is now. If you look at the profitability of the companies, and especially the P/E ratio, the market has priced in a comeback, with P/E values from 28 to 148, these are technology valuations, not commodity valuations. And there we are: the market thinks profits will triple in the near term. I do not think so. There is no refuting the three trends that affect consumption:
Fuel economy will wreck consumption in the first world and China.
Electric vehicles will ensure it never comes back.
Pollution in China cannot be ignored, and they are working very hard to fix it.
So, my recommendation is that when the market is at a peak (like now), it is a great time to short some losers, and in this case, Exxon Mobil, Chevron, and Total are great candidates!
Disclosure: I/we have no positions in any stocks mentioned, but may initiate a short position in XOM over the next 72 hours.
I wrote this article myself, and it expresses my own opinions. I am not receiving compensation for it (other than from Seeking Alpha). I have no business relationship with any company whose stock is mentioned in this article.