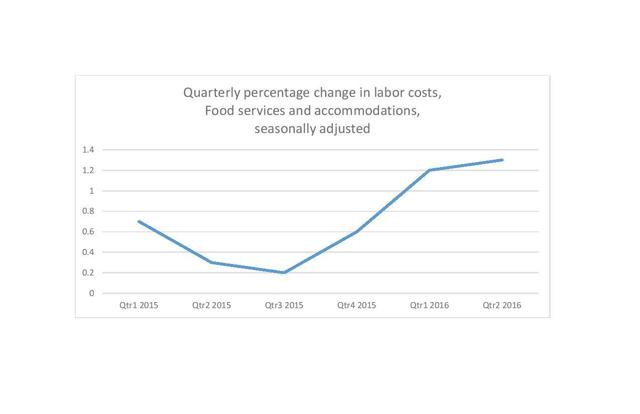 Employers' labor costs are rising fastest in some of the lowest paid industries, including restaurants, according to new information released by the U.S. Bureau of Labor Statistics. This comes as restaurants, in particular, are feeling added pressures on their profit margins.
Employer wage costs in the sector, which includes both food service and hotel workers, rose a seasonally adjusted 1.3 percent in the second quarter of 2016 following increases of 1.2 percent in the first three months of 2016. Food services account for about 85 percent of total employment in this sector.
The sector outpaced the level of private industry overall, which saw the average wage bill rise by 0.6 percent in the second quarter and 0.7 percent in the first quarter of 2016.
For the 12 months ending in June 2016, BLS reported that wage bills in the sector rose 3.4 percent compared to increases of 2.6 percent for all private industry employers before seasonal adjustment. The 12-month increase was the largest wage increase for the industry since 2008.
Meantime, the turnover rate in the sector remains high at 6.2 percent in May compared to an overall private sector rate of 3.8, seasonally adjusted.
For restaurant companies, such as McDonald's (NYSE:MCD), Starbucks (NASDAQ:SBUX), Dunkin' Brands (NASDAQ:DNKN) and Yum! Brands, Inc. (NYSE:YUM) (to name a few of the larger chains), the rapid rise in their labor bill, which has not yet stemmed turnover, shows the effects of both a rising economy creating increased competition for workers at the lower pay levels as well as the ongoing demands for higher wages epitomized by the $15-an-hour protests occurring around the nation.
Democrats included a call for a $15-an-hour federal minimum wage in their party platform, which some attribute as a concession to Bernie Sanders in gaining his endorsement of Hillary Clinton. Specifically, the platform reads: "We should raise the federal minimum wage to $15 an hour over time and index it."
Restaurant competition: Carryout, Eat-at-home
While labor costs rise, limited-service and full-service restaurants are seeing increased competition from grocery stores, such as Kroger (NYSE:KR), and carryout locations as budget-conscious consumers are opting to eat at home rather than pay the higher prices at restaurants.
This trend is reinforced as consumers see prices for food-at-home decrease even as food-away-from-home costs rise.
The inflation rate for food-at-home has declined by 1.3 percent over the past year, even as costs for food-away-from-home rose by 2.6 percent according to the most recent BLS inflation report. Overall, inflation in the U.S. has increased only 1.0 percent over the 12 months.
Unless restaurant chains can find ways to reduce their dependence on labor either through technologies or other efficiencies, or be able to offset higher labor costs with lower costs elsewhere, their profit margins will remain under pressure.
Supporting Documents
Disclosure: I/we have no positions in any stocks mentioned, and no plans to initiate any positions within the next 72 hours.
I wrote this article myself, and it expresses my own opinions. I am not receiving compensation for it (other than from Seeking Alpha). I have no business relationship with any company whose stock is mentioned in this article.