The Federal Housing Finance Agency's (FHFA) is now claiming in its legal defense that operating two Fortune 50 companies without the constraints of balance sheet capital that have combined assets of over $5T is part of their new capital regime. From a nomenclature standpoint, it sure is interesting that this new capital regime explicitly voids capital constraints. It's more like a lack of capital regime considering that it's all being swept to the controlling stakeholder, the government.
I love writing about Fannie Mae (OTCQB:FNMA) and Freddie Mac (OTCQB:FMCC) because we are entering the month of months. The Lamberth ruling made in 2014 is being looked at by three judges who are examining the case for appeal. It is now August 2016. From what I can tell, we are in the middle of an election cycle and no candidate has touched the topic that all of the GSEs' money is going to the government.
Since conservatorship has begun, $100B+ of net cash proceeds have flowed to the government under the government's direction bleeding the GSEs' capital bone dry. In 2018, these two Fortune 50 companies will be forced to send anything they have in excess of $0 of net capital to the government. As such, from a cash management standpoint, they will be virtually indistinguishable from a government agency. As long as this remains to be the case, publicly traded equity securities of Fannie Mae and Freddie Mac are technically worthless.
Investment Opportunity In Brief: Discovery production is ongoing in Judge Sweeney's Court of Claims. To date, evidence has been produced that proves the government has been lying in their earlier legal filings. Judge Sweeney has gone as far as to point out that it is not her job to protect the reputations of government officials or to uphold the misuse of a protective order. Combined, the two companies make $15B/annum. They have consistently produced cash profits since before conservatorship began, during the period when the government forced them to report losses, and since then.
If it looks like a duck, quacks like a duck, smells like a duck, flies like a duck, has the DNA of the duck, it's not probably a duck, it's a duck. Whether or not the government committed fraud is no longer subject to interpretation. What remains to be seen is to what extent the court systems rule that certain aspects of what the government has done will be stopped or reversed, if any. Richard Epstein points out that when you're suing the government, sometimes you have everything you need and get everything right and you still lose.
New Accounting Fraud Lawsuit Legal Filing
A new legal filing by plaintiffs looking to undo the accounting fraud at Fannie Mae and Freddie Mac where FHFA reported net income losses when they were cash profitable can be read here. Here's my favorite part:

This lawsuit has beaten the MDL consolidation, and this current motion is to prevent the FHFA from substituting as plaintiff where shareholders are suing Deloitte. This is now my favorite lawsuit even though I expect Perry Capital Appeals to rule first. Speaking of the Perry Capital Appeal, this part of the Accounting Fraud lawsuit is thought provoking: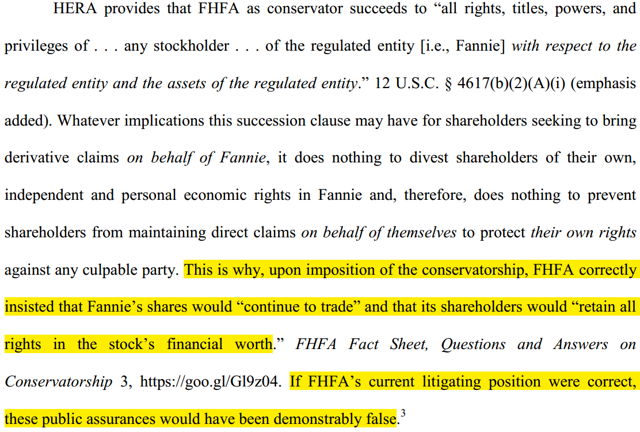 While I disagree with motions to substitute in all of the cases where they are filed, this one is the most interesting because the lawsuit isn't against the GSEs or the government. It is investors suing the audit firms directly. As such, watching the government motion to substitute itself in for plaintiffs who are suing for audit negligence and malpractice simply has the shortest legs of all of them. I think that the fact that the MDL failed is a leading indicator of what we can expect from the motion to substitute. If this leads to a restatement of the financials remember that the PSPA draws are tied to the financials. This is why the accounting fraud lawsuits are the ultimate trump card:

These lawsuits will force Deloitte and PwC to restate the GSE financials or file for bankruptcy and the government can't stop them. The choice for the audit firms is obvious and once these lawsuits get far enough, the loss of government revenue will seem like nothing compared to billions in damages. Considering that the PSPA draws require audited financials, a restatement will reverse the massive issuances of senior preferred securities to the government.
That being said, the government's argument continues to remain in essence that they could have entered into the net worth sweep and there's nothing anyone can do about it. Assuming the accounting is restated, it's debatable if there would be any draws to begin with, but if there are upon a restatement it would sure cast a different light on the net worth sweep. Then again, the Delaware lawsuit should take care of that.
If You Can't Beat Them, Join Them
A recent legal filing by FHFA sure makes it clear what a ruling in favor of Plaintiffs leads to:

There are currency issuers and there are currency users. You are a currency issuer if you print money and you are a currency user if you don't. In the United States, the government is a currency issuer and all private companies and people are currency users.
Because the United States is a currency issuer, balance sheet capital is not a critical measure of safety and soundness. If the government runs a deficit, money gets spent into the economy. If the government runs a surplus, it takes money out of the economy. The rate at which the government spends money into the economy or takes money out of the economy matters, but the government's balance sheet is no measure of safety and soundness. Running out of money is impossible for the United States because more can always be printed.
For private companies, however, capital matters because they are currency users. Just like you and me, private companies can't just print more money when they run out. For any currency user: If you run out of money, you go out of business. Effectively, what the FHFA is saying is that in October of 2008, Fannie Mae and Freddie Mac were nationalized: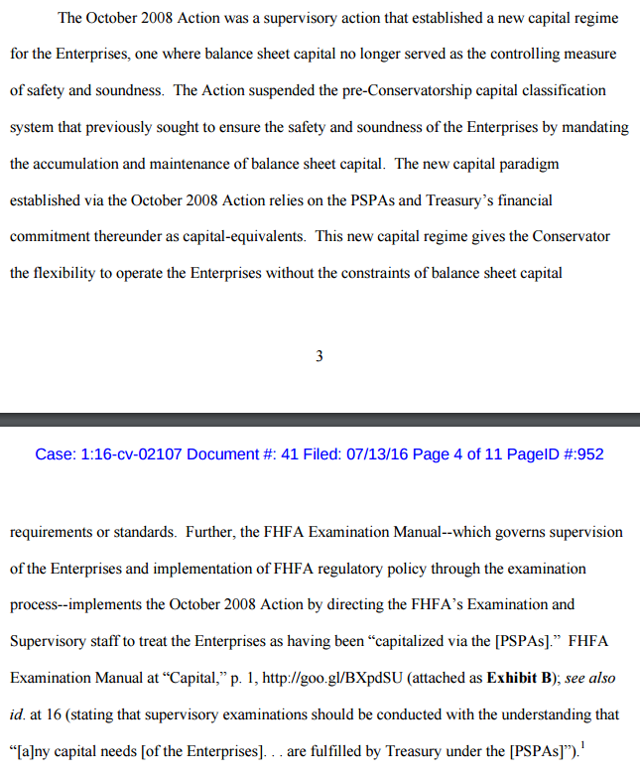 Capital matters for private companies. A new capital regime that eliminates balance sheet capital from serving as a controlling measure of safety and soundness is therefore a nationalization. Nationalizations are where governments take over private companies.
The irony is that when conservatorship began, the companies had their highest levels of capital in history and there was no liquidity crisis. That is to say, their risk of running out of money in the near future was nil.
Taking The Government At Its Word
The rest of the argument made by the government and people who seem to express that perspective is that what has transpired has all fallen within the government's interpretation of the law. Fortunately, for plaintiffs, the government's perspective self-destructs in Judge Sweeney's words:
The court notes that from the inception of this litigation, the government has consistently maintained that the court lacks jurisdiction over this case because the United States had no control over the enterprises. Taking the government at its word, it is surprising that defendant is concerned with the unsealing of government officials' deposition testimony.
According to Judge Lamberth, the government can effectively do whatever they want with the GSEs per his interpretation of HERA. HERA seems to have a lot more words than it would ever need if its purpose was to allow the government to nationalize the GSEs without having to pay for them. It would seem to me that the government's interpretation of the statute is at the very least not the same as the people who wrote it considering that they filed amicus briefs for plaintiffs.
Bruce Berkowitz Updates
Fairholme is the lead plaintiff paying for all of the discovery so it's always interesting to see what their CEO Bruce Berkowitz has to say about Fannie Mae and Freddie Mac: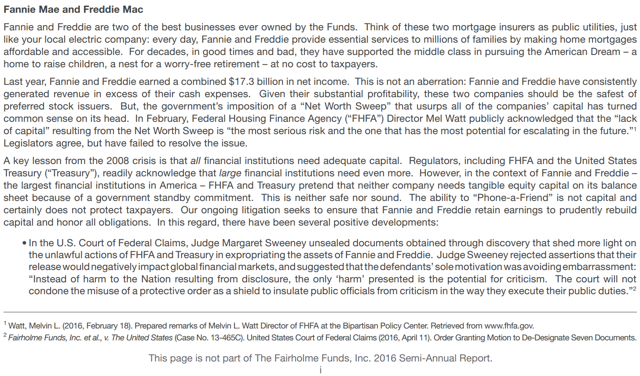 My favorite part of Bruce's summary was his reference to Who Wants To Be A Millionaire's "Phone-a-Friend" not being capital. It's just as true that the government's ability to turn the printing press on and print more money is not capital. It does seem that Fairholme sold their common shares since their last annual report.
Saxton V. FHFA
No new arguments were introduced here, just wanted to provide a link to the filing for those who, like myself, read everything.
Summary and Conclusion
The way the government planned to handle the GSEs' capital before they took it all with the net worth sweep as well as how they treated the cash produced by the GSEs and sent to the government in order to spend it supports the new capital paradigm outlined in the government's legal defense.
Investors Richard X. Bove and William Ackman believe $20 per share is reasonable on the commons. Investor Timothy Pagliara believes the preferreds are worth par. Those valuations are multiples of the current price. These valuations require a change from the new capital paradigm where all GSE money belongs to the government.
My perspective is that if you can't beat them, join them. If private company balance sheet capital doesn't matter in this new capital paradigm, then neither does mine. As such, I've exchanged all of my money for shares since either my capital matters or it doesn't. If the courts rule that capital matters then I win. If they rule that capital doesn't matter then neither does mine. I have 4050 shares of FMCCH, 9340 shares of FMCCP, 4442 shares of FMCCT, 500 shares of FMCKO, 6585 shares of FMCKP, 25092 shares of FNMA, 27085 shares of FNMFN and 5 shares of FNMFO.
Disclosure: I am/we are long FMCCH,FMCCP,FMCCT,FMCKO,FMCKP,FNMA,FNMFN,FNMFO.
I wrote this article myself, and it expresses my own opinions. I am not receiving compensation for it (other than from Seeking Alpha). I have no business relationship with any company whose stock is mentioned in this article.
Editor's Note: This article discusses one or more securities that do not trade on a major U.S. exchange. Please be aware of the risks associated with these stocks.