As crude oil remains in bearish territory, the U.S. dollar or USD will likely continue its march higher vs. the Canadian dollar, CAD.
The correlation between USD/CAD and Crude Oil exists because Canada is an oil exporting country and derives revenue and job growth from oil exports.
As crude oil prices rise, Canada's economy improves since they take in more oil revenue. As a result, the Canadian dollar strengthens vs. the U.S. dollar.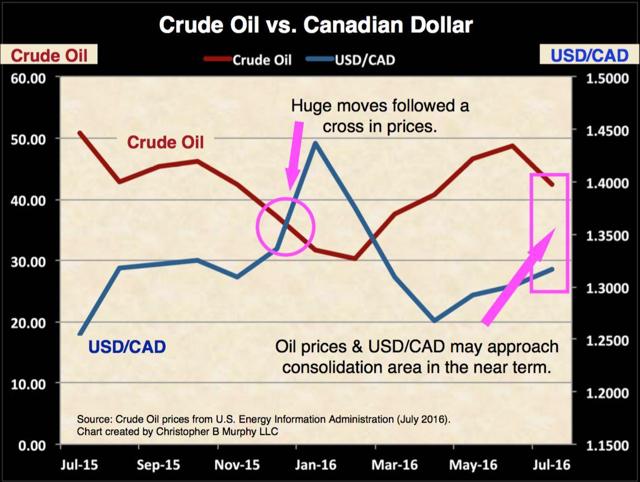 Although the oil to USD/CAD correlation is not one-to-one, it's a significant driver in the currency exchange rate as of late.
You can see this correlation illustrated in the charts. As Crude oil fell in 2015, USD/CAD rose dramatically.
And when oil rose 60% from the lows to the highs of 2016, the USD/CAD weakened by over 16%.
Also from the chart, we can see huge spikes in price movements following price crosses of oil and USD/CAD. A price cross is a very strong signal and conveys a trend change.
Currently, oil prices have retreated roughly 14% from 2016 highs, giving the USD some life again. This move may signify a consolidation period for the two and should result in USD/CAD strength while oil fails to gain any traction.
(click to enlarge)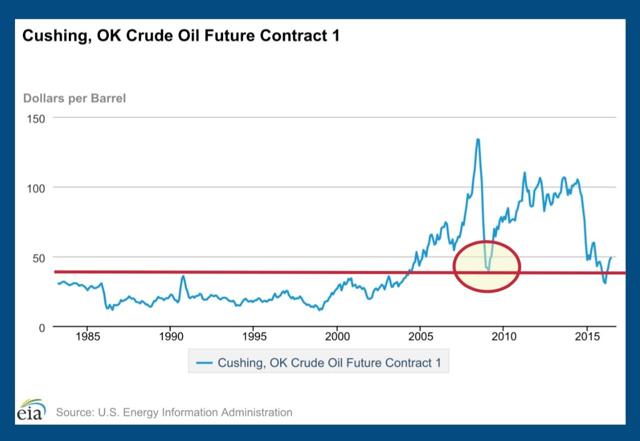 In looking at the chart on the right from the U.S. Energy Information Administration (EIA), the break of the February 2009 lows represents a bearish technical signal.
The collapse in crude oil prices has been caused by a glut of supply on the market, as noted in the U.S. EIA's weekly inventory report.
"U.S. commercial crude oil inventories (excluding those in the Strategic Petroleum Reserve) increased by 1.7 million barrels from the previous week. At 521.1 million barrels, U.S. crude oil inventories are at historically high levels for this time of year." U.S. EIA Weekly Petroleum Data For Week Ending July 22, 2016.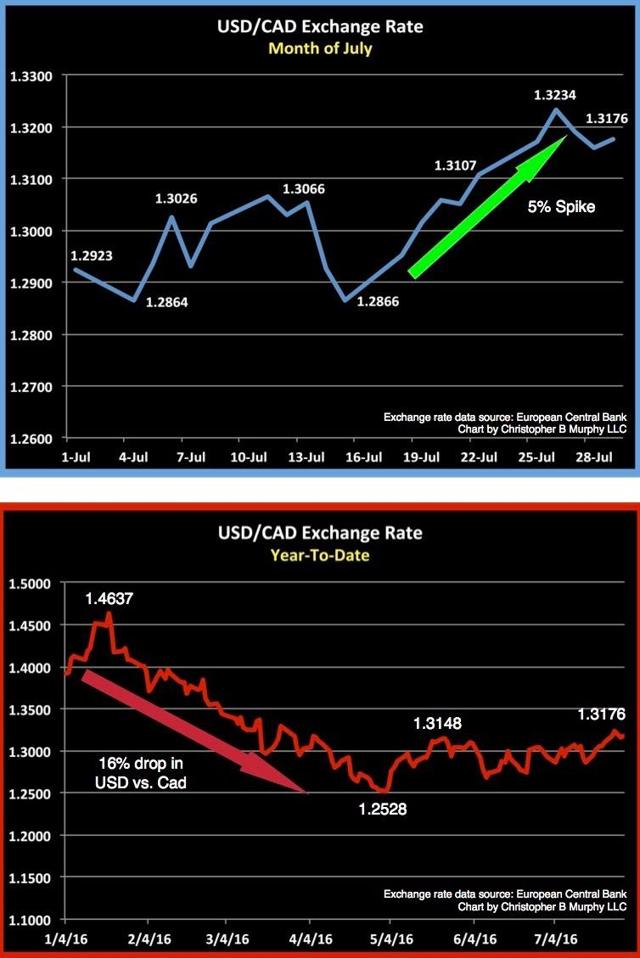 With a surplus of inventory, and assuming no production cuts by OPEC, oil will likely remain under pressure for the near term.
With oil remaining in bearish territory, look for USD/CAD to rise further.
As you can see from the chart to the right, USD/CAD has spiked roughly 5% on the back of lower crude.
However, USD/CAD was down over 16% at one point this year when oil prices were trading at their 52-week high.
As a result, USD/CAD should have more room to run in the near term, since it still hovers near the lows of the year.
Key risks to USD/CAD strength:
The Fed and their lack of action to hike rates in 2016 has capped dollar strength vs. most major currencies. Most market participants had expected the Fed to have hiked by now.
With Brexit and economic uncertainty, the Fed may disappoint the hawks and only hike once, if at all, in 2016. This would likely be USD/CAD bearish.
Brexit is a key risk to the global economies since any recession in Britain, and ultimately Europe would likely curb demand for crude oil. Although this would normally be USD/CAD bullish, however, if a slowdown in Europe leads to a dovish Fed, the USD/CAD gains, despite lower oil prices, would likely be limited.
For those investing in the CAD ETF, NYSEARCA:FXC (Currencyshares Canadian Dollar Trust ETF), investors are down 4% from the yearly highs but should get relief as the USD/CAD resumes its recent uptrend.
Key Takeaways:
USD/CAD is likely to strengthen as long as oil stays in bearish territory.
Watch for Brexit fallout and any potential slowdown in Europe.
Watch for Fed action in the coming months. If Yellen & Co. hike rates even once, and oil stays low, USD/CAD should remain bullish. If the Fed does little to nothing in 2016, any USD/CAD gains would be at risk.