Don't be fooled, Seagate Technology (NASDAQ:STX) is in trouble. The company reported fourth quarter and full-year 2016 results before the market open on Tuesday, and showed investors that nothing has changed. Seagate is still burning cash and is still watching revenues deteriorate. And the market knows it: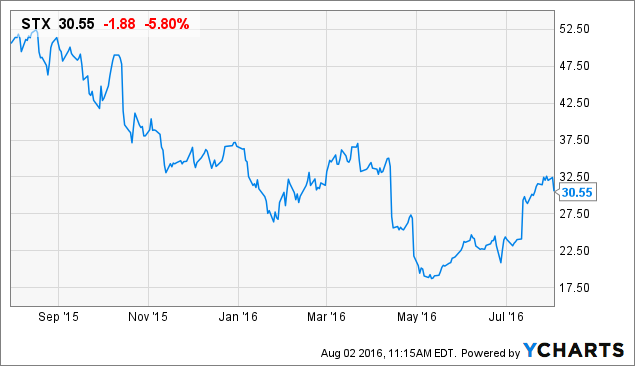 STX data by YCharts
As frequent readers of STX on Seeking Alpha might remember, I have called for a dividend cut multiple times in the past. For more information on my reasoning on why a dividend cut is necessary, and why Seagate is a bad investment, you can read my article on this subject here.
From the recent run-up of STX (up 27% in a month and up 49% in three months) you might have thought that the company had turned a corner, or had provided results contrary to the narrative of Seagate Technology's moribundity. But no, the signs were still there. The current dividend is unsustainable and revenue declines will just exacerbate what is already an issue.
Initially after Q3 results, Seagate had issued absolutely horrendous guidance. In the third quarter, the company reported $2.6 billion in revenue, and expected fourth quarter revenues of $2.3 billion, which was about $300 million below consensus estimates. Then a couple months later, everything was somehow reversed and Seagate issued preliminary Q4 earnings stating they expect revenue of $2.65 billion and that the company is being restructured in attempt to reach a gross margin range of between 27% and 32%. The stock shot up on the news. Underpromise, overdeliver.
I wrote an article in reaction to the preliminary earnings in which I stated I was encouraged and impressed by Seagate's expected results. I didn't go so far as to claim the dividend is sustainable, but I said perhaps an immediate cut was not necessary. That article can be found here.
However, the reality is that, despite revenue of $2.7 billion, which beat management guidance, consensus estimates, and my expectations, cash flow still could not cover the quarterly dividend payout. Seagate reported operating cash flow of $269 million and capital expenditures of $146 million. This translates to free cash flow of $123 million, which still falls $65 million short of the $188 million quarterly dividend.
And maybe you're thinking something along the lines of: "But the shortfall is so small that Seagate can continue making up the difference with its cash hoard for years!" My response to that is twofold. 1) The deficit will only get larger as HDDs continue to decline and this trend eats away at Seagate's top line 2) there is better use for the cash than paying it out to shareholders.
Seagate spent $727 million in 2016 in payouts, cash that could have been spent on acquiring SSD capacity so Seagate doesn't keel over and die. Sure, boosting gross margin and firing 14% of the workforce will help Seagate get back over the payout hump, but the future does not look bright for HDDs or Seagate. What some have speculated in recent weeks is that Seagate was perhaps a suitor for Micron Technology (NASDAQ:MU), which of course manufactures, among other things, SSDs. Western Digital (NYSE:WDC) acquired SanDisk (SNDK) in order to get exposure to SSDs and Seagate, in my opinion, should make a similar move for Micron with the same goal in mind.
That is, unless shareholders would rather be paid dividends from the sinking ship that is Seagate Technology until it inevitably runs out of steam.
Guidance for Q1 2017 is for $2.7 billion in revenue and gross margin of 27%. If there was any hope after the preliminary Q4 results that the HDD market was rebounding, the guidance for Q1 2017 should put those hopes to bed. Revenue is expected to be flat in the September quarter, and while management spun a nice, optimistic story on the conference call, the reality is that STX will likely be dead money or worse in the 2017 fiscal year.
Unless we see some miraculous recovery in the HDD market, I expect revenue declines to continue and I expect STX to be a poor investment going forward. Gross margin improvement may provide reprieve for a time, but the restructuring Seagate is undergoing tells me that HDD demand and the company's prospects are not bright. You don't cut 14% of your workforce in an attempt to boost margins unless you're trying to stay afloat in water you know is rising close to your head.
I think the best path forward for Seagate is an acquisition of Micron (MU) or some other SSD company, which would require a lot of debt, but would ultimately be better for shareholder value in the long-term. The dividend would need to be cut in order to pay off debt and finance operations, but an overhaul of the company is the optimal strategy in my opinion.
Though even without an acquisition, I think the case is strong for a dividend cut right now. Seagate has $4.1 billion in debt as of the end of the fourth quarter, and considering Seagate can't even cover its dividend with free cash flow, it certainly isn't paying off its debt with FCF. Too much about Seagate shows me a company that is treading water instead of trying to swim to shore, even if the shore is a long way off.
There are many more stocks out there better than STX. Go find them and leave this one alone.
If you want to stay up-to-date on my articles, you can Follow me by going to my author page or by clicking "Follow" at the top of this page.
Thanks for reading!
Disclosure: I/we have no positions in any stocks mentioned, and no plans to initiate any positions within the next 72 hours.
I wrote this article myself, and it expresses my own opinions. I am not receiving compensation for it (other than from Seeking Alpha). I have no business relationship with any company whose stock is mentioned in this article.