Red Rock Resorts (Pending:RRR), the former Station Casinos Brand, is a few months off its IPO but is already making waves. The old brand was a mighty player in the Las Vegas locals casino scene, but in recent years it has pushed out gradually into more upscale and diverse niches.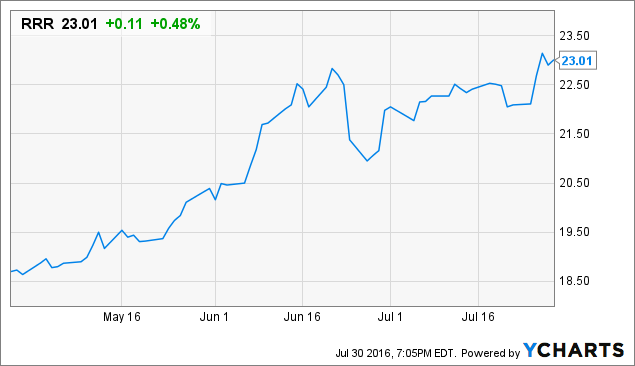 RRR data by YCharts
Just three months after its IPO, Red Rock Resorts declared its first ever cash dividend of $0.10 per Class A common share for the third quarter of 2016. The dividend will be payable on August 30, 2016, to all stockholders of record as of the close of business on August 15, 2016.
Most analysis of the company, such as this article on Seeking Alpha, follow the generally accepted idea that the new Red Rock Resorts is a "locals" casino business - gaming establishments geared less for tourists and more to capturing the gaming and entertainment dollars of Las Vegas natives. While there is a lot of truth to that view, it is not completely accurate. In fact, recent moves suggest the company is casting its vision to challenge new market opportunities.
BACKGROUND
The gem of the original Station Casinos started in 1976 when Frank Fertitta Jr, the former general manager of the Downtown Las Vegas casino The Fremont, opened the "Casino" about a half mile off the Strip not too far from the old Sahara. Over the years the property later became known as first the Bingo Palace before expanding into becoming the railroad-themed Palace Station in 1984.
While Strip casinos owned by MGM Grand Resorts International (NYSE:MGM), Caesars Entertainment (NASDAQ:CZR), Las Vegas Sands (NYSE:LVS) and Wynn Resorts, Ltd. (NASDAQ:WYNN) fought for the ever expanding high-end tourist dollar, Station Casinos along with other "local casino" groups like Boyd Gaming (NYSE:BYD) concentrated on lower-cost offerings away from the Strip, concentrating on value vacationers but especially the local resident gambling dollars.
Station Casinos was taken private by the second generation of Fertittas, sons Frank III and Lorenzo, but then was later forced into bankruptcy in 2009 by a combination of horrid economic conditions caused by financial crisis, rising unemployment and overly aggressive debt and expansion. The company emerged from bankruptcy in 2011 with a solid balance sheet and has been running ever since. The company again went public April 26 of this year.
First, a look at what actually makes up this company:
COMPANY BRAND - Wildfire Gaming
These are a collection of eight, small-scale locals casinos. Western themed, these casinos across the Las Vegas Valley range from a tiny 1,088 square feet (Greens Cafe) to a typical 5,000-6,800 square feet.
All except two of these properties (Barley's and Green's Cafe) were tiny, local casinos acquired one-by-one from other operators. The two exceptions are Fertitta experimental businesses, combining gaming with a brewpub (Barley's) and a strip-mall café-lounge with 35-plus gaming machines (Green's Cafe).
The tantalizing property from this group is the Wild Wild West, a 11,250 square foot property acquired in 1998, essentially an older Days Inn with a casino attached. It is a sore thumb sticking out of this group, tired and in need of renovation or replacement. The intriguing part is its size of over 100 acres, and located on a prime chunk of property just off the Tropicana/Interstate 15 interchange and just a stone's throw away from key Strip properties such as the T-Mobile Arena and the MGM Grand. More on this property later.
COMPANY BRAND - Fiesta Casinos
The Fiesta Casino assets include two moderately-sized locals casinos bought up in 2001, the Fiesta Henderson (73,450 square feet) and the Fiesta Rancho (59,951 square feet). These two properties were acquired in a complicated series of transactions, which ended with the Station Casinos selling two Missouri casinos to Ameristar and land on Flamingo road to investor George Maloof (who eventually developed that site into the Palms Casino). In return Station Casinos received the Fiesta Rancho and the Reserve Casino (which was promptly renamed the Fiesta Henderson).
Both properties have been revamped, and the Fiesta Henderson expanded in recent years.
COMPANY BRAND - Station Casinos
The most visible assets of the Station Casinos Brand - these currently are five casinos ranging from the 84,000 square foot Palace Station Casino to the 156,000 square foot Santa Fe Station.
The core of the clientele for this group is solidly Las Vegas locals, although two small exceptions: The Palace Station is close enough to the Strip that it gets a fair share of budget minded tourists, while the Main Street Station is located in Downtown Las Vegas and gets a large swarm of the deal-seeking visitors who swarm to that area.
CASINO ASSETS - Upscale Properties
Although technically part of the Station Casinos brand, Red Rock Resort (119,309 square feet) and Green Valley Resort (133,659 square feet) need to be considered separately. Both were built in more upscale areas (Summerlin and Green Valley) with the emphasis much more on resort than on gaming. Both are geared to a much more affluent clientele than the other Casino Station properties, including world class spas, higher end entertainment and pricier rooms.
As an example of the more upscale tilt of these properties, here is the company provided information on the Red Rock Resorts "One 80" Suite:
Named for the spectacular 180-degree view that includes both the iconic Strip and the majestic Red Rock mountain range, the 7,500 square foot suite is designed in the style of a contemporary ultralounge, dressed in exquisite materials. A color palette of black, rich browns and deep blues were used to create an air of seduction, sophistication and mystery throughout the space. The suite includes an expansive entertaining area, complete with a massive bar, 90 inch plasma-screen TV, billiards table, dining table and multiple seating areas; a large terrace that includes a Jacuzzi-style hot tub and rotating sofa; and two bedrooms with adjoining bathrooms and private balconies.
The company considers these properties "hybrids." They draw from the local market but also have a strong response from tourists.
The company just made a big statement in announcing the purchase of the Palms Casino just off the Strip for $312.5 million in cash. According to the company, management expects the property to "add $35M in EBITDA and be accretive in the first year after closing."
The Palms itself is a bit of an odd duck. The Maloof family marketed it as a hip party resort. In the past it has hosted a Playboy Club (since closed), a succession of uber party lounges and MTV special events. It has been splashy but has had problems keeping momentum and relevancy as Las Vegas trends come and go.
Its main issue seems to be an awkward location just off the Strip. It stands with a grouping of resorts including Boyd's Gold Coast and Caesar's Rio Suites.
But obviously the bosses at Red Rock Resorts see something. In their announcement:
...said Marc Falcone, Executive Vice President, Chief Financial Officer and Treasurer of Red Rock Resorts. "With its appeal to both Las Vegas residents and tourists alike, the Palms is a hybrid gaming property that is uniquely positioned to benefit from the strong economic trends"
No word has been made, but it seems unlikely the new owners will continue to chase the hipster vibe. As with Station Casinos the company typically would buy a struggling location, then upgrade, expand and give the new asset a cleaner, more customer friendly theme. But exactly where they will go with the Palms only the future can tell at this point.
COMPANY ASSETS - Operated Casinos
The company also earns approximately 8% of its revenue in management deals with Tribal Casinos in California and Michigan. The biggest take on this is a seven-year deal initiated in 2013 for running the 340,000 square foot Graton Resort and Casino in California.
Red Rock Resorts also is working with the North Fork Rancheria of the Mono Indian Tribe on the "North Fork Project." This is envisioned to be a 2,000 gaming machine casino on a 305-acre site near Madera, California. The project is years away from fruition. Even so, Red Rocks' management reports their revenue for Tribal Casinos is up 41% y/y.
COMPANY ASSETS - Developmental Properties
Future opportunities are tied directly to several valuable undeveloped properties the company is holding in its back pocket.
First and perhaps most importantly on the list is the aforementioned Wild Wild West site. The Las Vegas rumor mill has long been awash with speculation that Station Casinos intended to develop an upscale development at the location. Its size and location right off the freeway gives it lots of advantages, but nothing ever came out.
Recently, however, the property has come front and center. This started when the Las Vegas Sands cobbled an investment group together to build a 60,000 seat domed stadium. The stated purpose was for it to be used as a replacement football venue for the local University Nevada Las Vegas (UNLV) which is in bad need of a stadium upgrade over old Sam Boyd Stadium. Additionally the stadium was to be used for large stadium events - such as concerts, while at the same time offering a chance to tempt a National Football League team to relocate to Sin City.
Oakland Raiders owner Mark Davis almost immediately pledged $200 million toward funding of the stadium. Locked in a so far fruitless negotiation with local governments over a new stadium for his NFL franchise, Davis promised that if Las Vegas built the stadium he would relocate the Raiders.
The group lead by Las Vegas Sands have since been huddling with government officials, trying to settle both on a specific location as well as how to fund the project. Red Rock Resorts Wild Wild West site has become a leader in the process, and whether the property is sold, or Red Rock Resorts become a partner in a stadium enterprise, or even the whole process is for naught, the profile and opportunities for the Wild Wild West location is expanding daily.
Red Rock Resorts has six other properties awaiting development, two in Reno and four more in the Las Vegas Valley.
THE SOURCE OF PROFITS ARE STEADILY CHANGING IN LAS VEGAS
For decades Las Vegas gaming companies were all about the gambling. In fact most modern analysts and investors still key in to gaming revenues when judging gaming stocks based out of Sin City. This can lead to some serious tunnel vision. The market has long ago made a weather change.
All the way into the 1980s, visitor polls were in complete concert: people came to Las Vegas to gamble. Profits by the casino companies was all about how well they did at getting visitors to the casino floor and keeping them active.
But came the era of the mega resort and this steadily changed. Polls now agree that gambling is at best the seventh or eighth reason most people come to Las Vegas. Number one? Entertainment. Number two? Shopping.
In fact gaming revenues over the last ten years at best are flat, and at best slightly down. According to the Las Vegas Convention and Visitors Bureau (LVCVB), overall Clark County gaming revenues over the last ten years:
| | |
| --- | --- |
| 1995 | $5.717 billion |
| 2005 | $9.718 billion |
| 2015 | $9.616 billion |
Yet our LVCVB shows revenue areas like food and beverage, entertainment and room revenues have been seeing healthy increases. Despite those flat gaming revenues, visitation is up, from 35.5 million in 2005 to 42.3 million, while early indications suggest Las Vegas visitation will be up again in 2016.
For Red Rock Casinos, you only have to go to their recent 10Q for the good news, for three months ending 31 March:
| | | |
| --- | --- | --- |
| Activity | 2016 | 2015 |
| Room Occupancy Rate | 93.5% | 92.9% |
| Average Room Rate | $90.05 | $83.08 |
| Average Room Revenue | $84.22 | $77.25 |
That room occupancy rate should be getting everybody excited. The US national average occupancy rate runs about 65.5%. In Las Vegas it has been climbing as the number of hotel rooms has remained static while those visitation figures have risen.
The 2015 occupancy rate for Las Vegas hotels was 89.9%, and no significant new hotel rooms are expected to open until 2019 when Genting Singapore Plc (OTCPK:GIGNY) is set to open the first stage of its World Resort development. Even then, the 3,000-5,000 rooms to open in the first stage of that project (reports vary) is a drop in the bucket of the 149,213 rooms currently available.
And expectations are high that visitation will only increase in the coming years. In part, it is due to the arena construction binge going on to accommodate expanded entertainment events for the voracious entertainment appetite for visitors. The 20,000 seat T-Mobile Arena opened in April and is already hosting a busy schedule of concerts as well as pro rodeo, boxing and mixed martial arts events. The Monte Carlo (soon to be rebranded by parent MGM Grand into a new name: Park MGM) is putting the finishing touches on a 5,000 seat concert hall. Meanwhile the busy Las Vegas Sands group also is set to break ground on a 17,000 seat music and performance venue.
And then even more excitement for Las Vegas is the recent awarding of a National Hockey League franchise to Las Vegas. Meaning 41 or more (plus preseason and any playoffs) major events added to the schedule.
Who cares if people aren't gambling? A shortage of hotel rooms plus an ever expanding slate of entertainment, shopping and restaurants means non-gaming revenues will have to continue to climb.
IN THE PIPELINE
One worry when it comes to the company is can it keep its growth in hand with so many options and temptations? The Fertittas already went through bankruptcy once due to over expansion and too much debt. Hopefully they have learned.
The company is committing to a hefty remodel of the aging Palace Station. Permits are churning for a general remodel, including demolishing the oldest rooms from the "Casino" days and building a new hotel tower. No word on timing or the total budget, but with permits in the pipeline it should be starting in the next 12 months.
The company always invests money into new purchases and, again, it will be interesting to see what happens with the Palms.
The company also is working towards a new front in Reno, with the proposed Station Casino Reno (81,000 square feet) along with the Mount Rose Station (165,000 square feet). The building designs suggest that SC-Reno will follow along the lines of the other Station Casinos, while those of Mount Rose seem to indicate a Red Rock Resort/Green Valley Resort style. Both are years away from groundbreaking.
And of course, with the Wild Wild West property in a state of flux, the next few months can change many things on the Red Rock plate.
UNIONS ARE A CAUTION
One ongoing issue inherited from Station Casinos is an ongoing feud with the Culinary Workers Union. The Fertittas were solidly anti-union and in a town where a large percentage of casino workers are represented by some union, Station Casinos' workers never unionized.
This has gone to a number of levels beyond just the Station Casinos as the union local even protested a fountain being installed at Ultimate Fighting Championship (UFC) offices because the Fertittas also owned that company. The union also has picketed the Palms in 2016 in attempts to organize those workers.
So far workers seem happy to not be unionized, but this looks to be an issue that will not go away.
CONCLUSION - A COMPELLING BUY
Red Rock Resorts is up from its IPO and started its history by initiating a small dividend. However its revenues are up and should continue to climb at a healthy clip. The company also has a number of tantalizing options for growth in the future, although some landmines need to be avoided.
Most investors should consider this for their buy list. My expectation is a stock price of $32-$35 within 12 months.
Disclosure: I/we have no positions in any stocks mentioned, and no plans to initiate any positions within the next 72 hours.
I wrote this article myself, and it expresses my own opinions. I am not receiving compensation for it (other than from Seeking Alpha). I have no business relationship with any company whose stock is mentioned in this article.
Editor's Note: This article discusses one or more securities that do not trade on a major U.S. exchange. Please be aware of the risks associated with these stocks.